Leukemia is a very serious disease that you should try to learn more about.  If you do your best to find out more about the condition, you will be able to prepare yourself in terms of dealing with the repercussions of having the condition.  This article will show you the important details that you need to remember about the condition and how you can get treatment if possible.
Definition of Terms
Before we go any further, let us first define what leukemia really is.  This is a physical ailment that has to do with the development of cancer in the blood.  It can also be considered as a cancer of the bone marrow.  The term leukemia specifically means white blood.
This condition is primarily characterized by the aberrant increase of white blood cells in the bloodstream.  These white blood cells can also be called blasts.  Leukemia actually encompasses other diseases that can affect the blood, bone marrow as well as the lymphoid system.  These diseases are also known as Hematological Neoplasms.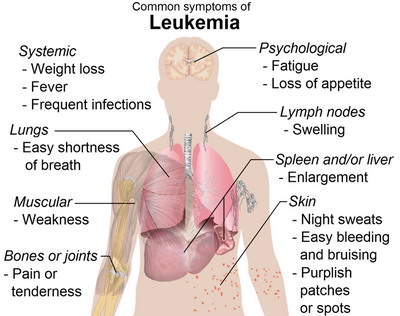 Four Major Types
According to numerous studies, there are four major types of leukemia.  These are as follows.
Acute – fast buildup of immature white blood cells
Chronic –abnormal buildup of mature, unhealthy cells
Lymphocytic –the cancerous growth in this type of leukemia occurs in the bone marrow that produces lymphocytes.
Myelogenous –cancer develops within the bone marrow that produces red blood cells.
In addition to this, acute leukemia is one of the most common conditions that occur in children.  The chronic type of leukemia occurs mostly in adults.
Signs and Symptoms of Leukemia                                                                                                  
The most common signs and symptoms of leukemia would be easy bruising and excessive bleeding of the patient.  This is because of excessive damage to the bone marrow which leads to the decrease in the production of platelets.  The platelets are the ones responsible for blood clotting, a process that prevents bruising and bleeding.
Other symptoms include a depressed immune system which may lead to frequent infections in other parts of the body.  In addition to this, due to red blood cell deficiency, the patient may also experience anemia.  Other symptoms include the following:
Fever
Chills
Night sweats
Severe fatigue
Pain
Nausea
Leukemia can also have are a logical symptoms depending on if the affected cells invade the nervous system of the patient.  Since these symptoms can also be seen in other diseases, accurate diagnosis is required.  This is why it is important for you to go to your Physician right away if ever you feel any of the symptoms mentioned earlier.
Possible Causes
Unfortunately, there is no specific cause that can be attributed to the development of leukemia.  According to studies, the discovered possible causes would be those of genetic origin.  This means that leukemia can be attributed to genetic mutations that affect the production of the white blood cells throughout the bloodstream.
These studies further revealed that the genetic mutations may be due to exposure to radiation and other carcinogenic substances.  In addition to this, there are some viruses that have been found to be related to the excessive production of white blood cells.  One specific virus related to leukemia would be the T-lymphotropic virus.  Some chemicals are also said to be responsible although all these data have yet to be scientifically proven.
Diagnosis
The doctors can diagnose if you have leukemia through repetitive blood counts and tests as well as bone marrow examinations.  X-rays and MRI scans can also be conducted in order to see the potential physical damage that could have already occurred because of leukemia.  An ultrasound can also be performed to find out if there was any extensive damage to the organs.
However, despite the doctors' best efforts to diagnose whether or not a possible leukemia patient has the condition, more often than not, they still are not able to lay a proper diagnosis because the symptoms are very vague and nonspecific.  As mentioned earlier, the symptoms can also be found in other diseases and therefore can be very confusing for the medical experts.
However, this is not to say that the doctors will not try their best to find out if you have leukemia during the early stages so that proper treatment plans can be made in utilize effectively to help you with your condition.
Treatment of Leukemia

The ultimate form of treatment for leukemia would be certain types of medication as well as chemotherapy.  Radiation therapy can also be conducted in order to treat the disease.  Some doctors recommend having a bone marrow transplant if it is deemed necessary.
This is why it is very important for you to make sure that you are able to keep in regular contact with your Physician so that you would be able to let him or her know any physical changes that might occur because of the condition.  In this way, he or she will be able to devise the treatment plan necessarily as possible so let you would not have to deal with the consequences in the end.
Prevention
One thing that you can do to stop leukemia would be to prevent it from ever occurring in your body.  You can do this by making sure that you avoid type of all appliances or gadgets that can expose you to radiation.
Considering the fact that most of the present gadgets have radiation, the key would be to not over expose yourself.  In addition to this, ask your doctor about carcinogenic substances that might cause you to have leukemia.  By learning all the things, you would be able to avoid it as much as possible.
In addition, you should not neglect your body.  Always try to live a healthy life by making sure that you eat the right kind of food and exercise daily.  In this way, you would be able to avoid any complications that may arise from prolonged exposure to radiation or any other carcinogenic substances.
Remember that since there is no direct cause for leukemia, your best bet is to try to avoid any substance that may cause you to have a greater chance of incurring leukemia in your lifetime.