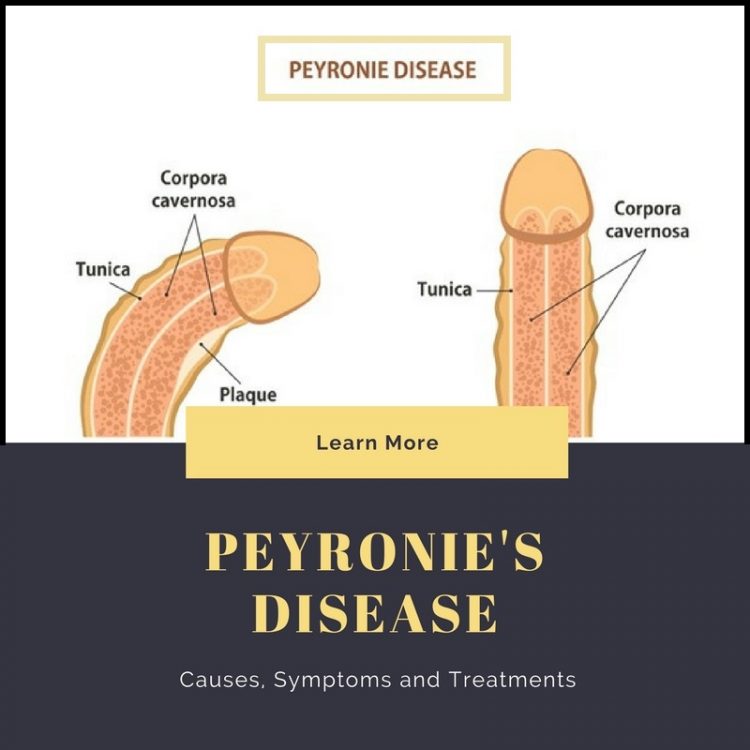 Peyronie's disease is a problem revolving around the male sexual organ, the penis. Specifically, the scar tissue is known as plaque forms within the organ. This can result in a genital organ that is bent rather than straight. Men with this disease can suffer during intercourse and suffer from erectile dysfunction or ED as well. Based on the kind of symptoms, you may be required to opt for surgery. Medicines and observation as well as care under doctors can serve as a critical step for recovery. Peyronie's disease results when the scar tissue develops inside the organ and is fibrous in nature.
This can cause a problem in sexual functioning. As the male penis varies in size and shape, there may not be a problem necessarily. But for most men with Peyronie's disease, significant pain and discomfort are experienced. As per the National Institute of Health, close to 1-23 percent of men between 40 to 70 years of age are impacted by Peyronie's disease. If the bend in the organ is severe or causes pain, this can interfere with the ability of males to engage in intercourse. Peyronie's disease can also trigger anxiety, stress and depression. In some cases, it may retreat, or the person might recover. In other cases, the condition might get worse. Treatment will be needed if the curvature is significant enough to cause a bend in the organ and interfere with normal functionality.
Causes
The reasons for this disease are not understood. It is most commonly the result of damage to smaller blood vessels taking place during intercourse, sports events, a physical blow or a vehicular accident. Cells become trapped when injuries take place during the process of healing. This results in the formation of scar tissues.
The male sexual organ has tubes on either side known as corpus cavernosum. These are composed of small blood vessels called capillaries. The corpus carnevosum is in a tissue casing of elastic skin called tunica albuginea. When the organ faces injury, this tissue comprising the elastic casing suffers damage. Effective healing results in no issues. But if there is a scar tissue, the patient can develop this disease as the casing loses its elasticity.
Wound healing can be impacted by factors such as heredity, connectivity tissue disorders or even old age. Those with kin or family who have Peyronie's disease are more prone to it. The appearance of Dupuytren's contracture, a thick development of tissue also causes Peyronie's disease to be more common. Older males are more likely to develop scars while healing.
Impairing sexual functioning, Peyronie's disease can damage a man's self-esteem as well. Plaque building up starts with inflammation that hardens. It reduces elasticity and leads to pain, discomfort and ED.
Doctors are not aware of what exactly causes the disease to develop. Researchers hold that fibrous plaque can begin post trauma such as injury or bending that leads to penile bleeding. The injury or trauma may not even be noticed. In certain cases, the disease may be linked to injury as well as genes.
Certain medications may also trigger Peyronie's disease.
Symptoms
This disease can lead to psychological stress apart from physiological pain. Symptoms of the disorder may come about suddenly or over time. There is curving of the male sexual organ downward, sideward, or up depending on where the plaques develop. Sometimes the organ may narrow at a certain or specific point. The bend becomes pronounced and the curve stays the same for others. Other symptoms are as follows.
Scar tissues may be felt under the organ. It forms like a hard tissue band, flattening lumps. Additionally, those with this disease may face difficulty in erections and maintaining regular length. Pain can also be experienced during intercourse and this may go away post a few months sans treatment.
The first symptoms of the disease are the hardening of fibrous tissues along the shaft of the male sexual organ. The hardening can smoothen or appear like a lump. Along with these symptoms, self-esteem deficits may also be noted.
Diagnosing the disease requires a health professional to physically examine it. As fracture or penis injuries lead to hardening or scarring of tissues, such as radiation, diagnosis can only be confirmed through physical examination.
Experiencing pain, bruising or inflammation of the male sexual organ in regular course or post intercourse can also be indicative of this disease. This disease is more likely as males get older. Symptoms can appear in one go or overnight.
When the organ is flaccid, the problem may not be clear. But when it tightens, the plaque hampers flexibility. Common symptoms include scar tissue, a bend in the organ, problems in maintenance of erection and pain can result.
Your doctor can help. The specialists in the medical field can examine the organ. An X-ray or ultrasound may also be required. When doctor examinations do not confirm the disease, the condition develops fast, the doctor may carry out a biopsy. This removes tissues from affected lab tests.
Treatment
As the condition enhances without treatment in some individuals, doctors often suggest waiting for a couple of years before correcting it. With new non surgical option shock- wave therapy, there is no need to wait anymore.
Shock Wave Therapy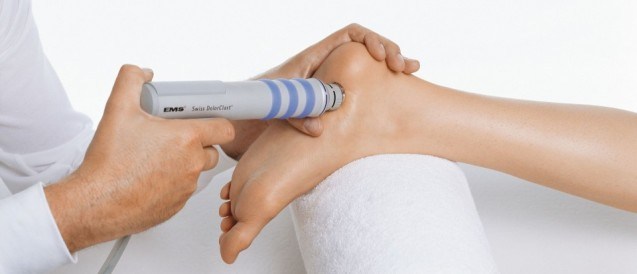 Shock wave therapy for PD is also known as extracorporeal shock wave therapy/treatment. It is a pain-free or mild non-surgical procedure that delivers shockwaves to penis plaque to break up and stimulate healing. This approach is used for treating and breaking kidney stones is successful. Use of electro shock wave therapy has yielded many benefits.
In one study, reductions of plaque were seen in 27 of 56 individuals given shock wave treatment. There was also improvement in sexual performance and abation of pain. The 2000 research study therefore, concluded that shock wave therapy along with injections of medicines like verapamil offer effective non operative treatment for stabilizing Peyronie's disease.Electro shock wave therapy also reduces the number of later treatments required for Peyronie's disease. Electro shock wave therapy can also prevent advancement of the disease, whether it comes to increase in average plaque size or degree of curvature of the male sexual organ.
Shock wave therapy works by applying low frequency, high pressure sound waves on the injured area namely the penis plaque in case of Peyronie's disease.Shockwaves can be applied through the use of external devices and local anesthesia would be performed under this condition.Shockwaves are from two to three thousand per session. Generally, men with this disorder undergo anywhere between 3 to 5 sessions and more than ten total sessions are not recommended.
Peyronie's shock wave treatment is only for men who have reached a stable stage when disease and the symptomatology associated with it has stopped progressing. It involves the use of wound healing with scar tissue. Electroshock waves break down the scar tissues and the area becomes calcified by trauma and boost the process of curing the the trauma.One of the biggest advantages of this therapy is that it is non invasive. Additionally, it is a safe procedure with low chances of and mild side effects while complication rates tend to decrease. Moreover, the treatment can also be safely coupled with other forms of therapy or medication.
Other Avenues of Treatment
Some cases of the condition need treatment. Pain comes from this disease and is generally mild. As repeated injuries or accidents occur, and scar tissues form in a disorganized manner, it leads to a nodule that can be detected during the formation of the disease. If treatment is required, surgery or medicine may be needed.
Medications
These include capsules and tablets like potaba and pentoxifylline. If this does not impact the scar tissue, injection shots of Xiaflex or verpamil may be inserted to prevent hardening of scar tissues.
Operations
A common surgery for removing the plaque and getting tissue graft in its position is a treatment of choice if medication does not work. Additionally, surgeons may alter or remove the issue on the organ opposite the plaque leading to bending or curvature of the male organ being corrected. Prosthesis may also be used for those with Peyronie's disease/PD or ED.
Different types of surgeries help. Most doctors operate only if the bend in the organ is severe.
Other Options
There is inconclusive evidence on the use of Vitamin E capsules with potassium aminobenzoate associated with B vitamins. These are not cures which are proven. Yet another way to treat the disease is radiation therapy or injection. It is rarely carried out though, because pain does not stop many times post the treatment. The discomfort fades as the inflammation subsides, but this process can take between six months and 3 years.
Symptoms of the disease may resolve on their own or remain mild to prevent treatment. For those who do not experience recovery, injections of corticosteroid into the tissue which is hardened could be a line of treatment too. Apart from surgery and injections, interferon Alpha 2B may be used. Additionally, a type of shock wave therapy called lithotripsy may also be applied.
Effectiveness of Treatment
Treatment impact varies from person to person. Some side effects can cause infertility in males too. Disease based medications like interferon alpha 2B can cause diminished penile curvature. But corticosteroid injections can have side effects such as damage to tissue. While there is no cure for this disease, it can be treated and go on its own. Medication may be recommended, or the doctor may adopt a wait and watch approach.
Drugs injected into the organ or surgery can be a solution. But it should be noted that clostridium hystolyticum or Xiaflex is the only FDA approved drug for curves of more than thirty degrees. Collagen building needs to be broken down as well and injections may be applied for this purpose.
Non-Surgery Options
Another treatment for PD is Iontophoresis which involves the use of weak currents of electricity to deposit medication under the skin. Traction therapy, shock wave therapy, and vacuum devices can result in better outcomes. Changes in lifestyle can also lead to better health, such as regular exercise, quitting smoking, reducing alcoholic consumption and not taking illegal drugs. Surgery is the last course of action and may include increasing the length of the scar tissue side, shortening affected sides, penile implants or more.
Non-medical options include acetyl l carinitine, coenzyme Q10 supplements and vitamin E.
Conclusion
For a guy, his identity is influenced to a large extent by the impact of this disease. Peyronie's disease can have severe repercussions on mental health and leave males feeling anxious, stressed and depressed. For effective treatment, medical supervision is a must. It can make the difference to health and functionalities and pave the way for better confidence and self-esteem. If you want to learn more on Peyronie's shock wave treatment, visit healthwavetx.com.