Every woman wishes to feed her family with delicious and nutrient dense food but due to the busy schedule and lots of responsibilities apart from just cooking it really seems impossible. If you are the one who is worried about your family health then you must choose for the slow cooker for healthy food preparation.
The food which is prepared in this especial cooker remains rich with multiple features and health benefits. Also, it is an easy way to cut food preparation cost as it takes less oil, fewer gas expenses, fewer spices than the foods that prepared in normal utensils and stoves.
By getting aware of its health benefits and cost-saving properties we are hundred percent sure that you cannot resist to have it and will definitely get eager to bring home as early as possible. Whether you are a working person or have enough responsibilities at home that you cannot give much attention and time in food preparation, slow cookers will omit all your troubles without deteriorating the health of your family.
Benefits of Food Preparation in Slow Cookers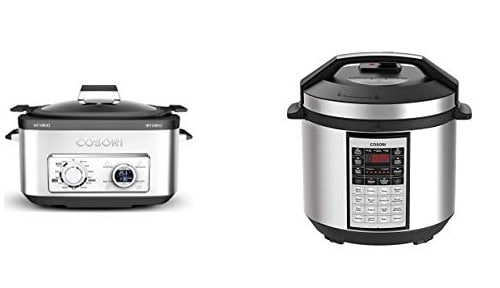 A slow cooker comes with multiple features and in many size and forms so that you can buy it as per the size of your family and along with features that you think can share your work and relive your burden to some extent. Like normal cookers, you don't have to stay stick on it as you can set the timer on and get you nutrient dense food prepared ready at hand.
The benefits of preparing foods in this cooker are too many that is why the food prepared in it can be fed to people who are suffering from some severe health concerns. So lets us discuss below some primary features as well as benefits of food preparation in slow cookers.
It Saves Your Time
Preparing a meal in slow cooker saves your lots of time that you can utilize in some other productive work or any fun making activities. The process is very easy and unlike other normal dish and utensils you don't have to spend your time in chopping and cutting vegetables, waiting for your pan to get hot and stirring it from time to time.
When you have a slow cooker at your home you are completely saved from all those age-old pre-meal preparation works. You only have to put all your veggies or rice or meat whatever you are willing to prepare in this cooker and set the timer until you want it to get ready.
Now go out for your important work without any tension of food burn or taste deterioration of your meal. When you will come back to your place with tired and fatigue feeling you won't have to bother for one more task on head i.e. food preparation as your slow cooker has already done this for you. Go and serve your family with this high nutritional dense and healthy meal.
Keep Intact the Nutritional Value of Food
As the meal which is prepared in slow cookers remains covered throughout the making process and the preparation time is very slow so it keeps intact the all national value of food ingredients which is prepared in this.
If you want to groom your health in a natural way then slow cooker can help you very effectively in this regard. It will ensure 100% pure and high-value food that can easily improve your entire family's health. Also, the taste will remain as you wanted it to be so no issue if you prefer to prepare your meal in it, instead of any normal dish in your kitchen.
Less Use of Oil
Preparing your favorite veggie or meat requires oil and that necessity cannot be cut off completely in spite of knowing that excess food oil is harmful to entire health. However, with slow cooker the oil that you generally pour while preparing meal needs in a very lesser quantity.
This is a great benefit out of food preparation in this cooker as excess food oil is one of the primary reasons for major health concerns like high cholesterol, heart issues and obesity too. As in this cooker, your meal is prepared automatically with only one-time oil that your pour initially so it very prudently manages to prepare the meal at a very less quantity of oil.
This facility you cannot get in a normal dish where the chances of food burning and sticking are quite common in the lack of enough amount of oil and even the meal can get burnt if the dish is not getting necessary oil to prepare the said meal. This is one of the healthiest features of slow cooker which makes it beneficial for people of all ages and all health concerns.
Provides Easy Food Preparation Facility
The slow cooker offers a very easy and a less time-consuming way for preparing a meal. Suppose you have to prepare meat today then you can generally assume that how much additional work is associated with it. Also, you have to stay stuck with it until it is prepared fully otherwise its taste may not be as good as you wanted or it might get half cooked or overcooked if attention is not provided during preparation.
Now the same meat when prepared in slow cookers there is no such headaches is associated with it. You can very easily prepare any type and variety of meat without much headache. You just have to rub the meat pieces with the spices of your taste and throw it in this low cooker and set the timer. Your healthful meat will be ready to serve on your desired time.
Reduce Your Cleaning Work
Out of the daily household work, there is one that women simply dislike to do i.e. cleaning of utensils. Surprisingly by preparing your meal in slow cookers, you can save yourself from this cleaning work because unlike other dishes you don't need to use multiple utensils while preparing a meal. Only one dish that you need to clean is this slow cooker.
This reduces your household work burden to a great extent and the saved time you can spend with your family and in any other important tasks of your daily life. This is the reason slow cookers should be preferred with a comparison to normal dishes for preparing a meal.
Increases Your Preference for Veggies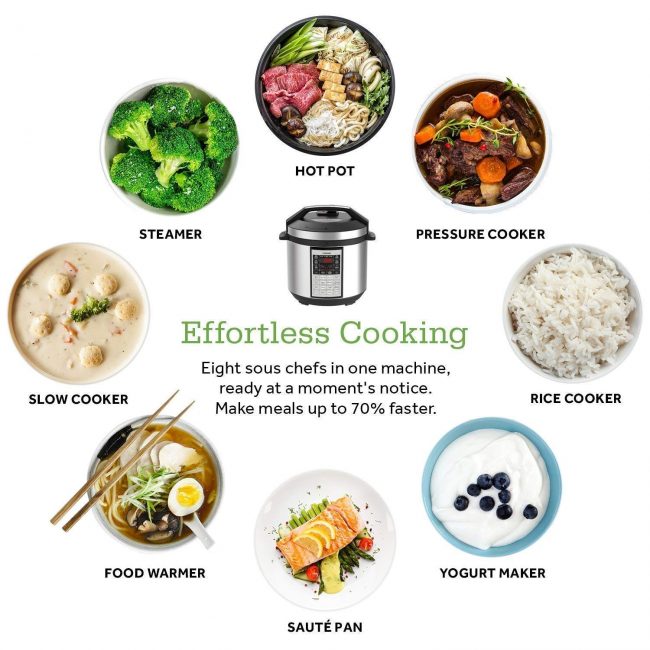 If you don't prefer vegetables with a comparison to the non-vegetarian foods in your everyday meal because of same boredom taste then it's time to enhance your health by some healthy and tasty vegetable recipes that can be very easily prepared in the slow cookers.
People have one common misperception regarding slow cooker is that it is not good for preparing vegetables as it cannot bring that delicious taste in it just like a simple cooker and other dishes which is wrong. You can prepare your favorite veggie in the slow cooker with less effort and without compromising with its taste.
Also, you can serve some fresh vegetables in your plate of meat prepared in a slow cooker that means you are getting full nutritional value by eating protein-rich meat and raw veggies along with this meat.
Improves Your Health
Slow cooker provides a great opportunity in your hand to feed yourself as well, as your family members with a high nutrient-rich meal with less effort and on less time. Out of daily rush of life, no one can think to spend extra effort and time while preparing the food so we often prepare our meal in hurry burry at high flame that harnesses the real nutrition of your raw ingredients.
On the other hand, meals prepared on slow cookers are prepped in a very slow process that doesn't burn the real nutrition of the meal. Apart from that, it requires very less use of oil and spices than a normal dish which is a great facility for people who are suffering from some health concern as they can eat a food prepared in it without hampering their health.
Save Your Money
Slow cooker needs very less flame so it saves you normal costing of a gas stove. Apart from that, the foods that prepared in it requires oil, species and other ingredients in a very lessor or negligible quantity that means a complete saving of money with a comparison to a meal prepared in a normal dish.
Also, you require only one dish while preparing a meal in it whereas when a meal is prepared in a normal dish then several other supporting dishes are required that is again a way to save your money in buying multiple utensils. You also can save your kitchen area when it is not been overloaded with multiple utensils.
Readily Available Foods as and When Needed
We often store the extra prepared foods in the fridge or in the freezer but while eating after five or six days it doesn't contain the same taste as it used to have on its very first day of preparation. However, this issue can easily be managed by slow cookers as it can provide you with readily prepared foods as and when you want.
For this, you need to keep all the food ingredients inside a zip packet in the fridge. As per your desire, you can prepare multiple ingredients packets of different dishes. The day when you would like to eat any of them one simple thing that you need to perform is to pour the ingredient in your slow cooker and leave it to get prepared on its own.
This saves your effort and time to a great extent. Also, you don't have to make compromises with health as generally we do by ordering some foods online on the days when we are exhausted and unwilling to prepare a food by own.
Best Five Slow Cooker Recipes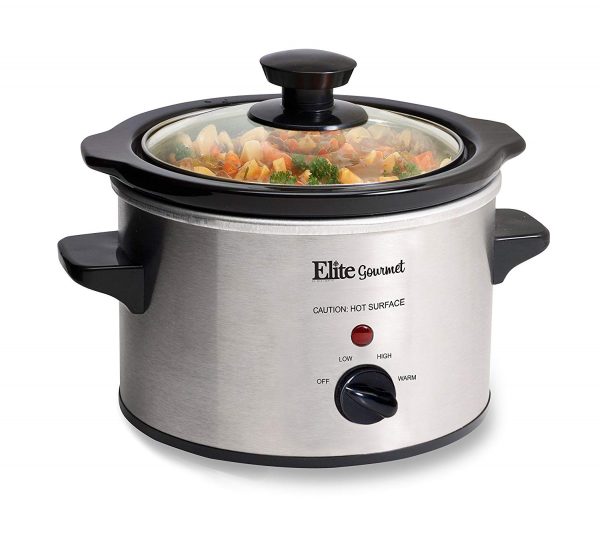 A slow cooker provides you an ample opportunity to prepare a different variety of foods with the ingredients as per your choice that not only get delicious by taste but is also healthy for you as well as your family members as its nutritional value remains twice than a meal prepared in a normal dish. So let's explore some high nutrition dense and yummy recipes that you can easily prepare in your slow cooker.
Italian Chicken with Vegetables
You can prepare Italian chicken with a very prudent combination of healthy vegetables to get complete healthful lunch or dinner with a very less effort. Take boneless chicken, broccoli, brown rice, and white beans. Add spices as per your taste and let all ingredients into the slow cooker to get them prepared automatically.
Serve the delicious meal to your family and ensure the good health by this highly nutrient dense food. Rice and broccoli known for its fiber content and beans and chicken are known for its protein content that means with this single meal your body is getting enough nutrition for boosting your health.
Vegetable Soup
Start your day with a healthful veggie soup or serve it as a snack in evening time for keeping your body energetic and healthy for your whole day work. It is very simple to prepare and good for everyone's health. Pour some fresh veggies like tomatoes, pepper, cabbage etc. and let it sit for some time by setting the timer.
Your healthful soup will get ready to serve on your expected time. You cannot get this much nutritional and fresh vegetable flavor in any packet soup available in the market.
Oatmeal with Smoothies
If you want to have full nutrition of oats then you must try this recipe. Oats are a natural source of fiber and protein that is essential for our health. When oatmeal is prepared in slow cooker its benefits for health gets twice as in the slow preparation process its real quality is not get burnt just like in any other utensils.
Pour oats and some smoothies that you want to add in this meal such as apricot, dry fruits, and honey and let it sit overnight in the slow cooker. In the next morning, your healthy breakfast will be readily available in your hand. This healthy breakfast will increase your metabolic rate and keep you energetic throughout the day.
Vegetable Curry
Prepare a vegetable curry with healthy veggies such as potatoes, beans, cauliflower, and tomatoes. Add a very little amount of oil and spices like ginger and garlic paste. Set the timer and let it get prepared automatically. Serve your family with this nutrition dense vegetable curry in lunch and dinner. You can store the leftover curry in the fridge for the next few days.
Slow Cooker Pulse
Pulse is an important Indian dish that is the common part of our daily meal. So by preparing pulses in slow cookers, you can enrich its fullest benefit for your as well as your family's health. Pour the raw pulses such as chickpeas, yellow petite, lentils etc. or any other pulse as per your wish in this cooker and stay ready to have much more delicious and nutrition dense Dal to sever with rice.
We are very much sure that after knowing all the benefits and feature of slow cooker you must be in hurry to bring this one-stop solution utensil at your home. Now boost you're as well as your family healthy by serving the delicious recipes prepared in the slow cooker for healthy food and overall health benefits.