Most of you, we're sure, know what a snore sounds like. But, for those who don't – a snore is that weird snorting sound that you (or someone else) make while sleeping. It is caused when the tissue lining the back of your throat, nasal passage and mouth vibrate as the air you breathe passes in and out. It is a very common occurrence and over 40% of adults are reported snorers. The condition affects more men than women and you become more susceptible to it with age.
Although it is mostly a harmless thing, you should not overlook excessive and loud snoring. Sometimes it is a precursor to a more serious condition known as sleep apnoea. Those affected by it struggle to breathe or stop breathing intermittently while they are sleeping. If you are suffering from such a condition, you must seek medical attention immediately as it may lead to cardiovascular complications.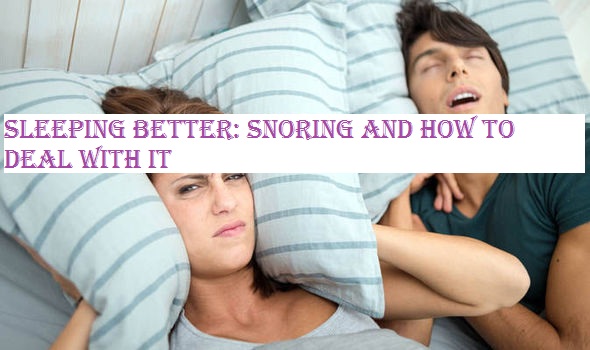 Common causes behind snoring
There can be a lot of reasons behind why you snore. If you can observe and find out what it is that exactly triggers you to snore, the problem can be addressed better.
Body weight 
Poor muscle tone and accumulated fat tissue contributes to snoring. If you are overweight and have a large neck circumference – greater than 16 inches – than the situation is considerably worse. Charting out and sticking to a fitness regimen aimed at weight loss will help you deal with the issue.
Sleeping position
If you sleep on your back, chances are your tongue rolls back and blocks your air passage, thus making it tough for you to breathe and prompting you to snore. If this is the case, then you can try sleeping on your side to prevent your tongue from rolling back. You can also use pillows to prevent you from reverting to sleeping on your back.
Alcohol
Alcohol intake causes the muscles in your throat to relax and worsens your snores. You should cut down on liquor consumption and this will also help you lose weight much faster. If at all you drink, it should be at least four hours before you hit the bed.
Smoking
Smoking leads to congestion in your nasal passage and also causes inflammation of tissue in the region making it difficult for air to pass freely. You can try cut down on smokes to reduce snoring. If not anything else, it is sure to improve your overall health.
Medication 
If you are on any medication like sleeping pills or anti-histamines, it is highly likely that the drugs are prompting you to snore. These medicines are meant to relax your muscles and contribute to making the snoring worse. But, you must consult your physician before you make changes to your medication. The doctor will be able to suggest an anti-sedative alternative as well.
Allergies 
Nasal inflammation and congestion triggered by allergic reactions is another common cause behind snoring. You can undergo an allergy test to identify and alleviate potential allergens – like dust mites, pet hair, specific types of bedding, or any food that you might be intolerant towards.
Nasal and sinus problems
If you suffer from a sinus problem or if the airways inside your nose are congested due to a medical condition, it can lead to a stuffy nose and create a vacuum. This can make inhalation and exhalation quite difficult, prompting you to snore.
There are certain other factors beyond your control that can also cause you to snore. Your age and the way you are built are two of those. As you grow older, all your muscles and tissue gradually lose their elasticity and slacken. When muscles in your nose and throat cavity loosen up, they make airflow tougher and lead to snoring.
Also, men have narrower air passages than women and are more prone to snoring. Besides, hereditary conditions like cleft palates, narrow throats, enlarged adenoids, etc. also lead to snoring.

How to beat the snoring bug
Now that you know that snoring can be caused by a variety of reasons, you can begin to take measures to address the problem. While a minor case of snoring can be dealt with by making lifestyle changes, if it is a bigger problem for you, you might need to use anti-snoring aids or other devices to cure snoring.
Bedtime ritual
Clear nasal passages before you go to sleep. If you suffer from a sinus problem, wash your nose with a saline solution.
Get rid of dry air 
Try to keep the air in your sleeping environment moist. This would be of particular help if you suffer from any allergies. Dry air contains more dust particles which are potent allergens. It also causes your throat and nasal tissues to swell. You can try using a humidifier to handle the dry air problem.
Nasal strips
This is the most common form of over the counter snoring aid. The strips reduce snoring by tackling nasal congestion. They open up your nostrils and allow air to pass more easily. But since most of the snoring originates from your throat, the strips are effective only up to a certain extent.
Anti-snoring pillows
These special pillows are meant to hold your neck in a particular position while sleeping, in order to free up the air passage through your nose and throat. Buy Anti snoring pillow here.
Chin straps
These are meant to prevent mouth venting, or opening of the mouth, and prompt you to breathe through the nose as you sleep.
If the fact you snore is preventing you from getting enough sleep and affecting your quality of life, try out these methods. New techniques to help you stop snoring are being found every day. You can also see an ENT specialist who will be able to recommend medicines if needed and also advise you on the proper anti-snoring device or technique to use, depending upon your requirements,