Foggy weather, cold blowing wind, and dryness in overall bodies skin all gives a sign of winter season arrival which comes with lots of troubles for your internal health as well as for the external beauty too. Just like any other year, you must be ready with your skin and body care regimen to fight with the common dullness which is part of this weather but this year rewards yourself by adding one extra step in your regular care routine with our tips to care for your feet this winter.
Your feet are the only organ which carries whole body weight and provides support for movements and other activities of day to day life. In spite of its bigger importance in your life, most of us make a common mistake by ignoring its care especially in the winter seasons when feet get dry, resulting in cracked and bleeding heels issue appears which is neither good for its appearance not for its health as well.
Though some of us use moisturizers to reduce the dryness of our heels or feet area but is that enough for its complete care and beauty. In one term the answer is NO. You cannot simply remain dependent on your daily body lotion and moisturizer especially in cold and drying winter season otherwise you have to pay for it in the form of tender, bleeding and rough heels.
Also, the condition gets worse when you wear tight footwear and socks which you cannot avoid completely as it is a demand of weather to protect your feet from severing cold. This leads to making the condition of your feet worst with time along with full blow of winter.
It's really very difficult to flaunt your feet in your favorite sandal or any other favorite footwear when neither its appearance is good nor its condition is favorable to try any new footwear. If till date you were suffering from all these troubles of your feet then get relaxed my dear friend as your suffering will end by today itself.
Here we have enlisted some best health and beauty expert's advice and tips for complete feet care in the winter season. These feet care tips will not only prevent the cracked heel trouble during winter but will also ensure truly beautiful, soft, firm and attractive heels beyond your imaginations.
Tips to Care For Your Feet This Winter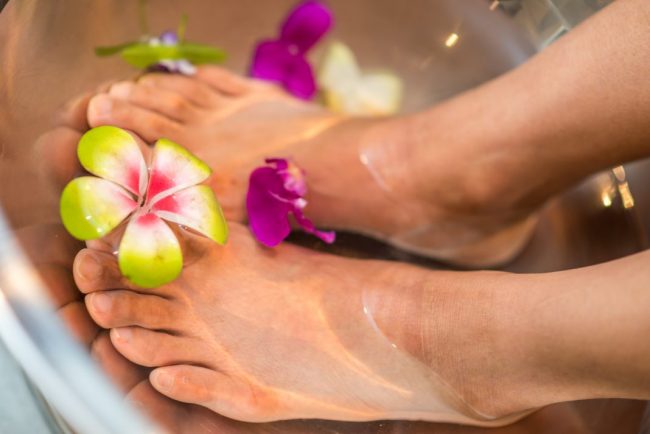 Moisturize Your Feet
Make sure that you moisturize your feet every day during the winter season without failing at any cost. As the dryness in feet develops due to harsh external weather effect, so even a little bit carelessness will give a chance for developing cracks which will further develop some more issue.
Before going to bed during nights apply a moisturizer all over your feet area this will help to heal the dryness in the skin during your resting hours from deep inside. Also after a bath apply moisturizer in your feet to keep them firm and glowing.
Other than that avoid the direct contact of your feet from the floor as it can cause an immediate cold effect in your feet so avoid such condition to occur for the sake of your feet health and beauty.
Exfoliation
The process of exfoliation helps to remove dead skin cells from your heels which prevents the risk of cracking heels which is very much possible if dead skin cells remain around your heels. For exfoliating your feet you do not need to go in a parlor as there are many effective DIY home remedies to clean and clear your overall feet area.
For exfoliating your feet you can try sugar and olive oil mix exfoliator which is not only cost effective but also very efficient in its target job. Mix both the ingredients in a bowl apply it directly over your feet and heels. Rub it with your fingers to remove all the dead skin cells. This will help in removing all existing dead cells from your feet and heels to reveal crack free smooth feet.
Remove Rough Skin
Dry and rough skin around your feet area makes its appearance very dull and unattractive. So it will be better for you to remove all those rough skin which will create a healthy environment for the growth of healthy and fresh skin leading to healthy and attractive feet.
Nails Trimming
Trim your nails on a frequent interval not only to keep it clean but also for avoiding the risk of infections and ulcers which generates easily in infected and untrimmed toe-nails. Before trimming soak your feet for 5 minutes in lukewarm water and then through a nail trimmer trim your nails gently. This will ensure clean and beautiful feet nails which are an essential part of your feet beauty.
Apply Oil in Toe Cuticles
For keeping your toe cuticles moisturized and for preventing the risk of dry, flaky and weak toe cuticles you must apply oil to them every day. For oiling or moisturizing purpose, coconut oil is considered the most effective and safer one.
The coconut oil is known for its hydrating, antibacterial and antimicrobial properties which application on toe cuticles will help to moisturize it, strengthen them and will prevent the risk of breaks, snags, and hangnails.
Frequent Pedicure
A frequent pedicure is very essential to keep your feet beautiful and healthy especially in winter season. So make sure that you visit a parlor on an interval of every one week or fifteen days interval. The pedicure process will ensure that your ankle would not be overwhelmed by dry and dead skin cells by removing and cleaning it thoroughly.
Also, it will remove dead skin from the cuticles to ensure clean, refreshed and moisturized feet. If regular parlor visit affects your budget then you can try a DIY pedicure home remedy as this will also be effective just like a parlor pedicure.
For doing a pedicure at home soak your feet for few minutes in a hydrogen peroxide mixed warm water. After that scrub your feet well and then clean your nails then soak it again in water. Moisturize your feet well after removing it from water to ensure clean, gentle and soft feet area.
Keep Your Feet Sweat Free
One of the prominent reason for cracking heels and dry feet during winter is sweating in and around the feet area that makes the cracks worst. So make sure that your feet do not get sweat even for some time. To ensure this you should apply a foot powder, or light and scented oil such as lavender or chamomile oil before wearing socks which will not only keep your feet crack free but odor-free too.
Keep Your Feet Hydrated
Hydration is not only necessary for your body but for your feet health also as it will prevent the common feet concerns from occurring in winter seasons such as cracks and tenderness. In this context make sure that you avoid extremely hot water shower in this particular reason as hot shower bath will make your feet and all over body's skin more dry leading to rashes and cracks growth.
For keeping your feet and body hydrated, make sure that you drink at least 7 to 8 glasses of water every day which will help to keep your skin hydrated and softer naturally.
Warm Water Bath
For removing your cracked and rough feet issue warm water bath for your feet is an effective idea. For this, you need to soak your feet for a few minutes to ensure that your skin over heels and feet get softer especially those dead skin cells.
After that rub around the heels area through a shower gel to remove all dirt and dead skin cells. Use pumice stone for removing all the hard surfaces especially skin over heels. This process will gently remove all hard and rough skin from your feet for natural growth of soft and fresh skin in its place. After that moisturize your feet gently to calm and soothe it.
Give an Arch Support
Women who are overweight or have gained sudden weight during pregnancy their difficulty in winter season increases more due to strains in their arch. So to avoid such concern make sure that you wear only arch supporting footwear. This footwear provides proper support to the arch and prevents the concern of strains and other related feet concerns.
Coconut Oil Massaging
Oil massaging over your feet area helps to remove its dryness and nourishes it from inside which prevents the concern of crack heels. For massaging purpose coconut oil is considered most effective as it is healthy for all skin issues.
Take some coconut oil in your hand and massage it all over your feet area till the oil fully gets absorbed in your feet skin's pores. Regular massaging with coconut oil will help to nourish your feet skin and will develop soft and glowing skin which gives an attractive look to your feet
Honey and Hot Water Scrub
Honey is known for its great skin-friendly benefits as it is rich with antibacterial and antiseptic properties. So when you use honey and warm water scrubbing it not only removes dead skin cells but also moisturizes or nourishes your skin cell deep within. Also, it prevents the risk of infections in feet which are very common in the winter season.
Use Baking Soda for Exfoliating
Baking soda is known for its natural exfoliating properties which removes all dirt, dead skin cells from your heels to make it soft, firm and spot free. Also, it helps in reducing stress from your heels by relaxing your feet muscles
Apply a Peel Mask
Peeling mask application rejuvenates dead skin cells and promotes the growth of fresh and healthy skin in its place. So just like you use peeling mask on your face for improving your facial beauty similarly, you can improve your feet appearance by using a peel mask on your feet.
Peel mask rich in ingredients like glycolic acid are considered best for your feet as it helps in removing cracked and dry skin from your feet. After applying this peel mask wear booties for some time and then rinse this mask with water. This will make your feet smoother and softer than before.
Wear Socks
Just like other winter clothing, socks too carry an important place not only for protecting your feet from cold weather but for ensuring your feet's good health.
Socks will not let your feet get wet which is the primary reason for the growth and development of skin related traumas as because wet skin makes your tissues softer which can easily be a victim of cuts, blisters, abrasions, etc.
So make sure that you wear good socks in your feet every day. Also, change your socks from time to time and wear only dry and cleaned socks otherwise a dirty or unclean socks can develop infection too which can make your feet condition more worst.
Give Some Rest to Your Feet
People who wear footwear continually for the day without any break are more likely to get a victim related to feet, especially in the winter season. Just like your other body parts your feet also need some relaxation or rest. Flat sandals or shoes are a good choice when you think of giving relaxation to your feet as this reduces stress form heels and to other areas of feet.
Also, you can choose footwear made up of flexible fabric so that you can wear them without any difficulty and stay relaxed throughout the day which is hardly possible in tight footwear with hard fabrics.
If you are in a work which needs you to stand or walk throughout the day then in spite of your busy schedule and work pressure takeout some time for a break so that your feet can get necessary rest to stay healthy and beautiful.
Friends the above mentioned tips to care for your feet this winter, will do a miracle for improving the appearance and health your feet area which is also an important part of your beauty. However, you have to be very consistent while following these feet care routine to ensure crack free, smoother and softer heels and feet in this winter.