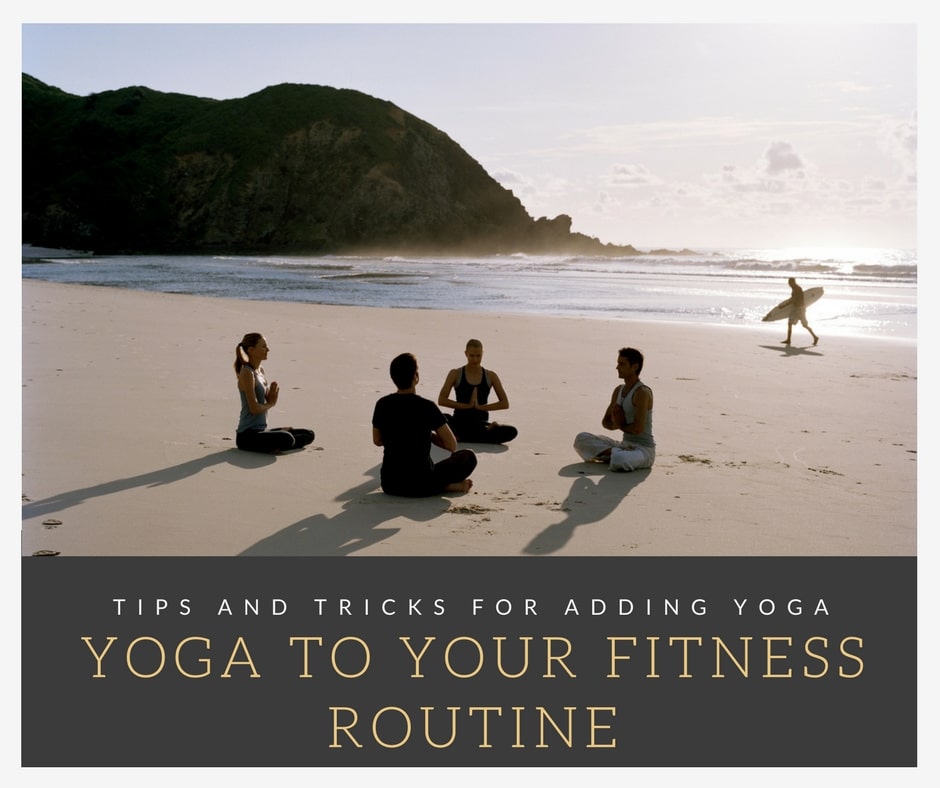 Yoga is one of the most enduring additions to the fitness regimen of those who want to remain toned and strong. After all, it has been around for five thousand years! The ancient art of yoga does more than just burning calories and toning muscles. It strengthens the connection between the mind and the body, allowing deep breathing and relaxing combined with medication. There are currently 100s of different yoga forms. While some are quick and challenging, others are gradual and gentle. The different yoga forms are mainly divided into the following classes:
Hatha Yoga: This is the most commonly known and followed yoga. It involves carrying out series of basic movements with respiration.
Power Yoga: This is a fast paced workout that demands agility from those working out. It is a faster, higher intensity practice for building muscles.
Vinyasa Yoga: In this form, the series of yoga postures or asanas flow into one another in a smooth and seamless manner.
Bikram Yoga: This is also called hot yoga and it is performed in an oven-hot room comprising 26 poses. The challenge lies in working the poses in the scorching temperatures.
Ashtanga Yoga: This involves a specific breathing technique along with the yoga poses.
Iyengar Yoga: This is the type of yoga where blocks, straps and chairs are used to maintain proper alignment for the body.
Intensity Level
This varies depending on the genre of yoga. While hot and power yoga are extremely challenging, the hath or Iyengar yogas are more gradual. These yoga positions target the core muscles. From the side plank to the boat pose, there are asanas for exercising every part of the human body. With yoga, not just arm strength, but the weight of your own body is used to challenge you to reach greater levels of fitness. Some, like the crane pose, even require complete support for the full body weight.
Yoga works different parts of the body including thighs, hips and quadriceps. Yoga squats, warrior poses, bridges and other such detailed positions give your body stability and strengthen your glutes. Others such as the downward facing dog and the cat or cow pose or even the balasana offer a unique stretch for the back muscles.
Yoga postures strengthen the muscles and increase range of motion, besides also boosting flexibility. Yoga is not considered a cardio exercise which is surprising, considering that variants like power yoga are good for heart health. Research has found that yoga is as beneficial as aerobics for boosting human health. Yoga also provides a complete body workout and it is a low impact exercise. A typical workout routine that works to restore the health of the mind and the body should incorporate yoga.
Benefits of Adding Yoga To Fitness Routine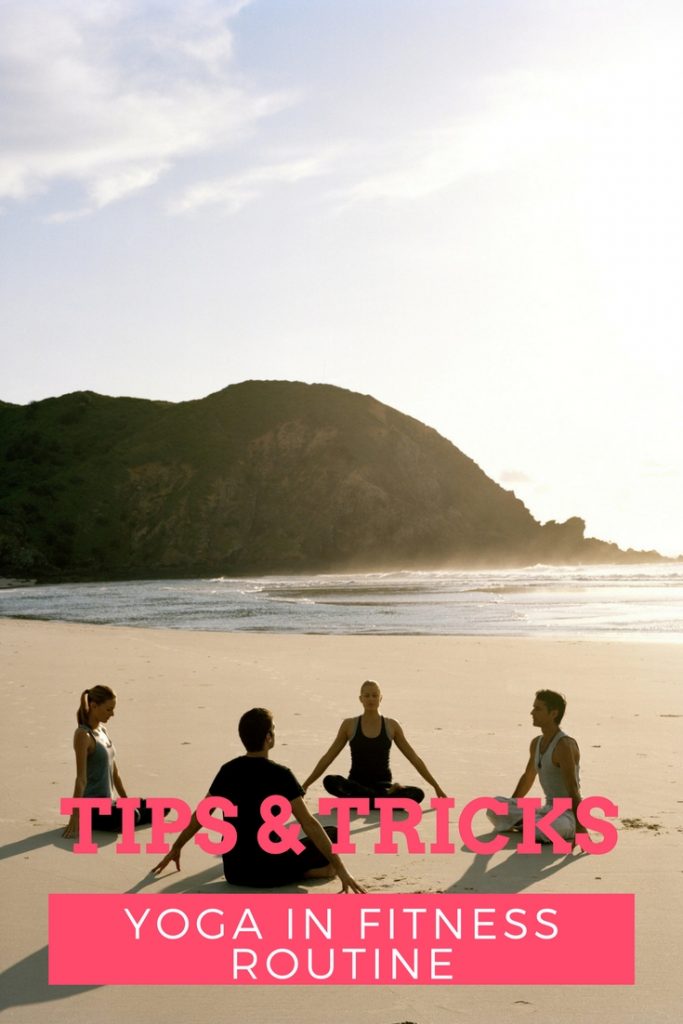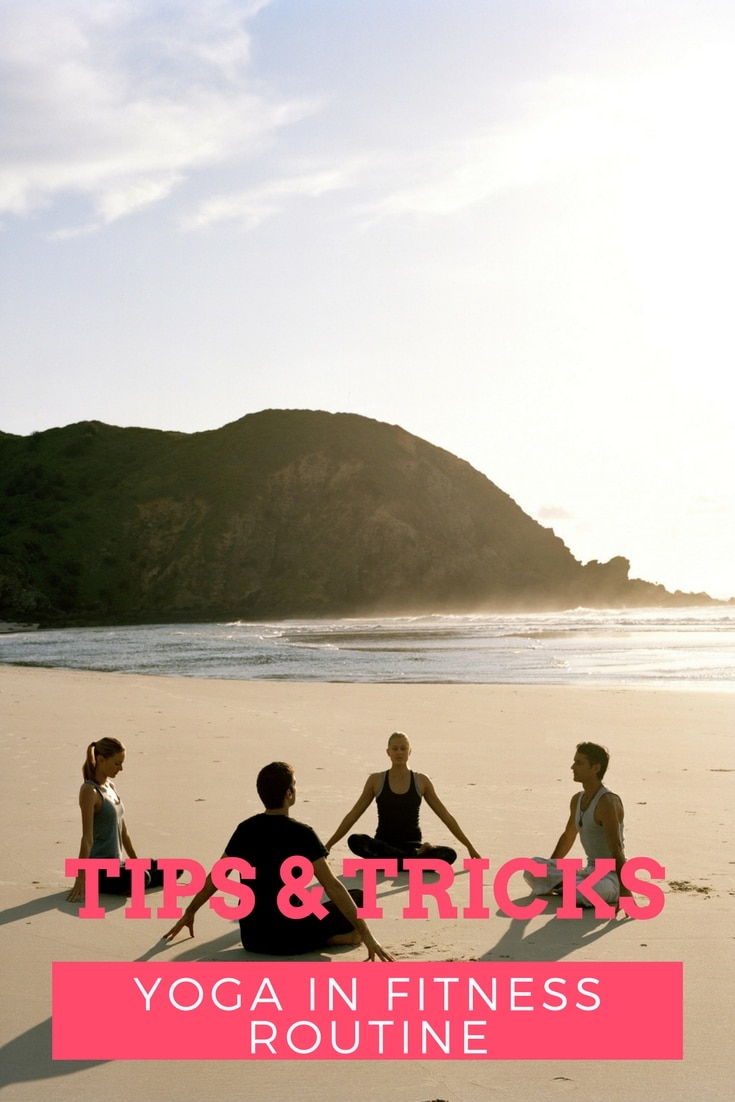 Overall, the fitness program needs to be well rounded to improve fitness level and maintain the desired body composition. Strengthening the body muscles, yoga has benefits for the mind as well. Here are the many advantages of including yoga in your workout plan.
#1 Improve Mind Control. Strengthen Bodily Muscles
Excellent body control offered by yoga boosts mind power. It gives you the ability to heed the signs of your body and build awareness. Most of the yoga focuses on mind-body links. If you practice yoga, on a regular basis and include it in your workout, you will find mental health benefits spilling over to the physical side as well. Balance, coordination and agility will improve vastly.
#2 Cope With Stress
Many different yoga types are there. Most involve deep breathing and putting your body in a calm, relaxed and meditative state. This eases the tension in the muscles too. Stress occurs when you can no longer cope and a yoga practice is the perfect stress buster.
#3 Boost Your Breathing
A regular workout improves lung capacity and helps the practitioner to be able to focus on a controlled and slow breathing rate. Efficient breathing helps to get the most out of your cardio or resistance training sessions as well.
#4 Stay Supple
Apart from breathing and relaxation, there are other important steps to take as well. Yoga postures boost suppleness and flexibility, increasing the efficiency of other workout programs in your regimen. This also lowers the risk of injuries. Increased power helps because elasticity of the muscles increases and makes recovery faster.
#5 Quick Recovery and Muscle Repair
Yoga helps to knit together a challenging workout because it facilitates recovery and repair of muscle fibers. soothing the muscles to relax and get improved circulation. This also boosts rebuilding and strengthening of the core muscle groups enabling weight trainers to get back to heavy lifts more quickly.
#6 Physical Benefits
Increased flexibility, joint, tendon and ligament lubrication and massage of the inner body organs serves to detox the body. This also tones the muscles and strengthens problem joints such as core strength and spinal flexibility. Yoga also ensures organs and muscles of the body work in a level way and toxins are flushed out of the system.
How to Add Yoga to the Workout
For a workout that is carried out 2-3 times per week, a warm up for 20 minutes is essential. This should then be followed by 20 minutes each of resistance and cardio.Finally, the workout should end with a yoga session.
If you train more than that, break your exercises into different days. It depends on the objectives you have, the time required, the amount of effort used etc. You have to first find out the extent to which you want to train on a consistent basis. Once this is decided, you need to focus on the objectives next. Are you looking for improved strength, enhanced flexibility or better cardio? While resistance training is useful on its own, it will exert more mobility effects when paired with yoga.
Prioritize What is Important
Be clear about your priorities. For example, most people who want a fit and toned look start with 1 to 2 days of resistance training and then factor in other important aspects. The increase in flexibility is one such goal. Cardio is perfect for boosting mobility plus it helps in heart health. Combining these with yoga can yield a bigger set of benefits.
Choose the Type That Suits Best
There are different types of yoga. While some are more meditative and gradual, others are fast paced and quick. This is why you need to consider the pace at which your body is functioning. Listen to your body because this is the most important thing. Resistance training comes in different varieties namely pure strength, power or speed. Pure hypertrophy, combination circuit methods, conjugate training and other techniques are also there. Take care that resistance does not interfere with yoga and vice versa. For example, a calisthenic workout may not be followed by gentler yoga and may be more suited to the inclusion of power yoga.
Separate Your Workout Days
From a basic standpoint of giving your body adequate stress before exercise, you need to place then in separate slots or days. The first day can involve resistance training, the second cardiovascular training. Day three will center around yoga and then again days 4 and 5 will involve resistance and cardio. This then ends with yoga and a rest day completing the week.
Training for just 5 days means you may have to leave out one set. But it should not be resistance, given the value for general training purposes. Depending on the time you have available for training, you can decide the variations.
Poses to Add
Sun Salutation
Optimize your body workout to bring mind, body and spirit to higher levels. For this, and for those short on time, the sun salutation can work wonders. It adds a level of challenge to reputations in weight training or cardio routines. Keep your workout interesting and fun using the sun salutation.
Power Yoga
This is perfect for those in need of weight loss. Estimates say around five hundred to 1250 calories can be burnt in just a single session based on intensity. Hot yoga, for example, is said to restore health by improving circulation and lessening the chances of failure of organs such as the heart.
Chair Pose
This simple yoga asana involves strengthening various parts of the legs and key muscles of the lower back. Strength and release tension from chests and shoulders and increase the impact on the thigh muscles.
Cat Stretch
This yoga pose requires lesser movements to attain a desired impact. This is wonderful for the back and strengthens the muscles in the back improving the elasticity and suppleness of the spinal column. It also boosts flexibility and builds strength, besides enhancing the level of circulation in the body.
Revolved Triangle
This yoga pose improves balance besides boosting leg strength and flexibility. It boosts the hamstrings and makes it a perfect exercise for those suffering lower back pain.
Bridge Asana
This is essential for activating the gluteus maximus and strengthening the muscle group. Balance, inner core strength and prevention of injury all come into play here. The exercise this asana leads the practitioner to perform tones and stabilizes the entire body.
Dolphin Pose
This pose builds strengthened muscles and a flexible core. The dolphin pose works to create a dynamic flexibility in the body by moving from the quadruped position to the pose and vice versa.
Lunge Pose
This pose is suited for isometrics and conditioning the body to be prepared for a heavy duty workout. It helps to maintain a strong trunk and assists in retaining flexibility. Staying in this position increases the hip-flexor length to feet to hand movements and creates a more dynamic movement series.
Boat Pose
This pose uses isometrics to tone the stability of the trunks and improve core balance. The spine is at 45 degrees while the legs are pulled up, keeping core muscles tight. The back is straight. This pose activates cores muscles before the commencement of the fitness routine.
Corpse Pose
Though this is associated with more mental than physical benefits, it is a useful addition to a strenuous workout especially when the body needs to recover. Use the time to clear the mind and relieve emotional and psychological stressors and tensions.
Conclusion
Yoga, as well as cardio and resistance training, forms a holistic exercise routine for toning, strengthening and balancing the body. Improve the stability and flexibility of your posture through the ancient art of yoga, which strengthens the mind-body connection and makes you feel more in touch with the inner spirit as well as healing the external body. Let your practice blossom, with new combinations of high-intensity interval training coupled with yoga to give your body the ultimate tools to shape up and be strong.
Save
Save