The workout is a common craze in youngsters as they want an attractive body muscle and curvy shape at the fastest possible time. Out of several workout machines, cardio is one of the most common and favorable ones however it will really be an amazing feeling if you can enjoy during exercise. In order to ensure this here, we have come up with the fun cardio alternatives to the boring treadmill.
Workout on treadmill ensures toned muscles and figure that you can perform for long hours but no one can deny to an undesirable fall on this workout machines resulting in an injury that may be fatal too. So to avoid such unforeseen accidents and circumstances you must try some energetic plus safe cardio alternatives that you can perform for several hours without getting bored.
Top Fun Cardio Alternatives to the Boring Treadmill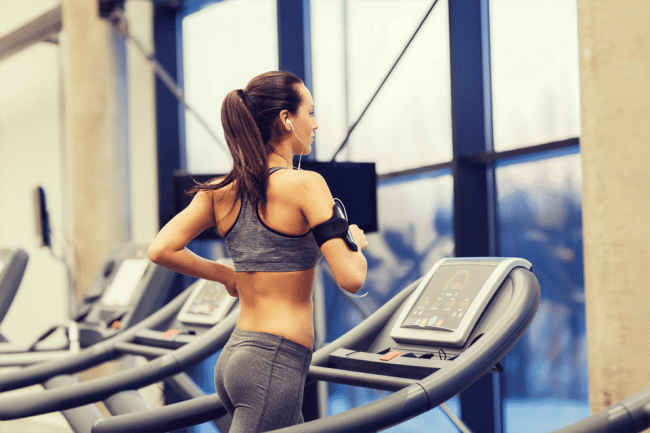 If we say that workout is an immense and inseparable part of our daily life then this statement is not wrong. We cannot deny the benefits of workout for our health and overall improvement in regular lifestyle. However, regularity in anything causes boredom after a particular point.
This theory is equally applicable to your regular workout plans and activities too. So lets us discuss some better alternative forms of workouts that are basically alternatives of regular cardio including a boring treadmill.
Stair Workout
Stepping up and down on the stairs of an old-fashioned building will be a great replacement of the daily monotonous treadmill cardio exercise. You simply have to step up and down in the building through its stairs and it is enough to raise your heartbeat rate. This tones to your lower body muscles and improves your heart's health.
Indoor Cycling
Cycling is another easy and fun full cardio alternative that tones to your complete body muscles. As you are practicing indoor cycling so there is no tension of fall and injury on a roadside even in the case you get to fall on the ground.
Simply paddling on the foot stand of your cycle in normal motion will kick your heart rate and you can practice for several hours without getting bored. So what a great fun full opportunity, when you are getting a chance to boost your muscle along with complete fun and safety.
Hot Yoga
Yoga has numerous forms and amazing steps which are quite capable to boost your body muscle along with lifting to your mental health. Hot yoga is one of those yoga forms that can well compete with the popular cardio workout i.e. treadmill. Apart from that, you bring dual benefits out of these yoga forms practice, one you are toning your muscles and another is you are releasing your mental stress.
Some popular forms of yoga needed tough physical poses which includes hot yoga, vinyasa, Ashtanga, power yoga etc. Though initially, you might face difficulty while practicing these intense forms of yoga but later on you will feel comfortable and can stick in it for a long time.
Yoga is one of the simplest and safest forms of workout to boost your body muscles along with healing your soul and spirit. It teaches to control your mind which is very important to balance your life with all respect.
Kick Boxing
A workout is all about releasing sweat from your body means excess the workouts, more sweating in turn high rate of metabolism which is important to manage your cardio health. Kickboxing ensures workout with fun which is easy in practice and you can stick on it for several hours without getting bored that means a perfect alternative to the boring treadmill.
Nonstop punch and kicks on the punching bags with small stepping, raise your mood and interest towards this cardio alternative workout when the count of punches get increased. It covers to almost your all muscle groups throughout your body and increases your heartbeat which is important for healthy heart and good pumping rate.
High Intensive Interval Training or HIIT
If your planning is to reduce your body weight at the fastest possible time then you must try HIIT workouts as these exercises are an amazing alternative to treadmill cardio workout that you can do with fun. It burns your calories level faster than the steady steps on the treadmill.
There are several HHIT workout forms, as per your choice and suitability you can select any one of them or can try alternative HIIT exercises for a change. Jump squat is one of the most effective HIIT workouts that tone your overall body muscle, however, the basic force is given to lower body part including gluten muscle, thigh, and leg.
HIIT will boost your heart rate and improve the blood circulation rate which is very beneficial for people with cardio health issues. Apart from this, there are so many other HIIT workout forms that you can choose as per your suitability.
Rowing
If you want some fun full change in your regular treadmill cardio workout then you must try rowing which is not only effective for reducing your body weight but also tones your body's muscles. Another benefit of practicing rowing workout over the treadmill is its safety concern because it is much safer than the later one.
In rowing, you don't have to worry about your legs injury and fracture which is quite possible on workouts which indulges your foot practice over a harsh or tight surface. Apart from that, it boosts your heart rate and tones more than 80% of your body's muscles at a time as your whole body needs to involve in this workout.
Trampolining
Trampolining is another best alternative of treadmill cardio workout that raises your heart rate faster and higher than the treadmill workouts. Apart from this, its fun full steps will not let you bored even though you have spent several hours on practicing it on regular basis.
It is quite easy to practice it and with small time training, you can be an expert of this alternative cardio workout. Start practicing with little warm up like jumping jack in the middle of the trampoline and raise your speed after some time.
Enjoy the music at your gym while practicing this full of energy and easily performing workout every day for a change in your monotonous workout forms. It tones your whole body's muscle and increases your heart rate which is very essential to balance your heart health and for preventing cardio related health concerns.
Dance Cardio
Workouts practicing can really be a matter of fun when you try some alternative workout plan instead of indulging in same or regular workout postures and practice such as the treadmill. Dance cardio is a wise alternative plan to change your mood and stay stick with your workout plan.
You need to move your whole body on different steps and movements as per your instructor's direction on some popular beat of songs and pop music that not let you feel bored even if you crosses more than an hour. It tones your whole body muscles and impacts your cardio health by raising and lowering your heart rate. It is a safe fun full cardio alternative that you must not miss.
Benefits of Cardio Workouts for Health
Cardiovascular workouts forms tend to increase your heart rate as well as increases your blood circulation level throughout the body, which is the key to a healthy body and lifestyle. However the benefit of cardio workouts is not limited to improving your heart health, instead, it is much more than that. So let's discuss some most vital health benefits that you get after doing cardio exercises.
Increases Metabolism Rate
Our body metabolism rate plays an important role in managing the functionality of different body parts. When you do an intense cardio exercise your body's metabolic rate automatically gets increased which not only speeds up the functionality of your heart system but at the same time raises the productivity level of all your body parts which indulges in that workout session.
HIIT is the most prominent example of a cardio workout that simply stimulates to your metabolism rate and boosts to your immunity power, blood circulation, growth system and most importantly helps in managing your body weight to the desired level. Those who want to lose their weight or want to gain body weight, cardio is the most suitable workout to achieve their target.
Improves Your Heart Health
Cardio is primarily focused on improving your heart' functionality which is one of the most important parts of your body and needs to work properly for ensuring a healthy and diseases free life. Cardio workouts raise your heart rate and increase its pumping fluency which is important for purifying and well circulation of blood all over the body.
Only 20 to 30 minutes of cardio exercise every day is enough to ensure your good health and most importantly for preventing the heart-related health risk which comes under the category of severe forms of diseases and often life-threatening too.
Enhances your Recovery Power
Our body is not a machine after all it is made by living muscles and blood vessels so it hurts, injured and pains when you perform an intense weight lifting exercise. The soreness and stiffness occurring in the muscles after such workout take time to get recover completely and for another day workout it really needs courage and strength.
This reduction in the recovery power or ability of your body can be enhanced by performing some fun full cardio workouts after practicing an intense weight lifting workout. A small session on the treadmill or in trampoline is enough to lift your muscle strength as your reduced rate of blood circulation get a good flow and you feel the energy for another day's gym workout as usual.
Balances the Hormonal Level
Hormones throw an immersive impact in your health as well as your lifestyle. So it's very essential that your body hormonal level remains in a balance for a balanced lifestyle and for healthy living. Regular cardio workouts help in releasing the stress bursting hormones which reduce the problem of stress and depression, two severe mental health concerns.
Apart from this, it also prevents the issue of fatigue and tiredness by keeping you energetic all the time. You can see the is difference easily in people that those who perform regular cardio workout remains more happy and successful in their life than those who never do such workouts and live a sedentary lifestyle.
Prevents Obesity and Diabetes
Obesity or excess body weight is one of the most common health problems by which every second person you can find affected. It not only hampers your external look and appearance but also helps in the growth of other chronic health issues such as obesity, hypertension etc. However, with cardio workouts on daily basis, you can combat all these issues with this single remedy.
Regular cardiovascular exercise prevents the storage of glucose in your body by utilizing it in the different functions of your body. Moreover, an increased metabolic rate obtained by cardio exercises burns the extra fat and calorie in your body which helps to reduce your body weight and keep your sugar level in proper balance.
Boost to Your Brain Health
Out of several benefits of cardiovascular exercise brain boosting or uplift is one of them which is easily possible by maintaining regularity in this workout. Just like other body parts brain also don't remain untouched from getting benefited out of cardio exercises.
It is said that due to regularity in your body movement one important brain area called hippocampus which works as storage for memories and knowledge gets increased that means an increase of your IQ level, sense, and reduction in forgetfulness. This brain-boosting feature is hardly possible with other fitness workouts and that is the reason cardio workouts are so beneficial and important for people of all ages.
Enhances Your Skin Health
Cardio workouts work as a natural therapy for your skin health by enhancing its condition and beauty with all respect. It prevents aging-related problems and reduces aging signs such as fine lines, wrinkles, sagging, dryness etc. An indulgence in regular cardio exercise increases the blood flow in your skin and that speeds up your skin repairing process which is vital for a healthy, glowing and fresh skin.
Enhances the Sleeping Quality
Cardio exercise along with other physical activity impacts a lot to your sleeping quality. A regular cardio workout increases your recovery power and releases stress hormones from your body which is vital for a sound and long hours sleep.
This is the reason people who have sleeping deprivation issues like insomnia are often suggested to do cardio workouts in their daily life for improving their sleeping pattern. This is a natural and effective way to get sound and healthy hours sleep which is key for a healthy lifestyle.
After knowing amazing benefits of cardio workouts we are sure that you must not ignore this worthy and healthful workout for boosting your overall health. Also, for more fun and refreshment you should definitely try to the fun cardio alternatives to the boring treadmill.