One of the most unpleasant symptoms facing menopausal women is the hot flash.  A hot flash is a sudden, momentary feeling of heat/warmth experienced by menopausal women.  This can also be accompanied by flushing in the face (known as a hot flush), profuse sweating, increased heart rate, and even chills.  For women going through menopause, this can be an all-too familiar and unpleasant feeling.
Hot flashes can not only be uncomfortable, but they can interfere with everyday living as well.  Some women experience frequent hot flashes, along with profuse sweating at night.  This can cause difficulty getting good sleep, which can also affect productivity and mood during the day.  Hot flashes are experienced by 85% of women undergoing menopause, although the level of severity and the frequency of these hot flashes may vary from woman to woman.
Some women don't experience any hot flashes during menopause.  For other women, hot flashes are a momentary nuisance that they experience occasionally while going through menopause.  For other women, hot flashes can be a constant issue that they experience beyond the initial transition to post-menopause – it can continue for the rest of their lives.  However, generally speaking the severity of the hot flashes will diminish over time.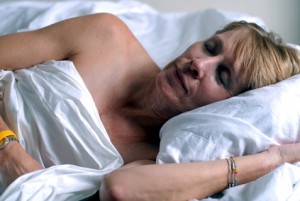 Causes of Hot Flashes After Menopause
Hot flashes are caused by hormonal changes in a woman's body brought on by menopause.  When a women goes through menopause, her estrogen levels diminish.  Because estrogen has an effect on the part of your brain – the hypothalamus – that controls body temperature (along with sleep cycles, sex drive, and appetite), this lowering of estrogen levels during menopause can trick the hypothalamus into thinking that the body is feeling too hot.
In response, the brain instructs the nervous system, heart, and blood vessels to react to get rid of the excess heat, much like it would if you suddenly walked out into the dessert.  All of a sudden, the heart pumps faster, blood vessels near the surface of the skin expand to allow more blood to pump through and radiate away your body heat, and perspiration occurs to get rid of heat.  While this same mechanism helps keep you cool in hot temperatures, when this mechanism is triggered by a sudden drop in estrogen levels, it can cause sudden discomfort in the form of a hot flash.
Treatment of Hot Flashes After Menopause
There is no 100%, surefire way to completely get rid of hot flashes during menopause – at least not at the moment.  However, women can look to avoid some of the triggers that are likely to cause or exacerbate a hot flash.  Some common hot flash triggers to avoid and minimize include:
Spicy foods
Alcohol
Caffeine
Stress
High temperatures and heat
Tobacco smoke
While avoiding these triggers won't get rid of your hot flashes completely, it can greatly reduce frequency and severity of the hot flashes.
Women can also look for ways to treat the symptoms of hot flashes and reduce the level of discomfort they experience.  This should be used in combination with the avoidance of hot flash triggers listed above.  Some techniques women can use to reduce hot flash symptoms include:
Stay cool, especially at night.  Use a thinner blanket while you're sleeping, and use fans and air conditioning wherever possible.  Additionally, wear light, breathable fabrics such as cotton.
Exercise regularly.  Some good ways to exercise during menopause include swimming, walking, cycling, dancing, and even some yoga (but stay away from hot yoga).
Meditate and practice deep breathing – slow abdominal breathing can help relieve hot flashes.  Try breathing slowly (six to eight breathes per minute) and deeply from your abdomen for sessions of about 15 minutes twice daily (in the morning as well as in the evening).  You can also exercise deep breathing exercises at the onset of any hot flashes.
For women with severe hot flashes, an additional prescription treatment option is hormone replacement therapy (HRT).  This is especially helpful if your hot flashes are interfering with your daily living.  Hormone replacement therapy doesn't work for every woman, but for many women, hormone replacement therapy can reduce, or even eliminate hot flashes.
As an additional benefit, hormone replacement therapy can also help eliminate or alleviate other menopause symptoms including mood swings and vaginal dryness.  It should be noted however that hormone replacement therapy can carry with it some potential health risks, including gallbladder inflammation as well as blood clots.  While hormone replacement therapy is usually safe, even short term hormone replacement therapy can carry potential health risks for certain women.
For this reason, women interested in hormone replacement therapy as a potential treatment for hot flashes and other menopausal symptoms must consult their doctor.  Hormone replacement therapy should only be undergone under the close supervision of a qualified physician.
If hormone replacement therapy is too extreme of an option and the trigger avoidance and natural symptom relief tricks aren't working well enough for you, there are other drugs and treatments you can try that may help with symptom relief.  Some non prescription treatment options for hot flashes include:
Advil (Ibuprofen)
Tylenol (Acetaminophen)
Vitamin B
Vitamin E
These treatments have proven effective for some women in the past, but there's no guarantee that they'll work the same for every woman.  For some more powerful prescription hot flash treatments, you can ask your doctor about the following hot flash treatment options:
Birth control pills
Blood pressure medications – Aldomet and Catapres
Antidepressants – Paxil, Effexor, Zoloft
Neurontin (a type of anti-seizure medication)
Some of these treatments will well for some women, while others will work better for others.  It's possible you may need to experiment with a number of different treatments and combination of treatments to find something that works for you.  Please note that many prescription treatments will carry the risk of other side effects, some of which may be quite severe.  It's important that you sit down with your doctor and carefully weigh the potential benefits and risks of the various treatment options prior to selecting a course of prescription treatment.
This is a guest post by Nathalie Sanderson from ExFatChicks.com