Wrinkles, a bane of aging is mainly due to the decrease of collagen levels in the skin. However, at times these thin lines or creases can even form pre-maturely on your face and neck due to stress, poor diet and impulsive weight loss. Many of us are so sick of wrinkles that we are ready to go for costly products, creams and even painful cosmetic and surgical procedures like Botox but do you know you can actually get rid of your wrinkles without expensive stuff, doctors, prescribed medicines and contemporary lasers. Yes, like every other thing mother nature has remedies for wrinkles too.
Let's find out how to get rid of wrinkles naturally: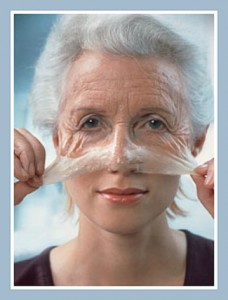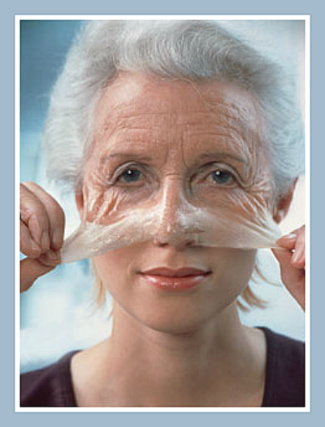 Image Credit :- skincareresourcecenter.com
Take Your Vitamins
To eliminate wrinkles you first have to neutralize all the free radicals that have been created by pollution, the sun and even by stress. In other words you need anti-oxidants to reinforce collagen and elasticity of your skin. Vitamins, the powerful anti-oxidant works an as effective natural anti-wrinkle therapy which not only helps in getting rid of the thin lines and creases but also promotes hale and hearty younger looking skin. Consume more of leafy vegetables and fresh fruits to procure Vitamin A, C and E for rebuilding the elasticity of the skin. Also indulge more of eggs, organic meat and whole wheat to gain Vitamin B complex, a potent anti-oxidant.
Milk and Honey Cleanser
The unique combination of milk and honey is an effective ancient anti wrinkle therapy which even modern science approves. Lactic acid in milk helps you to cleanse all the pores, remove all sorts of unwanted rubble from the skin and help the skin in secreting collagen. On the other hand, honey which is full of humectants compounds helps in absorbing and retaining moisture in the skin which prevents the skin from dehydration and enhances its elasticity. To make this cleanser you have to mix one tablespoon of honey with half a tablespoon of whole milk and then apply for ten minutes. Also, avoid any sort of harsh cleansers that might cause dehydration and disrupt the health of the skin.
Lemon Juice and Sugar Exfloliator
Lemon is a source of citric acid which has strong exfoliating properties and can easily eliminate wrinkles. It helps in eliminating all the unwanted cells from the outer layer of your skin and maintains the smoothness of your skin. Moreover, lemon juice is loaded with Vitamin C which again is a rich source of collagen. Sugar, on the other hand consists of glycolic acid which aids in diminishing dead cells and repairing the damaged skin. Mix two tablespoons of lemon juice in one tablespoon of sugar to gently massage on your skin. Avoid hurting your eye.
Use Natural Astringent
Lemon balm can be used as a natural astringent as it helps in keeping the skin firm and rigid. You can make a lemon balm rinse by boiling some lemon balm in water and then when it cools off you can rinse your face with the help of this natural astringent.
Wash Your Face With Oil
Massage your face with any natural oil such as coconut, olive or cod liver oil. These oils not only help your skin to retain water and keep you hydrated but also helps in maintaining your skin's quality. You can apply these natural oils on your face, massage it for one minute and then wash it with lukewarm water. Make it a habit to repeat this activity daily.However, make sure that you do not over wash your face with tap water. Over washing may lead to depreciation of all the essential oils from your skin, ultimately make it dry and rough.
Increase the intake of Fatty acids and Protein
Eating protein rich food such as fish can help you to reduce and eliminate your wrinkles. Fishes like Cod and Salmon are the best bet. Salmon, a rich source of fatty acids, omega-3 and protein helps in maintaining the health of your skin and keeps you wrinkle free. Needless to say, you will look younger and will possibly have less or no wrinkles at all if you increase the intake of fishes like Salmon in your daily healthy diet.
Egg White Mask
The white portion of the eggs is a well-known solution for eliminating wrinkles naturally. Being a natural stringent, the egg white helps you to tighten all your pores, firm the skin and diminish the wrinkle. Make sure you use only egg whites and discard any yolk while you apply it on your face. You can wash the mask after 20 minutes with cool water. This is a quick fix to vanish your wrinkles temporarily and perhaps one of the easiest, simple and effortless method.
Rest Well
Yes, it's true, to get rid of your wrinkles you need to relax and get a proper sleep. So, from now on make sure you have a good night's sleep everyday. Make sure you have a good night's sleep everyday. This will help in preventing any growth of the hormone called cortisol. Cortisols plays a vital role in breaking down cells that are very essential to keep your skin tight and healthy. Also, avoid any kind of unnecessary stress, tension or anxiety. Try to straighten out your worries as much as possible.Keep yourself fit by physical exercise and yoga.
Drink lots and lots of water
Nothing in the world can keep you as hydrated as the water. Increase your water intake. Drink as much water as you can for retaining the moisture level and increasing the elasticity of your skin for eliminating any sort of thin line and crease from your pretty face. Moreover, you can also drink various kinds of fruit juices to increase the water content of your body.
Finally, avoid all possible means of direct sunlight and stay protected from the harmful ultraviolet rays that are ought to harm the texture of your skin. Wear sunglasses, hats and caps.
Follow these significant steps religiously and you will indeed love your new found smooth, silky and healthy skin. Needless to say, you will easily get rid of wrinkles naturally without much effort and pain!
This is a guest post by Popea Ionut from Skin.Me.Uk. If you are also interest to write for HealthResource4u, Please check our guest posting guidelines at write for us.