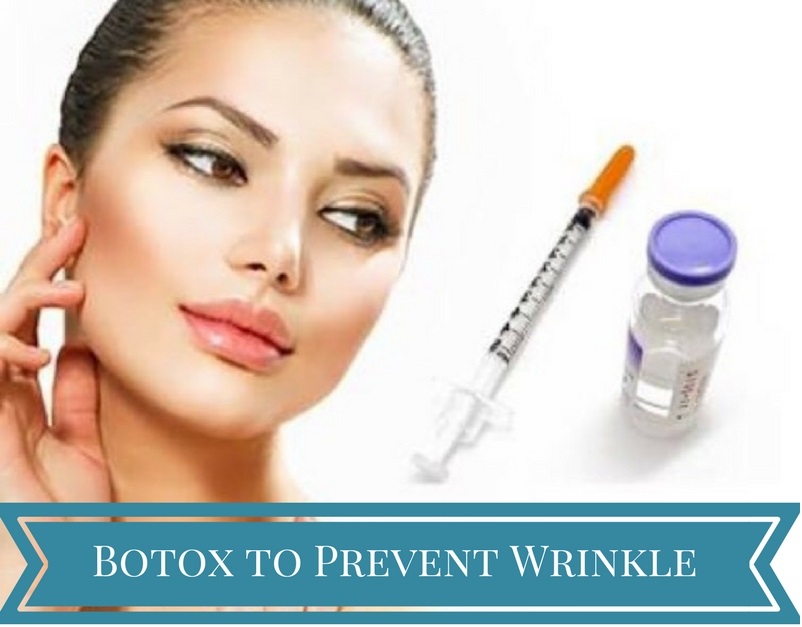 There are numerous options when it comes to fending off wrinkles and one of these is a botox injection. It is common for one to wonder whether botox prevents wrinkles or treats the ones one has. Botox can remove the appearance of wrinkles one headed also prevent wrinkles from forming. Given that muscle paralyzing properties of a botox injection, one may wonder how new wrinkles can prevent from forming? Choose botox to treat wrinkles and see how it affects your skin positively. This brings us to the most important question of all– what is botox?
What is Botox
Botox is an injectable substance derived from botulism toxin. This is a dangerous substance in standing water and decaying food. But when used in the right doses and correctly, botox is safe, US FDA approved and perfect for treating everything from facial wrinkles to migraines.
Botox is often used on crow's feet, forehead wrinkles and frown lines that appear in between the eyebrows. It can also impact other areas of the face that are affected by wrinkles. If you are seeking solutions for treating or preventing wrinkles, botox injections are the top solution.
Why choose Botox?
If you want to get rid of wrinkles, then Botox is very effective and works very quickly.  It is a very popular alternative to invasive methods such as face lifts etc.  The problem with Botox however, is that using it too much can cause it not to work the way you want.  It is advisable not to become obsessive about it.  You need to make sure that only a professional with a good reputation is administering your Botox for you.
How To Treat and Prevent Wrinkles Using Botox
When a botox injection is placed into the skin, it deadens the nerve impulses to surrounding muscles. This keeps muscles from contracting as they usually do. Wrinkles relax and smoothen out, making them less noticeable. Botox injections become visible within 5-7 days of treatment and last around 3-4 months, based on whether the injections undergo dilution or not.
As more treatments are received, botox treatment becomes effective. This makes continuous injections a viable course for treating wrinkles. One may wonder if botox prevents wrinkles as well. Well, many people use botox as a quick solution for easing wrinkles. This also helps new wrinkles from a formation.
Botox: Does It Prevent Wrinkles?
Botox prevents wrinkles as it works all round the clock to keep muscles slack. Wrinkles form around the forehead, the eyes and eyebrows on account of facial expressions that are made, such as laughing, frowning and smiling. Contraction of facial muscles makes wrinkle creases become deeper. This is more so when the body secretes less collagen. Collagen is a protein that ensures your skin remains taut and elastic.
As botox is introduced into the skin, it lessens the chances of wrinkles from forming. It also keeps facial muscles from contraction for many months. This also prevents wrinkle formation. Investment in botox injections 4-6 months may prevent the formation of new wrinkles and be an important choice for fending off aging skin.
If botox is chosen to prevent wrinkles and fight them, do wait for around at least a minimum of 12 days to see the complete effect of injecting botox. Work with cosmetic surgeons or physicians to get the look you want. Botox is a highly purified toxin that can erase or reduce horizontal forehead line, crow's feet and vertical frown line.
Botox also lifts the corners of the mouth that are sagging with age. This smooths out pin cushions, softens smoker lines the mouth and neck cords. But too much of anything is bad therefore you need to be cautious about getting a look that is too stretched and unnatural. Like any other injection, botox injections can be painful, especially between the eyebrows. But local anesthesia can solve the problem. Icing the area before applying the injection can be equally effective.
Side Effects
Drugs have side effects and botox is no different. Fortunately, the botox is minor and short lived and there can be mild droopiness in the eyebrow or eyelids. This usually lessens within two weeks and certain patients experience a bit of bruising.
Prices Vary
While the average botox treatment costs USD 400 per treatment, experienced physicians and surgeons may be on the pricey side. Toxins come dehydrated and can be reconstituted so doctors should either not use enough or over dilute. You don't require it before wrinkles appear, but botox is also used for other medical treatments. Botox is something that makes you look fresher, more young and cheerful. But signs of botox may appear such as a smooth and shiny forehead.
Whether you opt for a dermatologist or a plastic surgeon, use botox to relax frown lines in the forehead's middle, just above the nose. The lines can look ungainly if one is not careful. Small amounts of the pure toxin are injected into the wrinkles. Botox is also used to treat wrinkles that can emerge with age. Effects of botox are not long lasting. The treatment has to be repeated every 6 months or so. The upside is that complications always disappear with time.
A botox injection works by blocking the transmission of nerve impulses to muscles. Botox should not be used if neurological diseases are diagnosed. Pregnant or lactating mothers should also avoid the use of botox. Specific antibiotics and other drugs interfering with the nerve impulse transmission to muscles should not be tried when botox is used.
A major complication of botox is the weakening of muscles in the area that is not treated. Improper injection of frown lines can cause a temporary droop of the eyelid. This can disappear within 3 to 6 months. Mild side effects can be avoided and so can temporary ones. Be sure the person you consult is experienced and has used botox on a regular basis.
Conclusion
An attractive face is an asset. But it is always important to remember that beauty is skin deep and lies in the eyes of the beholder. If you are looking to fend off old age or ward off ungainly wrinkles, a botox injection can be your ally but make sure you don't neglect the safety factor. A botched botox job can be worst than living with the wrinkles. So, take care when it comes to selecting a medical healthcare professional whether a dermatologist or a cosmetic surgeon. A true professional will make a positive impact when it comes to staving off botox injection-related pain. Also critical for a smooth, polished and finished look is the use of a skilled professional. So make the right choice and get botox beautiful, but don't neglect the power of your inner radiance either.