This article will help you understand more about the condition called hypernatremia and how it can directly affect you as the being.  In addition to this, you will also be able to learn how to treat the condition as well as some additional tips on how you can prevent the development of the disease in the future.
Definition
Hypernatremia refers to a condition wherein there is an elevated amount of sodium in a person's blood.  Contrary to popular belief, it is not caused by increased sodium intake.  However it is caused by a large deficit in internal water for the body systems.  Because of this, the condition can also be called dehydration.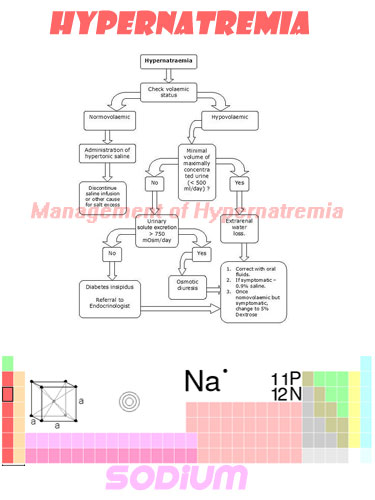 How Do We Lose Water Inside The Body?
This can happen in a lot of different ways.  A person can lose water through profuse perspiration or dehydration through the urine or fecal matter.  If the amount of water consumed is far less than the amount of water expelled, the sodium inside the body will significantly rise and therefore lead to hypernatremia.  It can also result from massive salt ingestion.  However, this rarely happens.
People at Risk
Here are some of the people who normally would have a higher predisposition to Hypernatremia.
Infants
Those who have mental incapacities
Elderly
Those who are physically disabled and cannot get water for themselves
An increase in the sodium levels of the body will lead to thirst and therefore, these people are more susceptible because they may or may not be able to satiate their thirst on their own.  Like any other condition, Hypernatremia has many signs and symptoms that it had to take note of.  These will be discussed in the subsequent paragraphs.
Signs and Symptoms

As mentioned earlier, here are some signs and symptoms that you have to watch out for if you want to learn more about Hypernatremia.
Lethargy
Irritability
Edema
Neuromuscular excitability
Weakness
Extreme thirst
If sodium levels in the body increase exponentially, there is a very highly likelihood that patients with this condition may incur seizures or go into a coma in the future.  This is why it is important for you to try and avoid sodium increase so that you would not have to deal with these kinds of complications in the future.
Major Causes
Here are some of the major causes of the disease.
Primarily, this condition is caused by the inadequate drinking of water.
It can also be caused by excessive loss of water through urine.
Profuse sweating
Diarrhea
Ingesting large amounts of seawater
Inadequate production of hormones
Ingesting too much sodium bicarbonate
If you have any of these conditions, it would be best to contact your doctor right away so that you would not end up having Hypernatremia as a complication.
Treatment of Hypernatremia

Fortunately, there are various ways of treating the condition so you do not have to worry.  However, doctors will have to bide their time in treating the disease because if they try to do it hastily, they may end up causing the patient to have brain damage.  Rapid water intake and lowering the sodium content of the body can also lead to having seizures or swelling.  If this happens, it can lead to the possible death of a patient.
Now that you are aware of this reminder, the basic treatment plan for this kind of condition would be to replenish the amount of water inside the body.  The water can be introduced intravenously or orally.  The doctors have the option to introduce plain water through a dextrose or not.
Additional Information
There are three major classifications of Hypernatremia causes.  These are as follows:
Hypovolemic
Euvolemic
Hypervolemic
In addition to this, there also some related diseases that can be connected with this condition.  These are as follows.
Cushing's disease
Conn's syndrome
So in order to treat the dehydration, these diseases should be treated first.  Furthermore, extreme elimination of sodium inside the body would eventually lead to the increase of plasma sodium concentration.  If this happens, there is an increased chance of death for the patient.
Fortunately, such an increase of sodium plasma levels is not likely to happen up without preexisting medical conditions.  This is where constant monitoring through regular doctor's appointments that will help.
Prevention
Here are some additional tips on how you can prevent Hypernatremia.  If you follow these tips, you will definitely become healthier and more active in the future.
Drinking lots of water as regularly as possible is the first step you can take to prevent Hypernatremia.  Doctors highly recommend that a normal person should be able to drink at least 8 to 10 glasses of water every day.  This will help you prevent dehydration and any other possible complications that may arise from the condition.
In the case of the elderly or disabled, if they are not able to fend for themselves in terms of drinking water, it is important that there's always a person nearby who would be able to help them get some more water in case they would need it.
In addition, if you are one of exercising, it would help to make sure that you always have a jug of water nearby to prevent extreme thirst.  If you can do this, you will be able to make sure of your safety and health for many years to come.
Furthermore, as much as possible try to avoid ingesting saltwater if ever you would go scuba diving or swimming in the ocean.
Remember that it would only take one simple act of responsibility to make sure that you will be able to live longer and more productively of only for yourself or your family as we if ll.  This will also help you prevent extreme thirst which is one of the major symptoms of the condition.  This may be a simple condition that can be treated but always remember that it can also lead to the eventual death of a patient if the condition is not intended or treated properly.
Aside from those mentioned, you can also ask your Physician about Hypernatremia to learn more about it for future use.