Selenium is a trace element which plays many vital roles in the human body, including:
Cancer protection
DNA repair
Making antioxidant enzymes
Immunity
Thyroid hormone activation
Prostaglandin production
Assists vitamin E.
So if you have a selenium deficiency you can expect to be more vulnerable to diseases such as cancer which are caused by a combination of DNA damage, a lack of antioxidants and a faulty immune system.
If you have an underactive thyroid gland you may want to think whether you are getting enough selenium to help your body make thyroid hormones. It is also said that a selenium deficiency intensifies the harmful effects of the flu virus.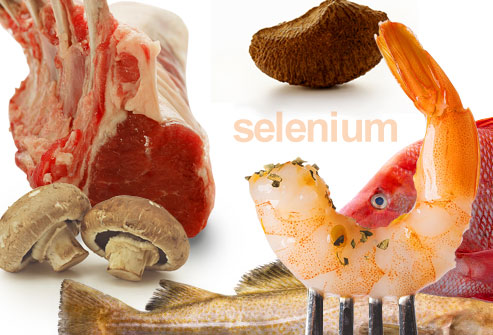 What is the recommended selenium intake?
The body uses selenium to make an important antioxidant enzyme called glutathione peroxidase, also known as GPx. So when researchers want to know if people are getting enough selenium, they measure their levels of this enzyme. This is a much more reliable gauge than just measuring how much selenium is in your blood.
To set the recommended daily intake amount (RDA) for selenium, a group of people with low levels of GPx were given selenium supplements until the enzyme reached its maximum levels. This occurred at 40 micrograms a day for a body weight of 60 kilos. A safety margin was added to this, and the United States RDA was then set at 70 mcg per day for men and 55 mcg for women to take into account higher body weights. You can read about this in the official medical article: Levander OA, Journal of the American Dietetic Association, Dec 1991 v91 n12 p1572(5). A similar basis was used for setting the UK's equivalent, known as Dietary Reference Values.
The main dietary sources of selenium
The best sources of selenium are brazil nuts, kidney and crab. Just 2-3 brazil nuts a day would ensure a more than adequate selenium intake.
The next best sources are cereals (grains), meat, fish and eggs. But the selenium content of grains depends on the selenium levels in the soil. The selenium content of meat and eggs depends on the selenium levels in the diet of the livestock and hens. This may be a diet of grass and/or grains grown on selenium-poor soil. Selenium is not normally added to fertilizer, so if the soil is depleted, so are the crops.
Average selenium intake
USA: About 100 mcg/day
Japan: About 200 mcg/day
France: 40-60 mcg/day
UK: 30-34 mcg/day
Selenium in the UK diet
As you can see, people in the UK are getting worryingly low levels of selenium in their diet. Some researchers have been very concerned about this, and have been measuring levels of GPx in the population.
In a study carried out at the University of Manchester in 1988, 25 per cent of healthy volunteers and 50 per cent of medical patients had serum selenium levels below those required for making properly adequate amounts of GPx. The researchers warned that this is making the British population more vulnerable to a wide range of disease states. You can read about it in the official report:
Pearson DJ, Day JP, Suarez-Mendez VJ, Miller PF, Owen S, Woodcock A: Human selenium status and glutathione peroxidase activity in the North West of England. European Journal of Clinical Nutrition 1990, 44:277-283.
France
Research in France has shown that selenium levels in a variety of locally grown foods are lower than in similar foods from the United States, but similar to those of nearby European countries. Although average French selenium consumption is 40-60 mcg/day, researchers still recommend that most French people might be well advised to take selenium supplements. They have also pointed out that some common abnormalities in French livestock can be reversed by giving the animals a selenium-supplemented diet, and they infer that humans – especially pregnant women – may have similar needs.
Selenium and the thyroid
Experiences with selenium deficiency in animals have shown that the thyroid gland is particularly affected. Researchers in Scotland experimented with giving rats a selenium-deficient diet, and they found that the production of both thyroid hormones and growth hormone decreased.
Cancer and immunity
Research which has assessed selenium status as a predictor of cancer risk and severity have generally shown that a selenium-rich diet significantly reduces deaths from cancer of the breast, digestive tract, liver and respiratory organs. Many believe that this is due to the effects of selenium on the immune system.
For instance, New York researchers Kiremidjian and Schermacher in 1990 showed that selenium deficiency inhibits the ability of white blood cells to proliferate. But when they gave selenium supplements to mice with cancerous tumors, the mice's white blood cells attacked the tumors much more aggressively.
Blood selenium levels tend to be lower in breast cancer patients than in healthy persons, and death rates from breast cancer mortalities are lower in parts of the world where more selenium is consumed, compared with areas of selenium deficiency. For instance there is a lower rate of breast cancer in women living in Japan than in women living in the United States. Many have suggested that the lower Japanese incidence might be related to higher dietary selenium levels in that country.
In studies of other types of cancer, an inverse relationship between liver cancer incidence and selenium levels was found in Jiangsu province, a region in China with a high incidence of liver cancer. Animal experiments there showed a reduction in liver cancer rates following selenium supplementation in rats exposed to aflatoxin. Selenium also inhibited the growth of transplanted tumors.