Most obesity researchers believe that the rising rates of obesity around the world are a result of our changing way of life. Our current daily life requires less physical activity than ever before. Yet, we have not compensated for this decline in daily caloric expenditure by eating less food.
The most important defense against becoming overweight, and the first line of treatment if you are already overweight, is to exercise daily. Daily physical activity confers tremendous health benefits and burns calories that might otherwise go into creating more body fat. It reduces feelings of stress, a leading cause of fatigue and overeating.
In addition to physical activity, most people must resist the daily temptation to overeat. Food is everywhere, and it's easy to eat a little too much from time to time, especially during the holidays, which can result in an accumulation of too much body fat. Here are a few thoughts on enjoying good food while avoiding overindulgence.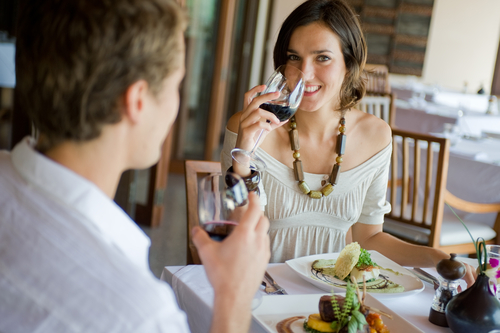 Image Source: bistromd.com
Tips to avoid weight gain while enjoying good foods
Listen to your body
Your body provides physiological cues that tell you when you are hungry, what kinds of food to eat and when you have had enough to eat. Instead of eating just because "it's there," try to eat only when you are hungry. Try to select the kinds of foods you feel like eating, savor your food and learn to eat slowly so that you can stop eating when you have had enough. When in a social situation where you are required to eat even though you are not hungry, just take a little bit and leave some on your plate. Or better, anticipate the upcoming occasion, and time your meals so that you go without eating for a few hours before the event.
Never say diet
People who have spent years on restrictive diets often find listening to their bodies difficult, because they have ignored these signals for so long. They may also fear overeating if they allow themselves to feel hunger. Restrictive diets result in strong cravings for food, especially food high in fats and sugars;"forbidden foods" become more tempting than ever!
Our bodies and minds resist food restriction, probably for good reasons. It's impossible to obtain good nutrition on diets that are very low in calories. So, food restriction is more likely to lead to obesity than long-term weight loss.
Many people think of dieting as some sort of torture that must be endured in order to achieve the goal of losing weight in the form of body fat tissue. Exercising is also something that many people think of as some sort of torture that must be endured in order to achieve the goal of losing weight in the form of body fat tissue. Dieting is the number one aspect of losing weight in the form of body fat tissue and if done properly is not torturous at all. The same goes for exercising for it is only torturous if you make it out to be so.
The number one aspect of losing weight in the form of body fat tissue was, is and will always be proper dieting. Exercising is the second most important aspect of losing weight in the form of body fat tissue and a distant second at that. It is possible to rid the body of its unwanted and excess body fat tissue by proper dieting alone. The same cannot be said about exercising as it is nothing more than a supplement to proper eating habits.
The vast majority of people who begin dieting in an attempt to lose weight in the form of body fat tissue fail within the first week or two because too drastic of measures are taken. The same goes for exercising as the vast majority of people try to do more than what they can handle at the moment. For example, many people do not know how to begin dieting properly and often go from eating nothing but fat and sugar filled junk food that is terribly high in calories to eating carrots and celery which is practically the equivalent of eating air. And those who are used to sitting in front of the television all day often begin exercising 1-3 hours per day which their bodies will not be able to handle and will rebel by way of intense soreness and physical exhaustion.
Keep an eye on portion sizes
Obesity researchers have proposed that increasing portion sizes are pushing people to overeat. If extra food is on your plate, you may eat more than you should. When eating out, especially at fast food restaurants, don't fall for bargains that promise better value if you order more food. Order reasonable portions of the foods you want and forget about bargains. When restaurant portions are too large, split a meal with a friend, or take the leftovers home for a meal the next day. If you know you can't resist cleaning your plate, order soup and salad.
Portion sizes have grown steadily over the past 30 years. An average bagel weighed 2 to 3 ounces and contained 230 calories in the 1970s. Today, the average bagel is twice as large, with about 550 calories. A serving of French fries in the 1970s contained about 30 fries, and 450 calories. Today you get about 50 fries and 790 calories. By the way, a serving of French fries, according to the Food Guide Pyramid, is only 10 fries, at 160 calories. This growth in portion size can be seen in soft drinks, candy bars, hamburgers, muffins and many other food items.
Eat fewer high-fat foods
Research suggests that our bodies require a certain volume of food to feel satisfied. Fruits and vegetables supply volume and plenty of nutrition and health benefits, with relatively few calories. Hot broth soups are especially filling, but low in fat and calories.
Foods high in fat supply a lot of calories per unit volume. Of course, we need some fat in our diets, but look for healthful sources such as olive oil, nuts and avocados. Stick to occasional small portions of dessert foods.
Keep an eye on beverages. For some reason, our bodies do not appear to "count" these, and we still feel hungry, even though we just drank hundreds of calories. Eliminate calories by replacing some of your beverages, especially soda, with water.