Shea butter or Butyrospermum parkii derives from the karite tree also known as shea tree native to Africa, is fat-rich oil that remains in solid form at room temperature. The benefits of shea butter are almost in every sphere of life or health.
It is rich with anti-microbial and anti-inflammatory properties that make it effective in the treatment of many health conditions. It is rich with natural high moisturizing compounds that make it an ideal natural ingredient for enhancing skin health and beauty.
In the recent past, the shea butter has gained an immense amount of popularity in the cosmetic industry because of its potent moisturizing and healing properties which suit perfectly in almost every skin condition and type. Along with improving your skin health, it is also beneficial in enhancing your hair health, arthritis, and many other ailments with its frequent use.
It easily gets absorbed in your skin as it melts down faster in skin temperature hence easy in application. This is the reason it is so effective in the treatment of many skin conditions in a much effective way. Also, it is used in cooking as fat oil which is an easy way to get its total health benefits for you.
Shea Butter Benefits for Skin         
The regular usage of shea butter on your skin can provide the following benefits for enhancing your skin health and beauty
Moisturizes your Dry Skin
The fat content of shea butter is the reason for its emollient and humectant properties. Thus it is an excellent natural moisturizing agent for your overall body skin such as the face, hands, and feet.
It makes your dry skin deeply hydrated supple and moisturized with its easy absorption ability in your skin cells without creating the risk of pore-clogging as it is non-greasy.
This is the reason it is so effective in the natural treatment of cracked heels, dry or rough patches on the skin and dry cuticles. It can easily relieve the dry and scaly skin issues which are very common in the winter season to everyone.
It is a cost-effective dry skin's issue relieving skincare natural product with a comparison to costly commercial moisturizers which also contain chemicals and preservatives that can even harm your skin health with temporary benefits. So shea butter is an easy solution for a dehydrated, dry, and scaly skin of your face and body.
Shea Butter Contains Anti-Aging Agent
Shea butter is a potent antioxidant agent that prevents the growth of premature wrinkles, fine lines, and other aging signs growth. With its regular application on your face and hands, you can keep intact the youthful charm and beauty of your face.
This gets possible because shea butter stimulates the production of collagen which is also known as beauty protein that helps in keeping your skin rejuvenated and firm for the longer duration in your lifetime.
Also, it promotes the blood circulation rate in your skin cells which is vital for the cell renewal process in which old cells are removed and new cells take their place whose processing rate gets slower along with aging.
It contains Vitamin A, E, and catechins which have antioxidant power that protects your skin against free radicals damages. Free radicals are the primary enemy of your skin health which exists in environmental pollutants, irritants and UV rays of the sun.
However, when you apply the shea butter before going out of your home you ensure complete protection of your skin cells from the externals sources damaging that is free radicals.
Reduces Skin Inflammation Problems
Some of the compounds existing in shea butter exhibit anti-inflammatory attributes that help to reduce and relieve different inflammatory skin conditions in a much effective way.
Some common skin inflammation issues that grow as a result of an increase in inflammatory compounds include rosacea, dermatitis, etc, which can be healed and reduced with the help of shea butter usage in the affected area of your skin.
Similarly, some skin issues that can develop swelling and other inflammatory signs can be soothed and managed with the help of shea butter such as sunburns, cuts, scrapes, and rashes.
Naturally Treats Acne and Blemishes
Shea butter contains many vital fatty acids and plant sterols such as linoleic acids, stearic, palmitic, and oleic. These fatty acids attribute healing properties which makes shea butter a natural curing and defensive agent.
Shea butter has a more non-saponifiable attribute than other common nuts and fats, thus it doesn't convert into soap when it comes in the contact of alkalis. This property of shea butter is the reason behind its healing power or ability.
One can relieve different skin health issues such as acne, skin rashes, stretch marks, skin peeling after tanning, burns, scars, insect bites and stings, frost bites and athletes' foot with the application of the raw form of shea butter.
Relieves from Itchy and Peeling Skin Issue
Itchy and peeling skin problem arises out of your long term dry and dehydrated skin. This issue can be well dealt with the application of shea butter in your itchy and peeling skin as it hydrates your skin and moisturizes your skin cells from deep inside to keep it firm, hydrated and supple.
Also, the anti-inflammatory properties of shea butter relieve and protects your skin from different inflammatory ailments that can cause dryness, itching,  and peeling skin issue problem thereon. As the shea gets absorbed in your skin very easily with the skin temperature so its fatty acid substance provides enough amount of oil that is required for a smother, moisturized and healthy skin.
Reduces Stretch Marks Appearance
Shea butter is a very common ingredient in several medicated ointments or creams as a base element because of its potent healing compounds and properties. Thus it helps in reducing the appearance of stretch marks which develops during the pregnancy period in the lower abdomen area of a woman's body.
It particularly occurs due to the stretching of your skin from sudden weight gain and then reduction. The stretch marks cross the normal elasticity capacity of your skin means due to over-stretching of your skin it occurs. Also if you apply the shea butter enriched creams and ointments beforehand then you can even prevent these stubborn marks from growing.
The application of shea butter helps in restoring the natural elasticity of your skin and boosts the production of collagen protein that helps to develop more smoother and stretch marks free skin. Gently massage your affected skin area with raw and unrefined shea butter on a daily basis for lightning the appearance of stretch marks or pregnancy marks.
Soothes Baby Diaper Rashes
Raw and unrefined form of shea butter is an excellent source of natural hydrating, soothing and moisturizing properties. Hence when it is applied to diaper rash, eczema shea butter exhibits its healing effect and helps to relieve these issues of the very delicate and sensitive skin of babies and toddlers very easily.
Also for avoiding the diaper rash problem in little babies, it is advised to apply unrefined shea butter after your baby bath every day. Also, it will maintain the softness of your baby skin with its potent moisturizing properties.
Shea Butter Benefits for Hair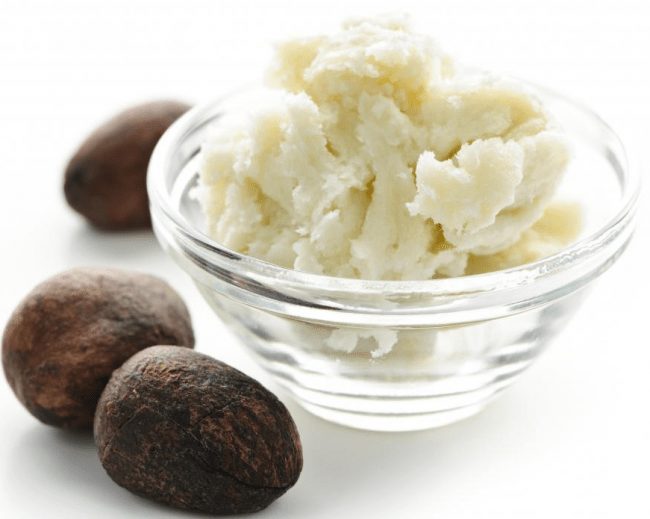 Just like your skin health, shea butter application is also beneficial and effective for enhancing your hair health by healing different hair and scalp related issues.
Shea Butter Calms Dry and Itchy Scalp
Dry and itchy scalp is a very common concern that can be easily relieved with the application of shea butter in your scalp. Shea butter is rich with healthy fat and anti-inflammatory properties that easily get absorbed in your scalp skin without leaving a greasy residue behind or clogging your pores.
Hence it can easily soothe and relieve dry scalp, dandruff, scalp psoriasis, and common scalp conditions very effectively than any other commercial hair product which is loaded with chemicals that can even clog your pores.
Prevent Hair Fall Problem
The fatty acids composition of shea butter works as a gentle natural conditioner for your scalp and hair. Also, it nourishes your scalp and hair with its vital nutrient substances that help to make your hair root strong, which prevents the hair fall or loss issue further.
Also, its anti-inflammatory properties prevent and relieve the different inflammatory conditions of the scalp. Hence help in making your hair thicker and dense by reducing hair loss issues drastically. Apart from this, it adds a beautiful shine in your hair that lasts for a longer duration with its consistent use.
Helps in Repairing Damaged Hair
Different types of hair styling, usage of different hair appliances and harsh external weather conditions like sun rays, extremely cold weather, environmental dust, and pollutants are likely to cause an immense amount of damages in your hair health.
This particularly happens because the application of different chemicals treatment such as hairdryer, straighter, curlers, perms strip off the natural moisture level of your hair leaving it dry and thinner which are prone to damage.
However, with the application of shea butter, you can easily restore the original moisture level of your hair and can get back the lost shine and health of your hair again.
It can protect your hair from the damages of ultraviolet rays of sun with its SPF content which is low but enough to guard your hair against sun rays damaging.
Its moisturizing compound creates a coating layer in your hair shafts which protects your hair from heating appliances that otherwise strip off the natural moisture level of your hair. You can protect your hair from damages caused by salt and chlorine by applying shea butter on your hair before swimming.
Works as Natural Conditioner
The Vitamin A and E rich content of shea butter make it an excellent natural conditioner for your hair which is a vital hair care regimen. It can easily moisturize each strand of your from its root to tip.
Apply shea butter after shampooing your hair as it can lock the moisture in your hair without making it greasy or heavy. This natural conditioner is perfect to use on all hair types for enhancing its health and appearance.
Treat Breakage and Split Ends
Shea butter application on the scalp boosts the blood circulation rate of your scalp that helps in the growth of healthy and dense hair. Its high moisturizing attribute is capable to treat breakage and split ends hair problems which is a very common hair health-related concern.
By strengthening the hair roots it prevents severe hair fall issues. The Vitamin A and E existing in shea butter helps in regenerating healthy hair as well as maintains your hair health by soothing all dry and dull-looking hair.
Shea Butter Benefits for Overall Health
Treats Arthritis
Arthritis is a chronic joint health-related concern that is often associated with aging, trauma, and obesity. This creates excessive and unbearable pain in joints areas of the body which badly restricts the body movement even the basic movement which is needed for survival gets difficult.
As a result of this pain, the quality of life gets disturbed badly of all arthritis patients.  However with the use of shea butter this health problem can be managed naturally along with some other healthy lifestyle changes.
Certain compounds of shea butter such as triterpenes exhibit anti-inflammatory and antioxidants properties that help in combating pain and swelling associated with arthritis.
Comforts Muscle Aches
Overstressing or overuse of your muscles due to exercise or any other physical activity or due to some ailments, muscle ache problem develops. This restricts your body movements and also hampers your daily lifestyle routine.
However, the good news is that the potent anti-inflammatory effect of shea butter can help in relieving your different inflammatory symptoms of the body such as pain, swelling, etc associated with muscle ache when you give a good massage to the affected site with shea butter.
Relieves Nasal Inflammation and Congestion
Nasal congestion is a very common heath issue that people get a victim of due to bad weather conditions, or due to allergens with dust and pollutants existing in the environment or while coming in the contact of an infected person.
However, the nasal inflammation or nasal congestion problem can be easily managed with the application of shea butter in your nostrils with the help of your fingers.
This will relieve your inflammation existing your nasal passages or inner linings. Hence by clearing your nostrils and inflammation, it provides comfort from the symptoms associated with this health issue.
Reduces Cholesterol Level
Shea butter is also used as edible oil and is very popular in African people as cooking ingredients. So this ensures its users to avail it's all nutrients and health benefits with its direct consumption when used in food preparation.
People who are suffering from high cholesterol health issues can easily manage their cholesterol levels to lower levels with the consumption of this healthy fat-rich oil in their food.
The shea butter contains stearic acid one kind of saturated fatty acids that helps in reducing lipoprotein and plasma cholesterol levels as per one study report published by the American Journal of Clinical Nutrition. Hence it is worth consuming by the people who are struggling hard to reduce their high cholesterol rate.
Soothes and Heals Insect Bites
Insect's bites cause an immense amount of pain, swelling, and discomfort. This can even lead to infection if the necessary cure is not given on time. However, with the use of shea butter on the affected site, one can easily relieve all the discomforts and prevents further infection risk.
As shea butter contains Vitamin and other vital anti-inflammatory and anti-microbial compounds that promote the healing ability of your body so it not only soothes the skin allergens caused by insect bites and poison ivy but also heals the affected zone faster.
Shea Butter Uses
Shea butter is used in many varieties of ways, some of its prominent uses are mentioned below-
Natural Sunscreen
Shea butter acts as natural sunscreen lotion by creating a defensive layer on your skin which can easily fight the harsh UVA and USB rays of the sun that can accelerate the aging process.
Shea butter contains SPF ranging 6 to 10 which is low but works very effectively when used along with a sunscreen layer on the skin. It is considered best to be used after sun exposure as it soothes and hydrates your skin which gets irritated when comes to the exposure of direct sun rays.
It will give protection to your skin from damages that develops due to direct contact with UV rays of the sun. Also, it will keep your skin naturally moisturized and rejuvenated by enhancing your skin elasticity.
Heals Different Skin Conditions
Shea butter is very effective in relieving different skin conditions which can cause your skin dry, scaly, itchy and flaky such as eczema, psoriasis, and dermatitis.
It works as a deep moisturizing agent for healing these skin problems and helps in developing smoother, healthy and even-toned skin, on the affected site. Its anti-inflammatory effect relieves the inflammation and its associated symptoms on the skin.
Its potent efficacious emollient and humectant properties act perfectly to cure these common skin problems and to regain your skin its original health and beauty.
As it is safe to be used in these skin conditions so shea butter is often recommended by doctors to the patients with these inflammatory skin problems.
Promotes Wound Healing
Shea butter is a great source of a wide variety of phytonutrients which has natural skin moisturizing and healing properties. Thus it is effective in the natural treatment of different kinds of wounds, cuts, and abrasions.
Shea butter gets easily melt when comes to the contact of skin temperature and gets absorbed by your skin and starts its processing. Hence it shows the faster result when you apply shea butter on a wounded area by boosting the damaged cell repair process with its key nutrients, essential fats content and by boosting microcirculation.
Alternative Cooking Oil
The healthy fats, anti-inflammatory and anti-oxidants compounds existing in shea butter make it a healthy edible food with a comparison to other regular cooking oil such as coconut and olive oil and butter.
Whether its taste value or health value is concerned, in all respect shea butter is perfect to be used in food preparation. Also, it helps in lowering high cholesterol level which makes it ideal for heart patients.
You can use shea butter in many ways in your regular food like you can add it direly in your smoothie or can use as a frying oil or as butter on bread etc. In all forms, it ensures that your body can gain all its nutrient essence to improve your overall health. Make sure you use an unrefined version of shea butter which is ideal for cooking and eating purposes.
How to Store Shea Butter
It is very essential that you stay aware of the correct way of storing and preserving shea butter to keep intact its full nutrient content and benefits for your skin and overall health.
It is safe to store your shea butter far from a heating and lighting area for avoiding its unnecessary melting issue and to keep it in perfect consistency for easy application.
Always store an unrefined shea butter in an airtight container in a very cool and dry place. Try to use shea butter within 18 months from the date of its extraction from shea seeds for its best result. Exceeding this period is likely to cause diminish in its natural essence and properties.
In the winter or cold season, your shea butter will get a little harder and in summer or hot seasons, the shea butter naturally gets a little softer. Under both conditions it is normal and nothing is unusual. You can add Vitamin E in shea butter which is considered helpful in improving its shelf life.
The above benefits of shea butter are enough to prove it an ideal natural ingredient that can be used for diversified purposes. So make your life better naturally by bringing home shea butter.
<b>View Article Sources</b>
https://www.stylecraze.com/articles/best-benefits-of-shea-butter-for-skin-hair-and-health/#gref