Sitting All Day: The Health Risks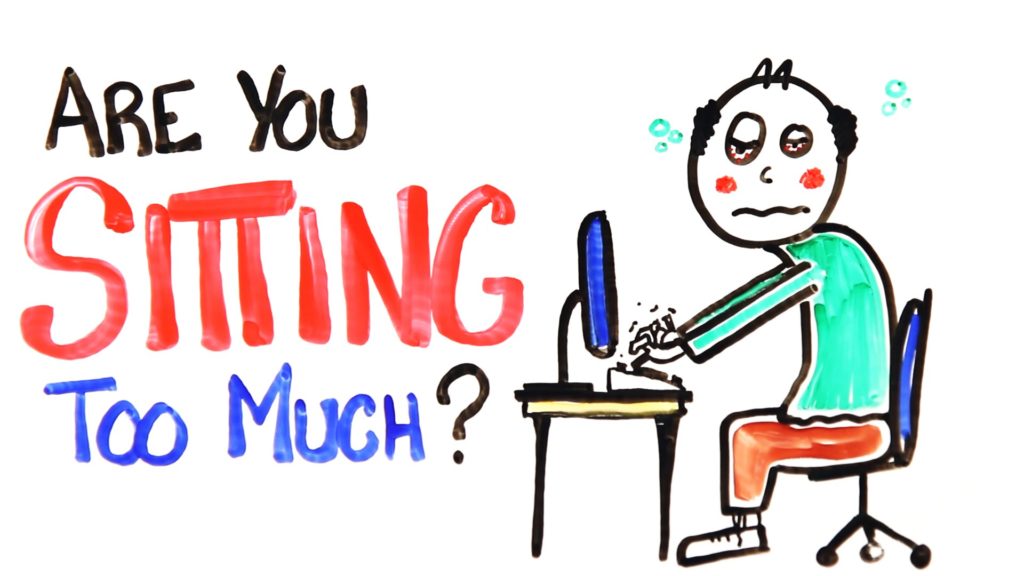 With a body designed for moving regularly, most modern folks spend a majority of their day sitting on a chair. For example, an average of 9-10 hours is spent each day sitting for an average American adult. This is the type of inactivity not even a 60-minutee workout can counterbalance. A new category of people is the actively sedentary that sit for the rest of the day and work out for a single hour. Experts opine that 10 hours of inactivity cannot be cut out by one hour of exercise.
What is even more frightening is that most people don't fit in workouts or a long walk in their schedule. In a sedentary state, the consequences of sitting too long can be deadly. A brief period of sitting all day is very different from sitting in and out, throughout the day as the latter can even shorten your life, apart from impacting your health.
Some researchers and doctors have even dedicated a good part of their career studying the health impact of sitting. Dr. James Levine at the Arizona State University Obesity Initiative has indicated that studies show when one is sitting for a long time period, numerous molecular cascade can take place if one stands up. Your body has been designed to be active.
Research shows that cellular mechanisms are activated for pushing fuel into your cells within seconds of standing up and this lowers the chance of diabetes as well as obesity. On the contrary, what does sitting all day do? Read on to know how a sedentary lifestyle can damage your health.
Organ Damage
Pancreas
One day of excessive sitting can adversely impact the ability of the body to react to insulin. This then causes the pancreas to produce a large amount of insulin triggering diabetes. Your chances of diabetes increase, with more than 8 hours of sitting in a day associated with 90% risk of Type 2 diabetes.
Heart
When you sit down, the flow of blood becomes slower and less fat burns making it easy to clog the arteries. According to the American College of Cardiology, women who sit for 10/more hours in a day have a greater risk of cardiovascular problems as against those sitting for less than 5 hours or so.
Colon Cancer
Too much sitting increases the risk of many types of cancer. This includes breast and endometrial apart from colon cancers. Due to too much production of insulin, cells grow while sitting excessively. On the contrary, movement triggers antioxidants in the body that eliminate free radicals. Free radicals are extremely dangerous because they trigger oxidative stress and cause diseases like cancer.
Increased Risk of Lung and Uterine Cancer
Sitting causes increase in chances of lung cancer by around 55 percent and 10 percent more than this, for uterine cancer, according to researchers. Increased cancer risk is associated with obesity and linked changes in biochemistry such as modifications in hormones, the dysfunctionality of metabolism or even malfunctioning of leptin and resulting inflammation. All of these promote cancer.
Weak Digestion
Sitting down after eating slows down digestion and this can lead to heartburn, bloating, cramping and constipation due to compression of abdominal contents. Dysbiosis in GI tract can also result from weakening digestion due to excessive sitting.
Dysbiosis linked to gut microbiota leads to disorders in the intestine. What types of diseases are linked to these? Intestinal and extra-intestinal diseases include:
Inflammatory bowel disease
Celiac disease
Allergy
Asthma
Metabolic syndrome
Cardiovascular disease
Brain Damage
Brain functioning also slows down if you sit for too long. This is because the blood flow lessens in speed and the supply of blood, oxygen, and nutrients required to bring about an increase in brain and mood enhancement chemicals suffers.
Problems in Posture
Strained neck and shoulders can result. Because you are holding your neck and head forward or bending in unnatural positions, it strains the cervical vertebrae and causes imbalances in neck strain, soreness of shoulders and back. Sitting for far too long can cause pressure on the spine and trigger back pain. Disks in the back were created to expand and contract as one moves, which allows the absorption of blood as well as nutrients. Disks undergo compression when one sits and this can increase the chances of herniated disks too.
Degeneration of Muscles
Sitting tenses the abdominal muscles, This goes unused when sitting excessively leading to weakness of muscles, Hip muscles also become tight and restricted in motion and are rarely extended because of sitting too much, This can affect stability while moving as well.
Leg Disorders
Whether it is weak bones or varicose veins, sitting causes legs to undergo poor circulation causing swelling in varicose veins, blood clots and ankles called Deep Vein Thrombosis. Other weight bearing activities strengthen bones making them dense, Lack of activity due to excessive sitting, on the other hand, leads to weakness of the bones. It may even cause osteoporosis.
Shortens Life
A study in British Journal of Sports Medicine found that each hour spent sitting watching TV after 25 lowers life expectancy by close to 22 minutes. Research has found that numerous health concerns have been associated with sitting too much, This ranges from increased blood sugar to high BP, excess body fat around the waist and abnormal cholesterol levels. Sitting increases risk of death, therefore. Any extended sitting can be harmful.
What You Can Do About It
Change Your Movement Patterns at Work
Stand while talking on the phone or consuming lunch. Work at a standing desk or use a high table or counter. Walk with colleagues to the conference room rather than taking the lift. Place your workstation above a treadmill. The impact of even leisurely movement can be beneficial, Move more and burn more calories generating more energy and combating weight loss. In contrast, sitting too much has lethal consequences. WHO has found that 1/4th of breast and colon cancers, 30% of heart disease and 27% of diabetes is caused by excessive sitting. American Institute for Cancer Research found that in a year, 49,000 cases of breast and 43 thousand cases of colon cancer can be caused by inactivity.
Take A Break
The importance of break should not be underestimated. Those who take a break from sitting to stretch, get a drink or walk around benefit. National Health and Nutrition Examination Survey found short periods of light activity can have the following benefits:
Reduced waistline
Increased cholesterol reduction
Insulin resistance
A Harvard School of Public Health found a meta-analysis or review from 1970 to 2011 found there was a clear link between sitting and type 2 diabetes as well as cardiovascular diseases.
Increase Activity Levels
Everyday non-exercise actions like standing, walking or even fidgeting burns calories. This is called NEAT or nonexercise activity thermogenesis. Too little of this energy expenditure causes fat gain. Studies have found agrarian workers burn 1000 calories more per day than those at desk jobs. Sedentary behavior causes more than thirty different chronic conditions. Walking fewer than 1,500 steps in a day can cause insulin resistance, so boost your activity levels. Break up long sitting periods with short bouts of activity for one to two minutes. Even light walking can benefit those sitting for long periods. Avoid sitting in front of a TV or computer for long and opt for community-based activities such as walking and trekking groups.
Sitting on exercise balls or backless stools can cause core muscles to function well. This suggests the central role of good posture for good health. Walk during the day and ensure that you use new methods like yoga and the treadmill desk. From stack sitting to stretch sitting there are many effective ways to minimize the risks of sitting all day long.
Conclusion
Sitting all day long has deadly consequences because the human body was meant to be active. Our ancestors would roam the earth. But modern man has invented technology to cut down on time. It is ironic that this very technology could bring about mankind's end. So, get up. Start walking. Sit less. And enjoy the health benefits!