Large skin pores are a big nuisance. Primarily controlled by factors such as age, genetics, excessive sebum production, skin damage, etc. pores are something you have to live with for your entire lives. You cannot completely get rid of these ugly appearances on your skin, but luckily, today, there are a plethora of skincare products available in the market that can help in minimizing the look of them considerably. And as far as makeup is concerned, using the right products with the right techniques can help you make these pores look almost unreal.
A good foundation can help you achieve a flawless lo0king skin sans the appearance of any pores. However, such foundations that promise to deliver great results are a dime a dozen and therefore, choosing the best one for your particular skin type can become a daunting task. So, read the post to find out the perfect product for your particular skin type and have a look at our top 7 best foundations for large pores.
Best Foundation for Large Pores
| Picture | Product | Quantity | Form |
| --- | --- | --- | --- |
| | | 0.28 Oz | Loose Powder |
| | | 0.3 Oz | Pressed Powder |
| | | 0.33 Oz | Pressed Powder |
| | | 0.27 Oz | Pressed Powder |
| | | 1 Oz | Liquid |
Top 5 Foundation for Large Pores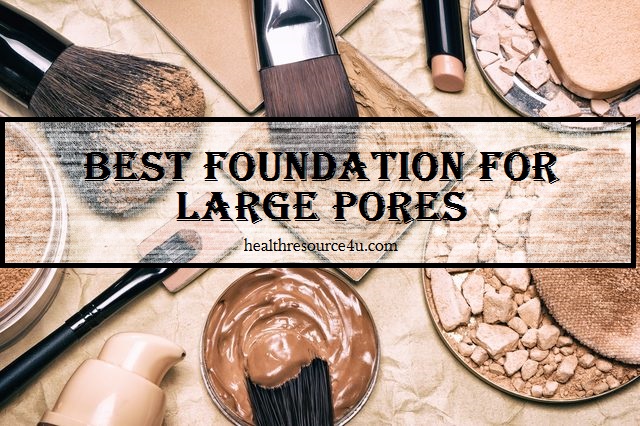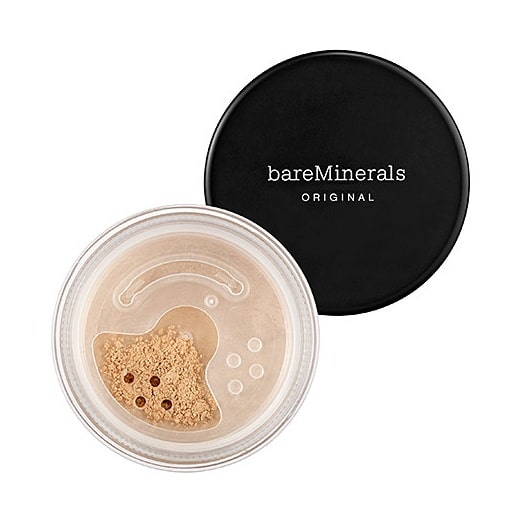 BareMinerals Original Foundation Broad Spectrum SPF 15 is a loose powder mineral foundation formulated with 5 effective mineral ingredients. Offering buildable coverage, this foundation helps to nurture your skin, making it look radiant and blushing. The minerals present in the foundation transform into a silky cream when twirled, and they simply melt onto our skin for a beautiful and even second skin finish. It comes with long-wearing technology and contains SPF 15 that protects the skin against sun damage. Suitable for all skin types.
How to Use
Put a small amount o the foundation from the lid and wait until it vanishes into the brush.
Dust off the excess product.
Buff the powder into the skin and follow in a circular motion. Start from the outside and slowly move inwards.
Pros
Offers medium to full coverage
Contains SPF
Does not clog skin pores
Greatly reduces the appearance of pores
Gives fresh and healthy looking skin
Improves the skin texture over time
Impressive range of shades available
Fragrance-free, paraben-free
Cons
Packaging is not very travel-friendly
Verdict
This foundation gets my vote of "the best foundation for large pores". The mineral ingredients do not only cover your skin pores but improve the overall skin texture. It is a must try.
Click to Purchase on Amazon.com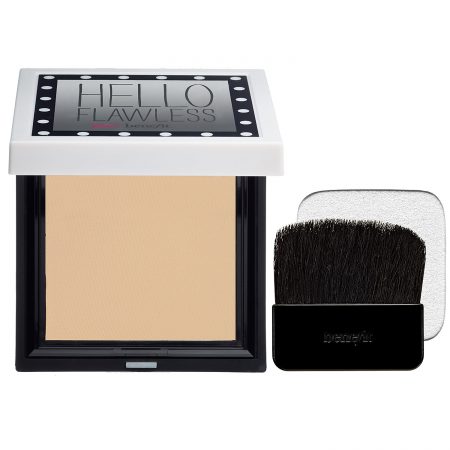 Benefit Cosmetics Hello Flawless! Powder Foundation is a super-blendable formula that offers sheer to full coverage. The shade remains consistent and does not change its color when used on skin throughout the day. It is easy to apply and comes with an applicator brush as well as a sponge. Use the brush for sheer coverage or apply with the sponge for fuller coverage and enjoy a natural finish.
How to Use
For a sheer finish, apply the foundation with a brush. Making quick and light strokes blend the powder form the center of the face moving outwards.
For a heavy coverage, apply the powder evenly over the entire face using a sponge.
For spot cover, gently pat and blend the product over the spotty areas where you need extra coverage.
Pros
Lightweight
Sheer to full coverage
Gives a natural matte finish
Great packaging
Impressive range of shades available
Cons
Does not control excess oil production
Sometimes clings to dry patches and settles into the pores
Verdict
This easy blending formula finds immense usage. Whether you are looking for sheer coverage or a heavy one, this product will offer customized coverage, just as you want.
Click to Purchase on Amazon.com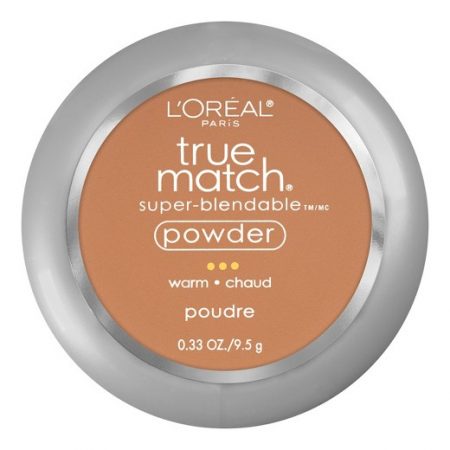 L'Oreal True Match Super-Blendable Powder is an oil free, noncakey formula that precisely matches your skin color and texture. This ultra-fine powder offers versatile skin coverage. Enriched with pearl pigments, this foundation seeks to beautify your skin tone. You can blot shine and blend into the skin for achieving a natural finish, or you can even build for having more coverage.
How to Use
Dust the powder onto your face to blot shine. Apply it to the T-zone and blend it for a natural finish.
Build if you want fuller coverage.
Pros
Decent coverage
Doesn't get cakey or chalky
Oil free and non- comedogenic
Enriched with pearl pigments that improve the skin tone
Comes with an applicator brush
Impressive range of 26 true to you shades
Cons
Sometimes causes breakouts
Verdict
The products bag good reviews. The comprehensive range of shades available helps you to find the perfect one that matches your precise skin tone.
Click to Purchase on Amazon.com
Clinique Stay-Matte Sheer Pressed Powder is an oil-free formula that absorbs all excess oil to give you the ideal matte look. It keeps the skin fresh and radiant, ruling out the need for frequent touch-ups. It is perfect for all skin types and is non-acne genic, free from all chemicals and minerals. Use it on top of Clinique Dramatically Different Moisturizing Lotion to secure a hydrated and smooth complexion that lasts all day.
How to Use
It comes with a sponge applicator. Use that to apply the powder on your face.
You have an option of using the product on your entire face or just on skin pores.
The sponge applicator is easily washable. Wash it well and before next use.
Pros
Good coverage with any cakiness
Shine- absorbing formula
Oil free, perfect for oily skin
Makes the skin feel fresh and rejuvenated
Non-acne genic
Free from all chemicals
Cons
Verdict
The product gathers good reviews from all its users. The shine-absorbing is great and the coverage offered is long lasting and decent. It's definitely worth a try.
Click to Purchase on Amazon.com
NARS All Day Luminous Weightless Foundation is an oil-free lightweight solution which is highly pigmented and extends a natural looking skin complexion. This perfectly balanced full coverage solution blends easily and neutralizes skin redness and dullness. It minimizes discolorations to reveal a beautiful and more even skin tone. It is sweat proof and extends a staying power of up to 16 hours. Dermatologically tested.
How to Use
Shake the bottle well before dispensing the product.
Pump a little product on the back of your hand.
Use your fingertips for applying a little product right in the center of your face. Quickly blend it outwards and work in sections.
Pros
Lightweight
Gives an extremely natural looking skin finish
Sweat proof formula
Long lasting solution
Impressive range of shades available
Fragrance free
Cons
Verdict
This easy to apply long lasting formula is very popular among users. Offering multifarious benefits, the foundation gives a beautiful natural finish that makes you look radiant and blooming.
Click to Purchase on Amazon.com
Which Foundations to Use and Which Ones to Avoid?
People suffering from large pores should avoid creamy or liquid foundations since they can clog the skin pores and further aggravate the condition. Matte finish liquid foundations are available in abundance and they offer a smooth and even finish, however, people with large pores should certainly opt out of them as they highlight the wrinkles and makes the skin feel dry. Light reflecting foundations, on the other hand, enlarges the size of pores.
For large pores, the ideal option is to go for a powder foundation, for example, mineral powder, which applied on top of a makeup primer. Face primers even out the skin surface, and, mineral powder applied on top stays on top, rather than settling into the pores and wrinkles. Such foundations also absorb the excessive skin oil.
3 Reasons Why You Should Go For Powder Foundations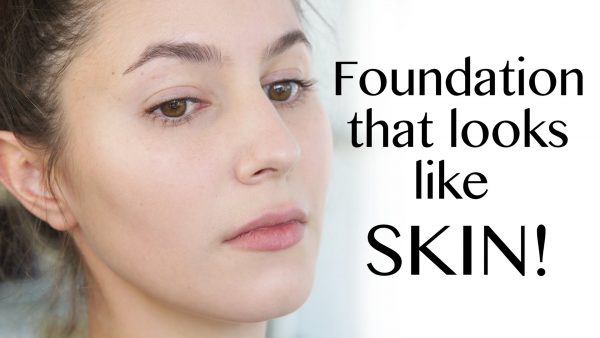 The foremost reason for the appearance of acne is clogged skin pores. You can avoid these pores by using a powder foundation. A cream based or liquid foundation will only aggravate the condition, leading to more clogged skin pores.
Powder foundations are extremely easy to apply. They are so lightweight; you'll even forget you have anything on in the first place. Liquid or cream foundations, on the other hand, are difficult when it comes to application and they will only increase the acne.
Powder foundations are very helpful when it comes to removing excess skin sebum. So, for all people having an oily skin type, this is the ideal solution.
How to Choose the Best Powder Foundation?
Powder foundations are available in two forms:
Generally, pressed foundations are preferred as they offer better and full coverage. Loose forms, on the other hand, offer a lighter coverage with a softer look. The best way of deciding the most suitable foundation shade for your skin is by applying a little amount of the product either on the jawline or between your wrist and the thumb area. Select the shade that precisely matches your skin tone. Also, if you have dark circles, dark spots, and acne that need to be concealed, it is ideal to opt for a color which is one or two shades darker than your skin tone.
The Technique of Applying Powder Foundation
Wash your face thoroughly before applying a thin layer of makeup primer on it. You can use a little amount of mineral concealer if you are looking to cover any pimples or dark circles. Following this, take a kabuki brush and dip it into the powder foundation so as to take a good amount of powder onto the brush. Take out the brush and tap in on the powder foundation container to get rid of the excess powder. Apply the powder to your face exerting some firm pressure and making circular buffing motions. Apply some foundation on your forehead as well. Finally, dust some mineral finishing powder as it helps the foundation to stay for long and reduces the appearance of large pores.
Some Tips for Minimizing Large Pores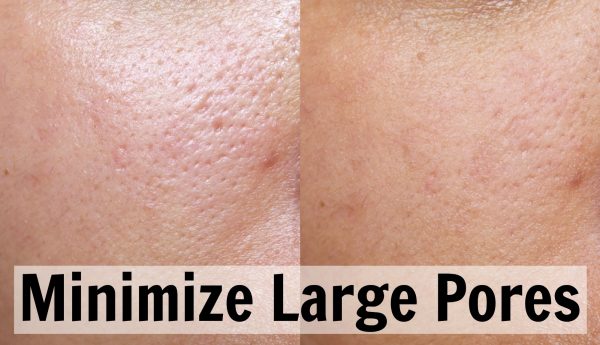 The best way to minimize large pores is regularly exfoliating your skin. it will not only makes reduce the pore size but also brighten up the skin.
People with an oily skin should daily wipe their face with salicylic or glycolic acid cleanser. This deep cleanses the skin, removing all dead cells and excessive sebum.
People with a normal skin should make use of a tough scrub and rub the skin with a damp washcloth.
Use nose pore purifying strips to remove all the oil and dirt from the pores. Go for strips which contain witch hazel. This is a strong pore tightening ingredient that considerably reduces the pore size.