When most of us hear the word, "glaucoma," we immediately think the worst—blindness. As it turns out, this relatively common eye disease has a well-earned reputation. Glaucoma is the leading cause of blindness in the world today and the second-leading cause of blindness in the U.S. Typically brought on by optic nerve damage associated with intraocular pressure (or elevated pressure in the eye), glaucoma can and does cause blindness if left untreated. Depending on the category of the disease, symptoms can range from none whatsoever to sudden, traumatic signs. The bad news is that the nerve damage and vision loss caused by glaucoma cannot be reversed. But the good news is that glaucoma surgery and treatments are available once it's diagnosed.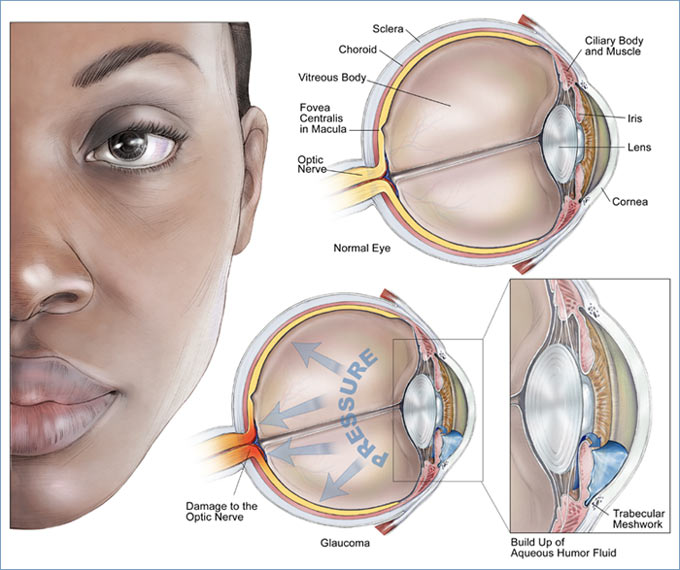 Risk Factors for Glaucoma
Although it's possible for anyone to develop glaucoma, there are a few of us that are in a higher risk category than others:
People over 40
People with a family history of glaucoma, a history of intraocular pressure or a previous injury to one or both eyes
People who have diabetes
People who are black, Japanese, Russian, Irish, Hispanic or Scandinavian
People who are nearsighted or farsighted
People who have a history of steroid use (either steroid eyedrops or other steroids)
Types of Glaucoma
Although there are many different types of glaucoma, there are really only two categories—open-angle and angle-closure glaucoma. Along with those two broader categories, there are some other variations of the disease that are worth discussing briefly.
Open-angle glaucoma: This refers to glaucoma that forms slowly over the course of time, also referred to as "chronic" glaucoma. Open-angle glaucoma is the most common category of the disease.
Angle-closure glaucoma: This form of the disease can be either chronic or acute (meaning it comes on suddenly). Glaucoma that occurs suddenly is often caused by injury.
Normal-tension glaucoma: This variation of open-angle glaucoma results in a loss of vision due to damage done to the optic nerve. In this form, however, there is no increase in intraocular pressure, which remains normal throughout the course of the disease.
Congenital glaucoma: Some infants inherit glaucoma and are born with the disease at birth. Typically, these babies have a drainage system in one or both eyes that isn't functioning correctly. Symptoms to look for include a hazy, white or cloudy look to the eye, or protruding eyes.
Secondary glaucoma: This form of chronic glaucoma can develop after an eye injury, or as a result of an eye infection or enlargement of the lens of the eye due to a cataract.
Pigmentary glaucoma: This is an extremely rare form of the disease, most typically occurring in white men between the ages of 30 and 50. It develops after eye pigment breaks loose from the iris of the eye and clogs the drainage area, resulting in a buildup of fluid.
Symptoms of Glaucoma
In the case of open-angle glaucoma, there are often no symptoms whatsoever in the early stages of the disease. Loss of peripheral vision is a common symptom, but this usually only occurs in the later stages of the disease. Symptoms of angle-closure glaucoma are usually much more obvious and traumatic. Those symptoms can include blurred vision, tunnel vision, eye pain, seeing "halos" around lights, headache, nausea and vomiting. People suffering from angle-closure glaucoma often have bloodshot eyes and enlarged pupils.
Glaucoma Treatments
While it's impossible to regain vision lost to glaucoma or to repair nerve damage that has already taken place, it is possible to return the patient's intraocular pressure to normal and prevent any further loss of vision or damage to the optic nerve. Treatments can include medicated eye drops, laser procedures or surgery.
Eye drops: Use of specially medicated eye drops help to reduce the amount of fluid that is formed in the front of the eye. Some people experience side effects from these drops, which can include stinging, redness of the eye, blurred vision or eye irritation.
Laser surgery: There are three types of laser surgery that can treat glaucoma. The first type (trabeculoplasty) involves using a laser to pull open the drainage portion of the eye, which allows fluid to drain more efficiently. The second type (iridotomy) involves using a laser to create a tiny hole in the iris of the eye, which allows built-up fluid to drain. The third type of laser procedure (cyclophotocoagulation) involves using a laser on the middle layer of the eye, which helps to reduce the amount of fluid being produced.
Microsurgery: In a microsurgery procedure for treatment of glaucoma, the surgeon creates a channel in the eye to allow the fluid to drain, which reduces pressure on the eye. Although it's generally effective, this type of surgery sometimes has to be repeated in some patients.
Glaucoma Prevention
Because nerve damage and lost vision can't be restored once they're lost to glaucoma, it's important to get checked for the disease on a regular basis. The American Academy of Ophthalmology recommends the following checkup schedule for different categories of adults:
Ages 20 to 29—Get checked at least once during this time period. If you're black or have a family history of glaucoma, get checked every 3 to 5 years.
Ages 30 to 39—Get checked at least twice during this time period. If you're black or have a family history of glaucoma, get checked every 2 to 4 years.
Ages 40 to 64—Get checked every 2 to 4 years.
Age 65 and older—Get checked every 1 to 2 years.
While there's no doubt that the effects of glaucoma are frightening if the disease is left untreated, it can be managed with the help of your ophthalmologist. In fact, most glaucoma patients manage to retain much of their sight as long as they are diagnosed early on and follow the treatment advice of their physicians. Be sure to have your vision checked by either a qualified optometrist or ophthalmologist on a regular basis to keep your eyes in the best of health.