Making your own facial cleansing stick is so simple. While it may seem complicated, the truth is that the concept is simple. Basically, cleansing sticks are foaming facial washes packaged in a twist-up stick in balm form. These may appear to be soap, but there's a big difference. These are essentially solidified oils for cleansing containing surfactants. These are not like cleansing balms. Instead, these are associated with oils and emulsifiers that permit easy washing off. Cleansing sticks release foam most of the time. Foam is not a necessary function, but it does clean better.
Cleansing sticks have predominated the Asian beauty scene for some years now. They are low in pH value to keep the skin's moisture barrier intact. As against facial foam products, the percentage of oil content, acid-types and milder surfactants used in cleansing sticks are gentler on the skin as they make for low pH value. Cleansing the skin by foaming exceptionally well is another benefit of these cleansing sticks. One should also appreciate its portability. One can also chuck it in the gym bag so makeup can be removed with just a single product. These cleansing sticks remove water-resistant makeup and include waterproof eyeliner, mascara, and lipsticks as well. It ensures a quick cleanse every day too. The sticks are extremely effective.
Facial cleansing sticks are the hottest and newest skincare product on the market. It provides a different way of cleansing the skin after an extended period of time. The market is saturated with cleansing products such as oils and balms. These are lighter in texture, and there are creamy emulsions as well. Then, there's a double cleansing method as well. Two products are used for cleansing. One is the oil-based product that takes off the makeup and even heavier products like sunscreens. Cleansing formulations are simply amazing when it comes to loosening waterproof foundations and oil-soluble muck. This can be followed by applying lightning cleansers to remove the remaining dirt.
A facial cleansing stick can boost your cleansing routine. Cleansing sticks are the latest K-beauty innovations in the market. They are packaged in handy tubes like lip balms or deo sticks, so these can be used while on the move, such as the handbag, gym bag or even the hand luggage while traveling. While applying the facial cleansing stick, it massages the skin because one needs to roll the stick around the skin. Another important point is that you need to be careful around the eye area as this cleanser need not be applied near the eyes, so the stick does not drag the skin.
How can facial cleansing sticks be used? For this, you need to wet your face with some water and apply the stick onto the skin. If the stick feels too dry, wash your face with water. Lather it up using fingertips and then simply wash it off. This method of cleansing really fits in with busy lifestyles and one is sure to appreciate a little bit of help as well, so there is more time for formulation.
Simple Effective Formula For Making Apricot Oil Facial Cleansing Stick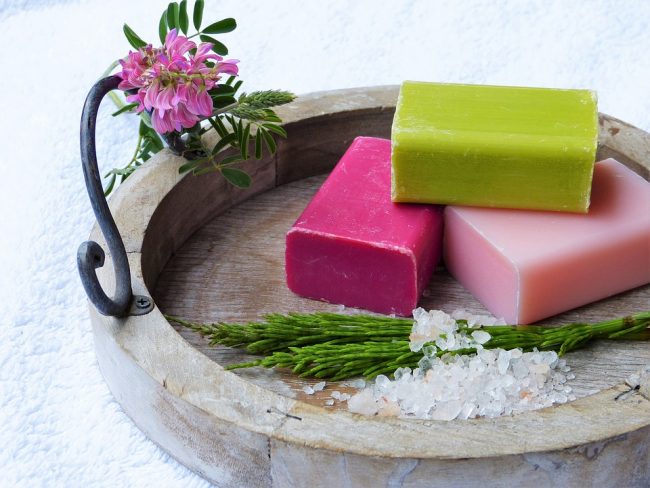 Ingredients for Stage 1
You need 10% distilled water, 22.8% glycerin, 30% sodium cocoyl isethionate, 5% Cocamidopropyl betaine and 0.10 percent lactic acid.
Ingredients for Stage 2
For this, you require 10 percent Apricot oil, 6.8 percent coconut oil, 5% lavender oil macerate, 3% sodium stearoyl lactylate, 5 percent rice wax, 0.5 percent tocopherol.
Ingredients for Stage 3
0.8 percent preservatives and 1.0% red mandarin essential oil are the ingredients for this stage.
Method
Heat ingredients for stage 1 and stage 2 in separate beakers to 75 to 80 degree C. Then trickle Stage 2 ingredients into stage 1 oil into the water and stir. Don't stir it too much to avoid creating excessive foam.
When the temperature of the combined stages is under 70 degrees C, add stage 3 ingredients and pour the whole blend into the stick container. The mixture needs to be settled overnight.
Ensure you use a facial mask when using powdered ingredients like SCI surfactants, so one wouldn't want to breathe it in.
If there are tiny holes in the stick, it is okay. It is blended by hand and a tiny quantity of foam is added to it.
While pouring the product, it needs to be warm or it will not be poured nicely. It is unusual to add essential preservatives or essential oil so they don't stay hot for longer periods. The preservative to be used should work at a high temperature, so gluconolactone and sodium benzoate but if the shade of nature allows it, one can use a phenoxyethanol blend like preservative K. The preservatives can be given a miss if you want an all natural cleansing stick.
The Benefit of Cleansing Sticks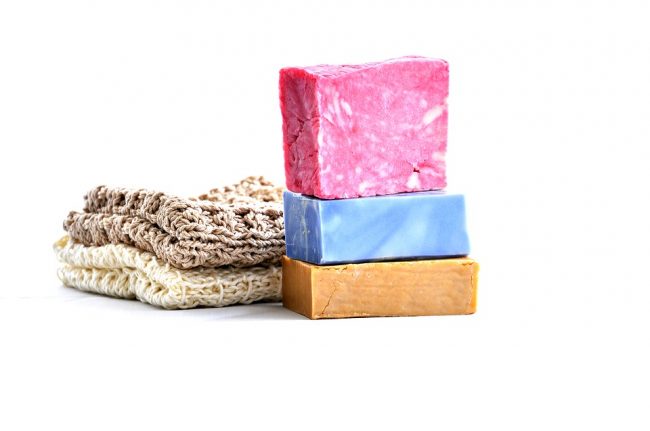 Cleansing sticks are a hybrid between liquid cleansing formulation and soap/shampoo bars. Cleansing sticks are preferred because they are easy to travel with and preservative free formulations can be formulated. It is an advantage over liquid products such as hand washes, shower gels or conventional shampoos. The soap also needs time for curing, which can be avoided, if you use non-soap based products like these cleansing sticks well about 24 hours post preparation.
Soap also has an alkaline pH. This is an essential feature of the soap and nothing can be done to change it. Healthy young skin can easily tolerate and readjust an alkaline kick caused by soap, aged skin, compromised or impacted skin, baby and sensitive skin as these can suffer from the alkaline pH of the soap. Nonsoap based formulations help in adjusting the pH in a skin-friendly range. Cleansing sticks have a natural pH which is skin friendly as it provides an optimal growth medium for unwanted ones.
Another advantage of this form of the product is that one is on the go and can easily use these sticks. These cleansing sticks are hygienic, safe and practical. This is an Asian trend that has reached Western shores. Products available on the market are loaded with silicone, petrochemical-based glycol, PEG derivatives and ingredients that are not allowed in natural cosmetics.
Learn More About Regular Cleansing Sticks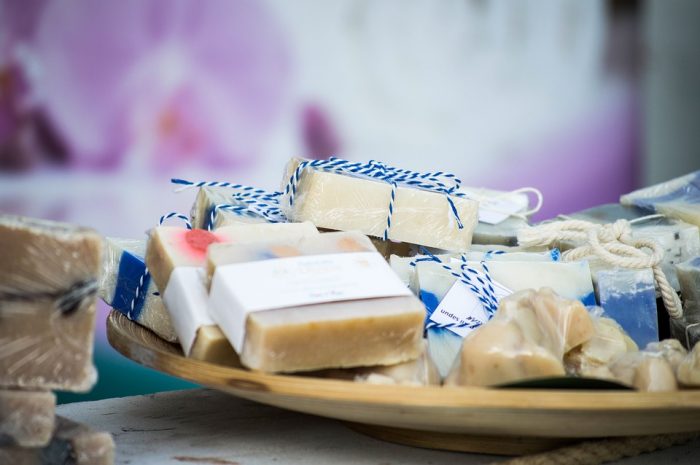 This is a solid formula with low water activity. Theoretically, one does not need any preservatives. Depending on the climate, application condition and raw materials to be used, preservatives may become essential. But if you want a preservative-free cleansing stick, read on.
These sticks are marketed for dual cleansing and marketed as facial cleansers, they can also be used to clean the body. Adjust the formula as per the requirement. Tweaking the formulation as per the ambient temperature of the market is important. The stick should not melt in a container but shall melt when coming into contact with the skin and not feel waxy. The pH adjustment is an important step in water-based formulations. The formulation contains water and is water-based. If preservatives are to be used, adjust the pH of the formulation as per the preservative system used. If one does not use preservatives, there needs to be additional flexibility for pH adjustment. It is important to stay in the right range and include ingredients stable in this range.
Ingredients for This Facial Cleansing Stick
Phase 1
Distilled or de-ionized water of around 100%, 4.0% glycerin, 5.0% plant-based pentylene glycol, 25.0% sodium cocoyl isethionate,
Phase 2
Myrica fruit wax of around 9.0%, rice bran wax of 5.0%, babassu oil of 5%.
Phase 3
Around 3% St John's wort infused oil, 2.0% peach kernel oil, 0.5% natural tocopherols, 0.1% rosemary extract. Curcuma longa C02 extract of 0.1%, antimicrobial plant extract of 0.1% and 1.0% activated charcoal.
Phase 4
Other ingredients include 6.0% coco glucoside, 2.0% sucrose cocoate, 0.2% lavender oil, 0.1% clove Co2 extract, Cedarwood oil of 0.2% and 0.5% bergamot oil.
Phase 5
Lactic acid of around 80% to adjust the pH.
Procedure
Weight phase 1 ingredients in a heatproof baker. Cover it and let it remain at room temperature for 1 to 2 hours. This facilitates the next steps. Blend phase 2 in another heat-proof beaker. Blend phases 3 and 4 in separate beakers. Magnetic stirrers can be used for phase 4.
Then after a couple of hours pass, gently blend phase 1 so it should be a milky liquid.
Then, heat phase 1 and 2 ingredients in a water bath at around 80 to 85 degree C. Both phases need to be blended separately till homogeneity is achieved. Then, you need to turn the water bath to around 50 degrees and slowly add phase 2 ingredients to phase 1 and blend to avoid excessive foaming. Then, add phase ingredients to the blend attained. While activated charcoal does not dissolve in the oil phase, it needs to be kept dispersed. The beaker then needs to be removed from the bath.
Blend these ingredients gently and add phase D. Take a sample and dilute it to 10 percent for pH measurement. As per experience, we need to add 0.4% lactic acid in phase 4 and the blend's phase was allocated as 4,8. One needs to use a higher or lower concentration of lactic acid based on the raw material used.
When the pH is adjusted, it needs to be blended until it comes to a low trace. Pouring the blend into the empty stick at hand, refrigerate the stick in the fridge for a minimum of 12 hours till overnight before using it to start stability tests or final packaging.
Using this formulation, the stick can be applied directly over the dry skin. This benefits because additional water does not need to be added to the product during application. This stick needs to be applied over the damp or dry skin. Apply tap water on the fingers and massage as well as spread the product with fingertips all over the face and neck if one wants. The product changes to soft, pleasant lather by mixing with water. The next step is to rinse and apply the toner.
Conclusion
Cleansing your face every day may seem a real hassle for those short on time, but it can pay rich rewards in the long run. Regular skin cleansing is essential to the maintenance of a healthy look and skin that feels right. It is important to study why facial cleansing is important. A common advantage of facial cleansing is the removal of oil, dirt and other unwanted debris. Through the day, skin on the face is covered with bacteria, viruses, dirt, pollutants, old skin cells and more. Everyday facial washing removes impurities making the face look clean and fresh. Sans washing, the skin is covered with a thick dirt and grime layer making it tough for products to enter the skin. Everyday facial cleansing along with an exceptional moisturizer is an important factor in helping hydration levels. Dehydrated skin feels aged, rough and wrinkled. Cleansing helps in the management of the skin PH levels, enabling sufficient product and water retention.
Tiny skin glands produce an oil known as sebum for protecting the skin from the outside world. The glands rely on hair follicles within a skin as a pathway, allowing oil to reach the outer layer of the skin. This further forms a barrier preventing bacteria or other harmful agents. The excessive build up of dirt in the surface can lead to follicle blockages, trapping sweat, sebum and dead skin. The scarcity of sebum on the surface of the skin permits bacteria to penetrate follicles leading to swelling. The final consequence is acne. Proper skin cleansing removes debris pores and prevents the building up of dirt. It also allows the sebum oil to reach the surface of the skin unobstructed. This prevents the chance of acne breakouts.
If you stop cleansing your face, clogged pores can lead to acne. The skin also experiences a combination of dryness, irritation, redness from insufficient hydration. The skin appears oil covered, greasy, aged and dirty. An incredible itching sensation will also occur. Breakouts of the skin could serve as entry points for infection. Practicing proper skin cleansing is the key.
Some other benefits of regular cleansing are to maintain radiance and health. It helps anti-aging products and treatments work correctly. It also helps in the maintenance of proper pore size. Proper skin hydration prevents excessive oil production. With so many cleansing products to select from, choosing the right cleanser can be tough. The first and foremost step is to know your skin type and choose a cleanser that is the perfect match. If there is dry skin, it is essential to avoid cleansers with heavy alcoholic content. Oily skinned individuals need cleansers with lower levels of PH.
For sensitive skin, you need a basic cleanser free from additives and heavy fragrance. The cleanser's delivery type matters. Cream-type cleansers are ideal for the brittle or dry skin. For oily skin types, foamy cleansers are the way to go. If you need plenty of makeup, target a cleanser that works towards removal. If one sweats from clogged pores, allergies need to be accounted for and natural cleansers need to be used. More cleansers are gentle in that they remove dirt without excessive dryness and irritation of the skin. Selecting a cleanser with a balanced PH helps in maintaining a natural balance of the skin. Compare products and check out reviews. Or make your very own facial cleansing stick!
<strong>View Article Sources</strong>