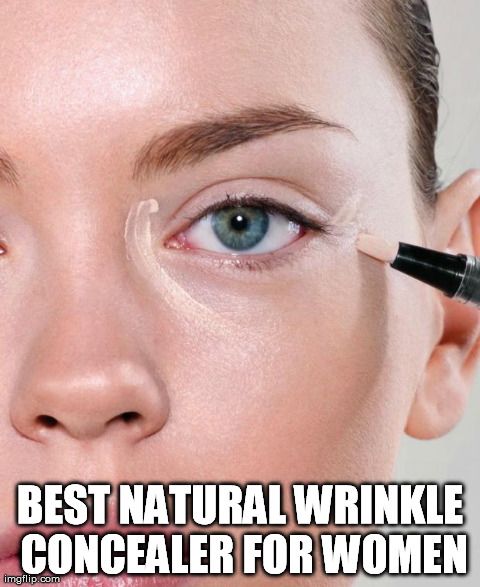 What is makeup concealer?
A concealer is a makeup that will hide all the blemishes and marks which are on your skin, including dark circles under your eyes, wrinkles and crow's feet. No woman's make up kit is complete without a Best Wrinkle Concealer, be it liquid, cream or powder form.  The whole idea of the concealer is that it will blend in with your natural skin tone or foundation so that it cannot be seen. You will find that it is usually women who wear this product, but men are now beginning to overcome their mental adversities to make-up and wear concealer themselves.
Max Factor was the first to release a Concealer on the commercial market for everyday consumers.
Different Types Of Concealer 
Many people automatically think that concealer is only a make-up which matches skin tone, but you will find concealer in blue and green. You will never meet anyone with blue skin or green skin, so what is the purpose of these unless you are an alien??? Green and blue concealers are deliberately made so that people who have red blemishes or spider veins showing on their skin can use them. They will conceal the redness,rosacea, broken veins and the spider veins.
What Age Group Should Use Concealer
Concealer in general is made to hide wrinkles and make women look younger and more youthful, it does not matter what age you are when you use this make up, although I would not advise a child too young use concealers unless they have a visible birthmark which some children do. A red birthmark on a child's face can be hidden with either the blue or the green concealer before adding a little face powder over the top, to hide the birthmark completely. Children at school can be cruel, so covering it can help avoid playground bullying.
How Concealer Works
Concealer actually works by light refraction, which you will find is the result of Nano prisms. Light refraction is where the light makes the object appear different to what it is, for example, if you put a straw into a glass of water then the straw would look as though it were broken, in simple terms is bends light. The visibility of the wrinkles or blemishes will be opposite to where the observer is standing; this means that neither you in a mirror or anyone else can see the wrinkles because the image is refracted away from you.
How to Choose Right Concealer for Your Skin
When  you are buying concealer, always test it on your hand, or if there is a mirror nearby, check it on a part of your face. The reason for this is that the concealer must match your skin perfectly, hence why there are so many different shades on the market. There are so many different skin tones, from Albino white skin to very dark African skin tones. When you test it on your face and look in the mirror the best concealer is the one that you cannot see very easily, if you struggle to see where you placed it, then this is the one for you.
I would strongly advise that you never use concealers which contain Parabens, petroleum based ingredients or perfumes. Parabens are a category of chemicals which you will usually find used in cosmetic and industrial products used in Pharmaceutical companies.
The highest rated wrinkle concealer has been quoted as being Renuven which helps to grow the collagen tissue under the wrinkles whilst hiding your wrinkles.  This product is also a product which is water proof and it does not bow to the pressures of facial creases making it crease proof. Summer is heading our way fast, this product has a SPF of 15 to help protect your skin further from sun damage.
Nothing helps your face look better than a highlighter pen. The purpose of the highlighter pen being that it is a few shades lighter than your natural skin tone. All you do is add a few little dots of this concealer to your face which you wish to lift, such as the bags under your eyes and tap the concealer gently into your skin until it is well blended, when you stand away from your mirror and take a look at yourself, you will see that you look younger than you have for years.
Best Way To Conceal Wrinkles 
One of the best ways to conceal your wrinkles to stop other people from seeing your wrinkles is so simple you will wonder why you did not think of it before. Take the attention away from your wrinkles. By this I mean something like highlight your eyes and fill in your eyebrows and keep them brushed.If you are not well versed when it comes to applying make-up to highlight your eyes to maximum effect, then take some great make-up tips from here.
Some people will over compensate by layering their wrinkles up with concealer. Tinted moisturizer however is subtle enough to make you look natural. This is because tinted moisturizers are lighter than foundations and they will not settle into your wrinkles.
What Are the Best Wrinkle Concealer On the Market
So to finish off, what are the best concealers for covering your wrinkles? The best concealers are the undercover concealers. They work so that no one can see them or tell that you are wearing them.
1.

Bobbi Brown Creamy Concealer
Bobbi Brown Creamy Concealer you will find is a nicely moist concealer. It covers your wrinkles beautifully. This product wins the best basic concealer.
2.

Maybelline New York Cover Stick
Maybelline New York Cover Stick has won an award for being the magazine reader's favorite in Allure magazine. This product wins the best drugstore concealer.
3.

Bare Essentials bareMinerals Multi-Tasking Minerals
Bare Essentials bareMinerals Multi-Tasking Minerals is a powder formed concealer. You will find it sits nicely hiding your blotches. This product is also a great undercoat for your eye shadow. This is believed to be the best mineral concealer.
4.

Dermablend Smooth Concealer
Dermablend Smooth Concealer is perfect for the younger generation and men. No one likes pimples, so hide them successfully with Dermablend. Winning the award for the best pimple concealer.