The multi-purpose concealer is so trusted. Whether it is a travel kit or an everyday make up bag, the concealer is a beauty essential that is with us round the clock. The first concealers to be used were in the 1920s as for making up for camouflaging burns, varicose veins, and birthmarks. Concealers were also created for those in the fashion and entertainment industry to accentuate their natural beauty. Concealers are found in different forms such as liquid, cream to powder, stick, crayon. The flawless concealer is excellent for providing creamy full coverage. It is perfect for hiding dark circles, imperfections, and pigmentation.
What is makeup concealer?
A concealer is a makeup that will hide all the blemishes and marks which are on your skin, including dark circles under your eyes, wrinkles and crow's feet. No woman's make up kit is complete without a Best Wrinkle Concealer, be it liquid, cream or powder form. The whole idea of the concealer is that it will blend in with your natural skin tone or foundation so that it cannot be seen. You will find that it is usually women who wear this product, but men are now beginning to overcome their mental adversities to make-up and wear concealer themselves.
Max Factor was the first to release a Concealer on the commercial market for everyday consumers.
Different Types Of Concealer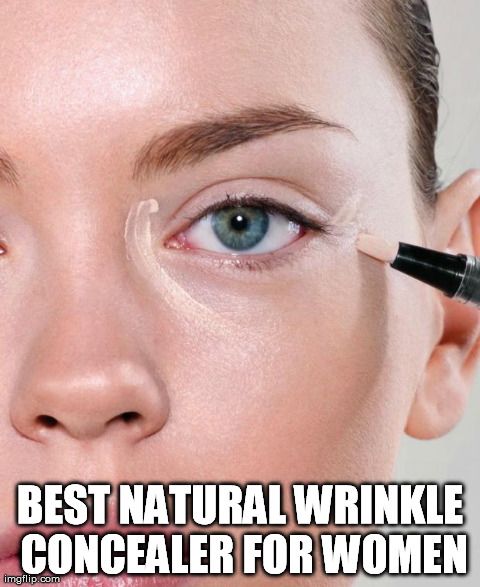 Many people automatically think that concealer is only a make-up which matches skin tone, but you will find concealer in blue and green. You will never meet anyone with blue skin or green skin, so what is the purpose of these unless you are an alien??? Green and blue concealers are deliberately made so that people who have red blemishes or spider veins showing on their skin can use them. They will conceal the redness, rosacea, broken veins and the spider veins.
What Age Group Should Use Concealer
Concealer, in general, is made to hide wrinkles and make women look younger and more youthful, it does not matter what age you are when you use this makeup, although I would not advise a child too young use concealers unless they have a visible birthmark which some children do. A red birthmark on a child's face can be hidden with either the blue or the green concealer before adding a little face powder over the top, to hide the birthmark completely. Children at school can be cruel, so covering it can help avoid playground bullying.
How Concealer Works
Concealer actually works by light refraction, which you will find is the result of Nano prisms. Light refraction is where the light makes the object appear different to what it is, for example, if you put a straw into a glass of water then the straw would look as though it were broken, in simple terms is bends light. The visibility of the wrinkles or blemishes will be opposite to where the observer is standing; this means that neither you in a mirror or anyone else can see the wrinkles because the image is refracted away from you.
How to Choose Right Concealer for Your Skin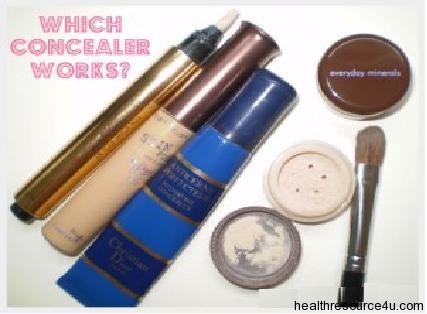 When you are buying concealer, always test it on your hand, or if there is a mirror nearby, check it on a part of your face. The reason for this is that the concealer must match your skin perfectly, hence why there are so many different shades on the market. There are so many different skin tones, from Albino white skin to very dark African skin tones. When you test it on your face and look in the mirror the best concealer is the one that you cannot see very easily if you struggle to see where you placed it, then this is the one for you.
I would strongly advise that you never use concealers which contain Parabens, petroleum-based ingredients or perfumes. Parabens are a category of chemicals which you will usually find used in cosmetic and industrial products used in Pharmaceutical companies.
The highest rated wrinkle concealer has been quoted as being Reuven which helps to grow the collagen tissue under the wrinkles whilst hiding your wrinkles. This product is also a product which is waterproof and it does not bow to the pressures of facial creases making it crease proof. Summer is heading our way fast, this product has an SPF of 15 to help protect your skin further from sun damage.
Nothing helps your face look better than a highlighter pen. The purpose of the highlighter pen is that it is a few shades lighter than your natural skin tone. All you do is add a few little dots of this concealer to your face which you wish to lift, such as the bags under your eyes and tap the concealer gently into your skin until it is well blended, when you stand away from your mirror and take a look at yourself, you will see that you look younger than you have for years.
Best Way To Conceal Wrinkles
One of the best ways to conceal your wrinkles to stop other people from seeing your wrinkles is so simple you will wonder why you did not think of it before. Take the attention away from your wrinkles. By this, I mean something like highlight your eyes and fill in your eyebrows and keep them brushed. If you are not well versed when it comes to applying make-up to highlight your eyes to maximum effect, then take some great make-up tips from here.
Benefits of Concealers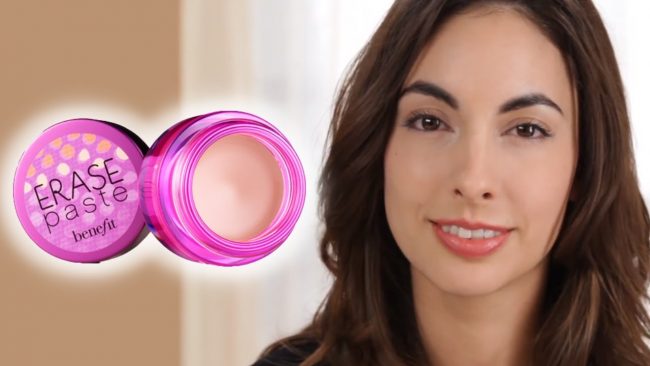 The top benefits of using makeup concealers are discussed below.
Concealers work with the foundation to provide additional coverage to the appearance of even, smooth skin tone. It also refreshes tired looking eyes. To disguise puffiness, scars, blemishes and imperfections, camouflage pigmentation as well as dark circles, and lighten dark areas. Concealers can work as highlighters over chin, nose bridge, cheekbones, and brow. To prevent the lipstick from bleeding, you need to prime the lips with concealer or add some concealer above the lip line. Before applying eye-shadow, one needs to hide tattoos and birthmarks. As far as makeup concealers are concerned, there are different ideas about whether concealers should be applied before or after foundation. A concealer is also used for covering skin defects. It has evolved into a multi-functional makeup tool. It is one of the most important tools of the makeup and women use it in everyday life. They are preferred by women, regardless of the occasion.
Perfect Skin
If you want to get that flawless look, you need to use a concealer. It makes the skin look awesome. It also hides imperfections in the skin. This includes age spots, tiny scars, and birthmarks.
Alleviating Dark Circles
Dark circles have become a common problem for many women. If one wants to get rid of dark concealers, using concealer makeup adds advantage. Dark circles can lead to exhaustion and a dull look to the face. Using a concealer will show a great effect in an instant and make one look young.
Emphasize Your Features
For accentuating your stunning features, concealers can certainly help. A concealer can accentuate a short nose and make it look longer.
Protecting the Skin From the Sun
Concealer also helps to protect the skin from harmful ultraviolet sun rays. So, one must look for a concealer comprising SPF 15 or more. Using a concealer makeup is the most feasible decision one can make. It solves a lot of beauty disasters. It is the perfect option for allaying anxieties. Concealers can provide benefits by providing an appealing look.
Hide Makeup Mistakes
Concealers can solve many different beauty woes. From an evening out the skin tone to removing pimples, to cleaning up makeup mistakes, concealers prove more than a one-trick pony. Most women are not using concealers to their complete advantage. It helps to hide blemishes and shows up in the beauty routine, so gets all the benefits from your tube of concealer and the best coverage.
The color of Concealer Matters
Depending on the color of the blemish one is concealing, the color of the concealer matters. Most dark circles or brown spots have blue undertones so warm shades like peach can be used to moderate and blend as well as add to your foundation and work on radiant skin.
Brighten The Eyes
Certain concealers can be used to brighten the eyes and hide bags. Women can use lighter concealers to highlight the bone structure.
Smoothen the Skin
Sometimes after applying concealers, the skin gets a little bumpy. If one has lines or creases that attract the concealer, it smooths these out.
How To Use A Concealer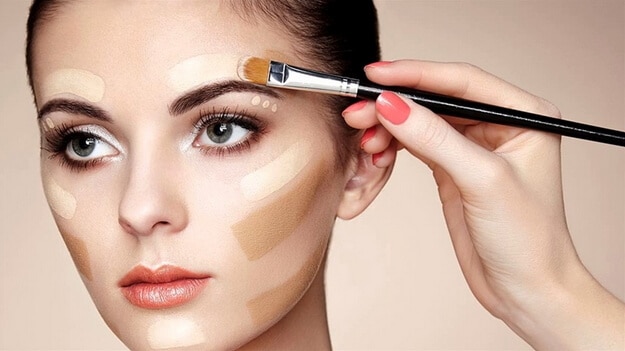 Whether one covers blemishes or preps the skin, concealers are a must have. Chances are high that one might be making avoidable mistakes with the makeup. One might not be able to use multi-purpose products to their true potential. To avoid this, you need to watch out for common concealer related mistakes and avert these.
For one, you need to use your fingers, according to some experts. But it is far wiser to apply makeup, such as these not using fingers when you apply your concealer. Save yourself a mess and invest in a concealer brush or applicator for a flawless application.
There are a place and time for each texture. Like all makeup, different kinds require different applications. Concealers come in different textures and shades. So ensure it is matching the texture to the use. For a liquid concealer, under eye application is the best. This is against a cream concealer that creases and cakes under the eye.
Another common factor that comes into play is the use of light tapping motions, as against the use of strokes. This results in an airbrush finish. For those who have not discovered the magic of a concealer, you need to look for a lighter coverage. You can swap the foundation for concealers consequently.
Priming the face before makeup applications are critical. The concealer needs to be used to prep the lips and eyes before application of any product over the top. It serves as a neutralizing base and permits the lipstick or eyeshadow color to pop.
A lighter shade makes lips look larger, providing the impact of a plumped pout. A little goes a long way. While everyone makes the error of thinking more products are needed than in actuality, less is more for those using concealers. The less concealer is applied, the more natural makeup looks. Used sparingly, it involves spending less cash, too.
The question about whether concealer should be applied before or after the foundation is an old one. There is really no right or wrong answer for any individual. Both methods yield different kinds of results. So if you need to cover under eye circles, apply the concealer prior to the foundation. If you want a blemish-free complexion, apply the concealer prior to the foundation.
If you want some contouring, put the concealer palette to use. Using a darker shade, contour the nose, jawline, and cheekbones. Then, one should use a lighter concealer can help to lend an air of radiance to the center of the nose, the apple of the cheeks and other areas.
Taking off any type of makeup is vital, more so liquid makeup. Leaving a concealer or foundation overnight can result in blocked pores, leading to a lot of skin troubles. Get excellent makeup remover wipes and a gentle facial cleanser to get the most of the beauty sleep. A concealer is a trendy option for those who want to look good without getting the side effects on the skin.
A concealer offers numerous benefits by giving an amazing look and hiding black spots and darker areas easily visible on the skin. Here are the major benefits of using a concealer.
Best 5 Natural Wrinkle Concealer for Women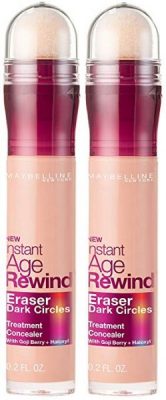 The Maybelline Instant Age Rewind Concealer is a pocket-friendly option, for handling dark under-eye circles. It does not work so well on blemishes. It is a liquid lightly applied so it covers well without caking. Though shades are limited, it lasts all day.
What It Claims
The Maybelline Instant Age Rewind Concealer has a super concentrated formula infused with goji berry and haloxyl to illuminate and brighten the under-eye area. It features a micro-corrector applicator sponge that applies smoothly and evenly for erasing dark circles and fine lines with ultimate precision. This instant age rewind concealer for under eye coverage is available in 12 skin tone shades. It reveals a radiant and refreshed eye area in next to no time for a fresh and illuminated eye makeup across day and night. The visibility diminishes the puffy appearance and delivers a flawless and smooth application. Bid farewell to dark circles with Maybelline New York's Instant Age Rewind concealer. The formula is infused with haloxyl and goji berry, an effective way to boost circulation and create a radiant, refreshed looking eye area.
The active haloxyl formula and micro-corrector applicator erase dark circles, puffiness and fine lines almost instantly.
What It Contains
The Maybelline Instant Age Rewind concealer contains isododecane, glycerin, Cyclopentasiloxane, G852364 1 Aqua or water/Eau. Peg-9 polydimethylsiloxyethyl dimethicone, butylene glycol, Nylon-12, dimethicone crosspolymer, distreadimonium hectorite, cyclohexasiloxane, cetyl peg/Ppg-10/1 Dimethicone, Peg-10 Dimethicone, Phenoxyethanol, sodium chloride. disodium stearoyl, caprylyl glycol, disodium stearoyl, Phenoxyethanol, sodium chloride, polyglyceryl-4 isostearate, glutamate, ethyl hexyl glycerin, Lycium barbaum fruit extract, Methylparaben, Chlorphenesin, aluminum hydroxide, ethylparaben, peg-9, N-hydroxysuccinimide, chrysin, palmitoyl oligopeptide, and palmitoyl tetr apeptide-7. It may contain Ci 77891/titanium dioxide, Ci-77491, Ci-77499/Iron Oxides, Ci-77492.
User Experience
The Maybelline Instant Age Rewind Concealer features a micro-corrector applicator for effective application. It comes in 12 amazing shades. The active formula with haloxyl reduces the under-eye shadows and puffiness while causing the circles under the eyes to fade.
Pros
The color corrector features a micro-corrector applicator for effective application.
It is available in 12 skin tone shades for light to dark.
The micro-corrector applicator smoothens fine lines and fills the tiny crevices.
Additionally, the active formula with Haloxyl reduces the puffiness and under-eye shadows while causing the under eye circles to fade.
The neutralizer shade needs to be applied for extreme dark circles or brightener shades for a touch that is luminous.
Cons
It may contain titanium dioxide.
The Maybelline concealer has a limited range.
The concealer does not work well on blemishes, according to some reports.
Final Verdict
The Maybelline Instant Age Rewind Concealer offers a wide range of benefits such as a wide range of shades and contains goji berry infused with haloxyl for the best results. The result is soft, smooth and blemish-less skin.
To buy the Maybelline Instant Age Rewind Concealer, try the next link.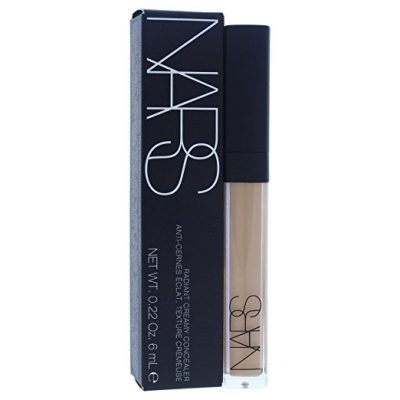 NARS Radiant Creamy Concealer is a concealer which has become a favorite among makeup artists. The creamy, pigmented formula covers up dark circles and blurs the appearance of wrinkles and fine lines without an obvious cover-up job. Only the smallest dab is needed for all day long coverage. It brightens the skin without reflecting light for the natural and seamless finish. It comes in as many as 10 shades, that range from ultra-fair, to deep, and even those with undertones of gold and brown.
What It Claims
The NARS Radiant Creamy Concealer corrects, contours, perfects and highlights the skin. It is preferred by make up artistes  for luxurious textures and luminosity of a finish. NARS Radiant Creamy Concealer offers an even skin tone with a highly buildable to lightweight medium coverage. Enriched with various skin care benefits, it offers hydration plus facial technology for a soft, smooth complexion while hiding imperfections and diminishing fine lines as well as fatigue signs. Under-eye dark circles are a real problem and this concealer has just the right creaminess with hydrating, multi-action skincare benefits as well as light diffusing technology to create a smooth, soft complexion.
What It Contains
The NARS Radiant Creamy Concealer contains ingredients like Vitis vinifera or grape seed extract and tocopherol. These provide a lot of benefits for the skin overall. Then, there's Magnolia Officinalis Bark extract which increases skin hydration, firmness, and elasticity in the eye area, providing antioxidant benefits and reducing skin redness and water loss as well as irritation. This creamy concealer contains titanium dioxide, mica, and tin oxide. These ingredients actually correct instead of masking skin imperfections for flawless skin, enhancing the freshness and radiance of the skin by balancing the uneven skin tone.
Further, the silica blurs and optically reduces the fine lines and wrinkles appearance through diversion of light. Other ingredients include zinc stearate, water, dimethicone, hydrogenated polyisobutene, Isononyl isononanoate, caprylyl dimethicone ethoxy glucoside, sorbitan isostearate, Methylparaben, dimethicone crosspolymer, hexylene glycol, sodium chloride, silica, Propylparaben sorbitol, Propylparaben, glucose, fructose, triisostearin, cetyl dimethicone, hydrogenated palm kernel glycerides, Oryza sativa rice branwax, hydrogenated palm kernel glycerides, hydrogenated cottonseed oil, squalane, hydrogenated palm glycerides, tocopherol sucrose, dextrin, urea, Laureth-4, Butyrospermum Park-II shea-butter extract. Hydrogenated castor oil, ascorbyl palmitate, glutamic acid, phytosteryl isostearate, and alanine aspartic acid.
User Experience
The NARS Radiant Creamy Concealer is ideal for all skin types. It is a multi-action formula that immediately obfuscates imperfections, smoothing the appearance of wrinkles and lines and hiding dark circles as well as signs of tiredness. Hydrating and luxuriously smooth, it layers lightly for buildable medium to full coverage and a natural radiance. The multi-active botanical blend further hydrates reduce redness, strengthens, firms the skin by helping the barrier retain critical moisture. It also delivers antioxidant protection to guard the skin from free radical damage.
Users have reported excellent skin moisture and rated this concealer positively. This concealer is one of the must-have products in a makeup collection. Light-medium coverage is what is needed to get a beautiful look, and this is where the concealer works best. It also comes with a convenient applicator wand making it easy to apply concealers on problem spots and control the amount of product one applies.
Pros
This concealer makes skin smooth, soft and even toned.
Mineral tone balancing powder works to correct imperfections and keep skin looking flawless.
A dab of radiant creamy concealer erases the creases and keeps the complexion fresh.
It blends easily, stays smooth and in place all day.
It is comfortable and hydrates the skin which then glows with fresh radiance and looks beautiful.
It is formulated without sulfates, parabens, and phthalates.
The product is crease-proof, long-wearing, dermatologically tested and non-comedogenic.
It is free of fragrance and alcohol.
Cons
One needs primer after this concealer.
It is not as moisturizing as other concealers.
It is not inexpensive.
Final Verdict
It is a medium-full coverage concealer that hides the redness, darkness, and blemishes on the skin. The concealer is easy to blend and goes on smoothly. It also enhances dry patches on the skin. It does not settle into fine lines under the eyes and gives a matte finish sans the need for a setting powder. It remains without creasing and budging until it is removed from the face. Additionally, there is no fragrance. It is available in a wide range of colors to match each skin tone.
There's medium-full coverage that helps to conceal very dark under-eyes and blemishes without a requirement for a color corrector. It helps to brighten the under-eye area by giving a natural glow and hiding fine lines. It does not dry out the skin and does not look cakey when layered. It helps to blur the imperfections on the face and reduce the need to apply the foundation. Further, it does not crease or settle in fine lines and is long lasting. Less is more with the NARS Radiant Creamy Concealer.
To buy the NARS Radiant Creamy Concealer, try the next link.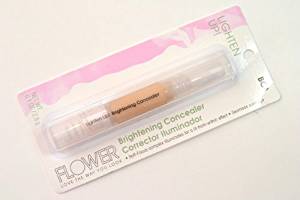 Flower Cosmetics Lighten-Up Brightening Concealer is a one-ounce concealer, with a brush-on application. The weightless formula of this concealer blends instantaneously for a coverage that is seamless. It replicates and reflects the complexion's natural luminosity. It also has a soft bristled brush for an even and gentle application.
What It Claims
The Flower Cosmetics Lighten-Up Brightening Concealer is an ultimate, lightweight perfecter for the complexion. In the soft brush application of the click pen, there is a featherweight formula which can be applied smoothly and blended effectively for a quality coverage that instantly helps to brightens and hydrates the skin. Antioxidant-rich soft focused concealers illuminate the skin for a radiant, shining effortlessly from within, effect.
What It Contains
The Flower Cosmetics Lighten Up Brightening Concealer contains water, Dimethicone, Cyclopentasiloxane, hydrogenated polyisobutene, zinc stearate, Isononyl isononanoate, glycerin, dimethicone cross polymer, caprylyl dimethicone ethoxy glucoside, sorbitan isostearate, Laureth-4, sodium chloride,  dimethicone vinyl, cetyl dimethicone, silica, methylparaben, dimethicone crosspolymer, hexylene glycol, potassium sorbate, propylparaben, sorbitol. Other key ingredients include triisostearin, fructose, glucose, hydrogenated cottonseed oil, squalane, hydrogenated palm kernel glycerides, Oryza sativa rice bran wax, hydrogenated palm glycerides, urea, tocopherol, sucrose, Butyrospermum, park II shea butter extract, hydrogenated castor oil, ascorbyl palmitate, phytosteryl isostearate, alanine, glutamic acid, and aspartic acid. It may also contain titanium dioxide, iron oxides, and mica.
User Experience
In a concealer, one looks for pigmentation, effectiveness, and blendability. This concealer has some positive ratings. One of the benefits of this concealer is the twist-up into a brush style packaging. Additionally, the brush bristles are flexible and long. Additionally, the range of colors is extremely limited. To fit all the range of skin tones, concealers are essential. Some users explained that they found the application to lack smoothness. All in all, however, this is a popular concealer especially for those looking for chemical and cruelty-free beauty products. This concealer must be used for light coverage, too.
Pros
The Flower Cosmetics Lighten Up Brightening Concealer comes at an affordable rate.
It is easy to remove as well.
There's no scent either.
The smell is non-irritating.
It can be used to cover blemishes or redness.
Cons
There is not sufficient coverage by this concealer.
It may cake or settle into finer lines as well.
A few reviewers found it dries them under eye area.
Final Verdict
This click-up pen concealer from the drugstore is easy to apply. The users have reported it does not irritate their skin or have a bad scent and was simple to remove. It is ideal for redness or blemishes. It also provides easy coverage for dark circles, blemishes, sun or age spots, and facial redness.
To buy the Flower Cosmetics Lighten Up Brightening Concealer, try the next link.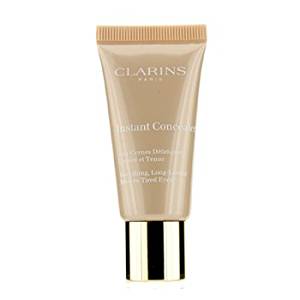 This heavy duty concealer is a solid pick and a perfect choice for masking imperfections and dark circles. The creamy, thick consistency is crease resistant, lasting across the workday and is the perfect choice for women who have a demanding schedule.
What It Claims
Clarins Instant Concealer is the key to flawless, radiant looking eyes. Clarin's unique skin-smoothing formula provides impactful coverage of dark circles while boosting the skin tone and reducing imperfections and fine lines. It also contains aloe vera to nourish, soothe and moisturize tired eyes. Clarin's Instant Concealer contains an exclusive complex, light optimizing. This innovative technology diffuses and captures light for an even feel and look to the skin. It also makes it easy to conceal the under eye region effortlessly as it glides across without tugging at the delicate under eye area. It is also ophthalmologically and dermatologically tested.
What It Contains
This Clarins Instant Concealer contains an aloe vera extract. This offers smoothing and comforting action. The concealer also contains caffeine which has an anti-dark circle action and light optimizing complex. This is an exclusive Clarins product which instantly captures, amplifies and diffuses the light. Additionally, minor imperfections and fine lines are visibly reduced. The complexion looks even and radiant. It is ophthalmologically and dermatologically tested.
User Experience
The Clarins Instant Concealer contains corrective pigments that work to magnify light and blur fine lines as well as dark circles. But the finish is not exactly glowing, according to many of the users. These users found no shimmer or sparkle, unlike light-reflecting pigments. Mica is present but does not glow under the eyes. It also contains aloe vera which makes it a potent moisturizer. It runs thinner but has a cream type texture that applies easily and blends flawlessly. It is not a concealer of an emollient type and has a tinted moisturizer formula that provides an exceptionally hydrated feel and dewy touch finish to a soft, silky feel.
Pros
Sheer to medium coverage that looks flawless and natural when applied.
The concealer is perfect for brightening the eyes.
The formula also provides ease of application and a great amount of hydration.
The eyes appear brighter and this is, therefore, the perfect concealer for aging eyes.
Cons
This does not cover under-eye circles completely.
Final Verdict
The Clarins Instant Concealer is the best concealer for aging eyes. This skin healing concealer applies flawlessly under heavily eyed lines that show signs of creeping age and severely dry eyes. This ensures the issues with concealers creasing, fading etc can be averted. It helps by lasting longer for a minimum of seven hours without fading or creasing into finer lines. It also brightens up the eyes considerably.
To buy the Clarins Instant Concealer, try the next link.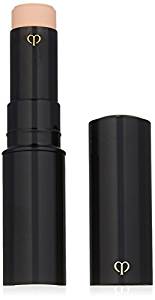 Cle de Peau Beaute concealer is an award-winning product. It features a refined texture that locks in moisture. It glides on comfortably and smoothly. It also hides dark circle, age spots, and imperfections.
What It Claims
Cle de Peau Beaute concealer has won a lot of awards for a reason. It has won best concealer award many times over. It is one of the most expensive concealers out there. The Cle de Peau Beaute comes in six shades. This concealer is a stick formula that comes in a twist up tube. Apply the concealer to the finger and then use your finger to pat the product under the eyes. A brush can be used to feather the concealer into the corner of the eye. Applying the concealer form the stick would require too much product. Very little is needed and blending the concealer is easy. The concealer mellows out redness on other areas of the face and leaves the under-eye area glowing. If you really have really dark circles under the eyes, a color corrector would need to be applied before application using this product.
What It Contains
Cle de Peau Beaute concealer contains titanium dioxide, mica, hydrogenated polydecene, Cyclomethicone, kaolin, iron oxides, CI 77492, diphenylsiloxy phenyl trimethicone, paraffin, iron oxide CI 77491, sodium magnesium silicate, polyethylene, glycerin, barium sulfate, sorbitan sesquiisostearate, Copernicia Cerifera- carnauba wax, microcrystalline wax/Cera microcristallina. Other ingredients include Peg-10 Dimethicone, phytosteryl macadamia, iron oxides CI 77499, water/aqua, synthetic fluorphlogopite, butylene glycol, polysilicon 5 tocopherol, tocopheryl acetate, fragrance parfum, tocopheryl acetate, aluminum hydroxide, alcohol, aluminum distearate, Dimethicone, rose roxburghii fruit extract, triethoxysilylethyl polydimethylsiloxyethyl dimethicone, sodium acetylated hyaluronate, prunus speciosa leaf extract, BHT, Camellia Sinensis leaf extract.
User Experience
The Cle de Peau Beaute concealer feels dry on the finger, but it does not dry easily. It also blends perfectly on the skin. The creamy emulsion base allows the formula to absorb in a way fluid concealer lacks. The formula contains a special super bio-hyaluronic acid that creates smooth, supple skin by keeping the skin moist and healthy-looking. Additionally, there is a green tea extract in the formula. This soothes and depuffs the under-eye area. On days the concealer is worn, the skin looks awesome at the end of the day when the makeup is off. Skincare and how makeup is applied can make a profound difference on whether products perform the same way though. It has attracted mostly positive ratings.
Pros
This product has the best consistency for mature skin showing signs of aging.
It does not require a heavy application and does not settle into fine lines.
This concealer is perfect for its handy feel and portability.
Cons
This concealer is not the perfect solution for everyone. It may not be suited for people with oily skin.
The concealer is also very expensive.
The formula is on the drying side completely.
Final Verdict
While the formula is on the drying side, you need a couple of coats to get the best coverage. This can cause the under-eye area to become creased. Dark under-eye circles can make a difference. Applying copious amounts of moisturizer before applying the concealer for it not to yield dry patches is essential. For many users, this concealer is offering the same results as other concealers especially given the cost. But for those who don't mind the expensive price, it would be worth it if they are looking for light coverage.
To buy the Cle de Peau Beaute Concealer, try the next link.
How to Use Concealers
Concealers are available in a wide range of forms such as paste, powder, and liquid. Choosing the form that is most compatible with the skin is important. Various shades available in the concealers include green, yellow, purple and blue. These shades need to be combined with the foundation to match the skin tone.
Secondly, you need to buy a concealer that blends well with the skin tone. An incorrect shade can make imperfections even more prominent and cancel out the aesthetic effect of the concealer. While purchasing a concealer, do not use it at the back of the hand. Try the shade in the area where it must be used.
Thirdly, you need to choose the right shade. Concealers come in numerous shapes and colors. Analyzing the skin first determines what one needs. For example, is one trying to cover up acne? or under-eye circles? Check for scars and birthmarks. Only assess what you want to conceal. Choose the appropriate shade and color.
Examine the color wheel to find out which color corrector to deploy. Cancel it out using the opposite color to balance the skin tone.
Green tinted concealers can be used to reduce redness. Further, yellow tinted concealers brighten up the face. Lavender concealers can help out complexions with yellow tones. Orange or red tinted concealer is used to cover dark or purple spots. For scars or under-eye circles, using a concealer 1-2 shades lighter than the natural skin tone is important. Determine the warmth or coolness of the tone before picking and selecting a shade. Be careful not to get too light a shade, or the complexion looks ashen.
Deciding the type of concealer you need to use is important. Concealers come in different forms. There are all types of pencils, potted creams to sticks. There are different types of coverage and some may be better than others for certain skin types. For those with large pores and oily skin, cream or stick concealers, making pores looking bigger is important. For those with this skin type, a liquid concealer is important.
Using a pencil concealer for acne is helpful. The pointed edges make it simpler to apply around acne's spots. Thicker, cream concealers are efficient as they can be blended and molded over the blemished part of the skin. Prepare your face before applying your concealer. Wash the face with mild facial cleanser and apply a moisturizer. Use makeup removal and a Q-tip to get rid of the darkness under the eyes that might be the result of old mascara. The concealer is the first step in the makeup application and goes smoothly over the blank canvas.
The next step is to cover up the under-eye circles — for this, you need to use a concealer brush or your fingertips. The former is more effective for dabbing the concealer under the eyes. Applying the concealer in the shape of an upside-down triangle is important. Drawing the triangle from one end of the eye to another brings the point down the cheek down to the nose crease. Combine the concealer around the edges, so that there are no tonal changes between the skin and the concealer.
Rubbing the concealer in around the eyes can be hard on the skin, as it can lead to damage. Simply pat or dab the concealer with the tips of the brush or finger to blend it. This offers more coverage than rubbing.
Working the concealer on the inside of the nose is important if your eyes are deep set. This area is neglected by concealer applications and leaves you looking sleepy. Be certain to apply the concealer all the way to the base of the lash line under the water line. Dotting the concealer under the skin in the U-shape appears less natural and noticeable in snaps.
Apply the concealer to acne and spots. If there is acne, dark spots, birthmarks, sun spots or scars, it is important to cover them up. Dabbing the concealer on the top of the mark, blending it softly outwards to the skin is the next step. Then, try a thin layer of concealer to avoid a caked-on look. Apply more if required.
For those facing acne, fingers should not be used to apply the concealer. Using the fingers causes bacteria spreads that worsen the breakouts and melt the concealer. This provides less coverage. Instead, a clean makeup brush is required. If one is using a concealer over a wide area, for covering rosacea, for example, it is important to use a thin layer that blends edges well. The more concealers are worn, the more likely it is to become apparent over the day's course. Set your concealer with the power to make it look natural, all day long.
Set your concealer, once the dark spots and under-eye circles have been blended and covered. Add a layer of foundation over the top of the concealer. To get the best results, use a loose or compact powder foundation. You can also use a liquid or cream foundation, but additional setting powder over the top is important.
Spread the foundation over the entire face. Use a translucent setting powder with a big brush over the foundation to set it for a solid 12 hours.
Use the brush to reach the inside corners of the eye and under the lash line. Ensure that every part of your face that also has a concealer is covered. Dab extra powder over the areas where the concealer is put to ensure they don't run off the course of the day.
Applying the foundation makeup is the next step.
Conclusion
Concealers can prove extremely beneficial for covering up the signs of aging. But what matters most is your attitude towards your skincare regimen. As skin ages, it needs more care and you need to love and nurture yourself. This includes your skin. Take care of all your dark circles, age spots and more using concealers. But don't forget that true beauty comes from within too, and you need to care for your skin to make it radiant and glowing.