A day at the beach for women is an opportunity to show off beautiful, smooth, and silky skin. There is not any excuse for improper grooming today because of the availability of inexpensive, effective products and services. It is important to start preparing for the beach well in advance, or before it is time to reach for the bikini, sunscreen, and the straw beach hat. The following tips will help women look their best.
Here are 10 Women's Grooming Tips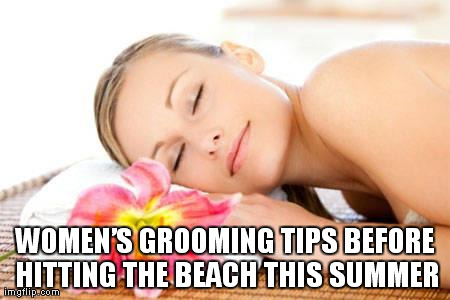 1. For a day at the beach, the only hair that should be visible is your clean, shiny, well-conditioned crowning glory, which is the hair on your head. Therefore, invest in a good Brazilian wax before you slide into that" itsy bitsy teeny weenie yellow polka-dot DVF bikini. " Although your significant other may approve of hair "down there" in the privacy of your boudoir, it is a grooming "don't." When extraneous hair is visible and peeks out of the bikini line, it is not sexy; it is unsightly. Whether or not you are a natural blonde or brunette should remain your secret. The objective or idea is for the bikini line to be as hair-free or as smooth as a baby's bottom. Although the Brazilian wax is a little uncomfortable, its benefits exceed the momentary discomfort. The results are long lasting. Each subsequent treatment will result in a decrease of pain intensity. The hair will grow slower,l be less coarse, and markedly less dense.
2. The most effective method of removing excess hair on the legs, thighs, and forearms is waxing. Although using a depilatory is a bit messy, it is almost as effective as waxing. Either treatment will give hair-free skin for approximately three weeks. One way to minimize the discomfort of waxing is to take two 500mg. non-aspirin pain relievers at least thirty minutes before the procedure.
Many women habitually only shave to the knees, but it is critical to remember that hair is present on the thighs and well. Therefore, whether waxing, using a depilatory, or shaving always remember to "defuzz" the upper legs or thighs as well as the lower legs.
3. Skin should be well moisturized and silky, not ashy, dry, and flaky. It is a good idea to exfoliate the areas that will be exposed, such as the décolleté, arms, legs, thighs, feet, ankles, and back to eliminate dead skin.
One inexpensive method to eradicate or combat this problem is to combine 1 cup of sugar, 1/2 cup of almond oil or olive oil, ½ tsp. of lemon zest, and the juice of one lemon. Using a loofa sponge, massage the mixture into clean, damp skin. The grainy texture will remove dry, flaking skin. The oil will smooth and moisturize. The lemon juice, when used over a period of time, will brighten skin, lighten darkened areas and discolorations, and give an even-toned appearance.
4. Cellulite, which is skin with the appearance of an orange peel, can be an aesthetic issue, especially when one is wearing a revealing swimsuit. A grooming tip for cellulite that will effectively pamper and smooth the affected areas of the skin is to combine one cup of used coffee grounds, 1 cup of granulated sugar, and ¾ cup of olive or almond oil. Stir until the mixture is of the consistency of paste. After a hot shower, with the tips of the fingers make firm, small, circular strokes to apply the mixture to areas where cellulite is visible or prominent, such as the abdomen, buttocks, and thighs. Leave the mixture on for 15 minutes; rinse with cool water. The result will be temporarily smoother skin. The effect will last for a few hours.
5. Feet need special attention, especially when they are exposed or displayed in bare sandals, for example. First, soak the feet in warm, soapy water for twenty or thirty minutes. Remove from the water and gently scrub using a pumice stone in circular motions on the soles, heels, sides, and instep of the feet to eradicate hard, calloused skin and corns. Never use a razor blade to remove calloused skin or corns; a cut can result in a serious infection Continue using the pumice stone until skin is smooth to the touch and roughened areas are removed. Rinse in cool water; towel dry. Slather feet in a luxurious skin cream or lotion that is rich in emollients and moisturizers. Wrap each foot in plastic wrap for 15 minutes. The body's heat will be held in by the plastic wrap and will help the oils and moisturizers penetrate the layers of the epidermis. After removing the plastic wrap, massage in any remaining lotion or cream. Now, apply a thin layer of petroleum jelly. Put on clean, white cotton socks and wear overnight.
6. Deep condition hair at least twice a week before the day at the beach. Before going into the water cover the hair with cream hair conditioner, which will protect tresses from damaging salt water and sun damage from ultraviolet rays. Simply rinse and shampoo at your earliest convenience.
7. Have eyebrows professionally groomed. However, if the expense is a matter of consequence, it can be done effectively at home. Use an ice cube to numb the area. Carefully tweeze stray hairs by pulling in the direction of hair growth. Never tweeze brows into a pencil thin arch, which is unnatural and too severe. The brows should naturally and attractively frame the eyes.
8. Although you have exfoliated and your skin is satiny smooth, either get a professional pedicure and manicure or give yourself one. All you need are an emery board, cuticle clippers, cuticle pushers, nail polish remover, cotton balls, and nail polish. Remember to trim toe nails straight across to prevent ingrown toenails. A bright color on the nails adds a sense of excitement and fun colors, such pastel or electric blue, bright yellow, lime, or tangerine can add a youthful touch as well as provide a boost to the self-confidence and self-esteem.
9. Use a pumice skin on the roughened and discolored skin of the knees followed by an application of rich skin cream. Use lemon juice or a skin lightening cream to gently fade darkened skin.
10. If you are fair-skinned and want a little color, skillfully apply a self-tanner. Get the help of a friend to assist with the application process to avoid unsightly orange streaks or white patches.
Now the pampering is well and truley complete, and you are ready to hit the beach in style! So grab your bikini and your kaftan, and go have fun in the sun!
Boutique1 are a high end fashion store, with a wide range of summer wear fashion.