Spray tanning is a better alternative to the sun. You can get the perfect bronzed look and avoid the negative effects of sun exposure and damage in no time to look wonderful in next to no time at all. How d you get the perfect spray tan? Here are the five important steps you need to consider, to get the most even and perfect tan.
Steps to Successful Spray Tanning
Step 1: How To Prepare for a Tan
Getting a suntan can prove risky. The danger of exposing one's self to ultraviolet rays can be deadening in the form of skin cancer. If you want a tanned look, spray tanning is far easier. Here's how you prepare for the spray tan to ensure an even tan, without overdoing it.
Preparing your skin for a spray tan involves exfoliating it. Dry, rough skin patches attract more color than smooth skin which is soft. Failure to carry out skin exfoliation before spray tanning can cause the dye to attach itself in blotches on joints and rough areas. Opt for a loofah or an exfoliating tool for scrubbing the entire body. Sea salts or other exfoliating products yield optimal results.
Shave hair which is unwanted. Excessive body hair causes spray tan to stick to the skin. This causes shaving soon after the procedure to lead to color flaking off from the skin. Spray tans need to be carefully prepared to ensure long-lasting results. Creams, deodorants, lotions or personal hygiene products could also cause a problem when it comes to spray tan sticking to the skin.
Softness and suppleness of the skin results if lotions are applied. But these lotions and lubricants are not a good idea if one has to block the spray tan from lodging on the skin. This includes moisturizers, antiperspirants, makeup powders, deodorants, perfume and sprays as these can block the application of spray tan on the skin. This can result in blotches.
Spray tanning solutions are likely to remain damp even after departing from the tanning booth. To prevent the solution from rubbing onto your clothes, bring a selection of loose clothing in dark colors to prevent staining. Nail polish should be on before the tan, even in the event of being a clear coat. Nails and toenails need to be wiped following the end of the spray tanning session. This prevents nails from becoming stained. Gel manicure or acrylic nails is another good idea if you don't want the spray tan to ruin your nails.
Facial or body waxing before a spray tan can help the coat to be even, Do not opt for waxing after the spray tan and before the initial shower. Threading and waxing should also be done either before the spray tan or just after the initial shower. Exfoliate with the non-oily exfoliant or scrub before the tan. This ensures that dead skin cells are removed so that the tan looks as even as possible.
The amount that is shaved after the spray tan should be limited, though once following the initial shower is fine. Eyelash extensions are ideal if they do not affect your spray tan. But, they should be applied before the spray tan. Gel pads and tape are part of the spray tan application so extensions should not be attached some point later in the process.
Step 2: During the Spray Tan Session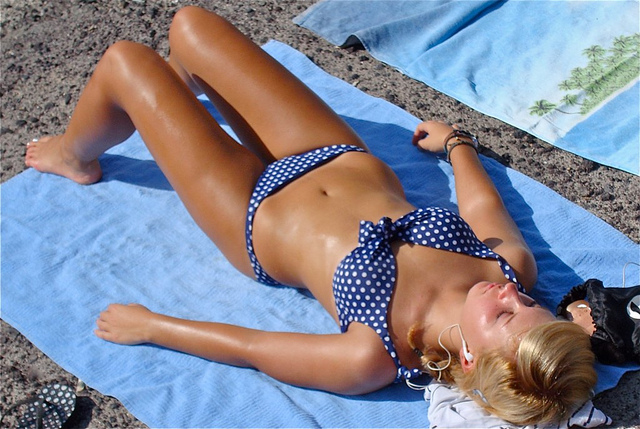 Make sure you wear loose clothing as well as less constricted innerwear. Once the spray tan is released, there is stickiness and slight door which is normal till a shower is taken. Do not touch the skin if it is sticky. If the skin is touched and the insides of the hands are not washed, palms can become stained. Wash the insides of the hands while the spray tan is gradually developing. Exfoliate before the appointment. Use an exfoliant that is water-based. Essential oil enriched exfoliants are fine as long as they are non-oily. Make sure you check with the spray tan technician regarding chapped skin, broken skin or wounds, allergies, and skin reactions before proceeding with the tan. Ensure that while you are in the tanning booth, the inner sides of legs are kept apart and the inner arm is not touching the torso. In case the arms and thighs touch, this causes friction leading to blotches and uneven spray tan.
Another important step in the spray tanning session is ventilation. The ventilation should pull out the fumes rather than to blow them out. In case there is a cloud of tanning fumes, the amount of air flowing through the room should be increased. Ensure that the pressure ranges from 15 to 25 when the airbrush is spraying. The pressure helps to prevent clogging and grainy spray and is a critical part of how the tan is sprayed. Testing tools are essential to ensure equipment functions well before it is used. More or less solution may be needed depending upon the body size and the intensity of the tan sought.
Step 3: Immediate After Care
Once the spray tan session is over, the solution needs to air dry for a minimum of 10 minutes. Once this is attained, loose clothing or a robe can be worn. A dry, loose and dark pair of clothes and flip flops are the perfect ensemble after a spray tan session. Check for 6-8 hours of setting time before engaging in any exercise or activity that causes perspiration.
Body and hands should be kept away from water for the same duration as well. Do not carry a heavy bag as this can rub off on the solution. Refrain from rubbing actions of the body skin at the time of tanning. Showering as late as possible or the next morning is the right choice for the spray tan. Use dark loose sheet over the bed or recliner during tanning to prevent the spray tan from getting rubbed off.
Step 4: Short-Term After Care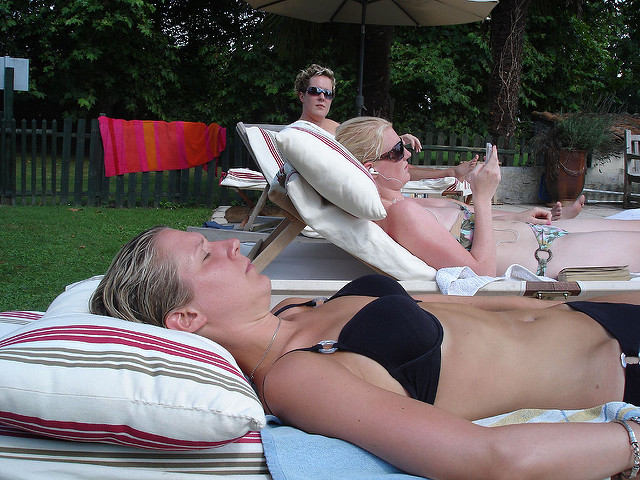 Do not take a shower for 10 to 12 hours if heavy spray tan is used. Showering before this time frame may lighten the color and impact the results of the spray tan. Don't engage in sweat or wetness inducing exercises till the first shower after the spray tan. Do not wash the face before your first shower. Placing makeup after the spray tan is fine.
There are bronzers in the spray tan solution meaning some color may come immediately after being sprayed. Color will darken as the solution develops. Don't wear latex or vinyl gloves to complete the housework on the day of the spray. Long sleeves and pants as well as covering hands while you sleep will prevent the spray tan from being transferred to your hand.
Step 5: Long Term After Care
Taking your first shower involves gentle drying, as vigorous rubbing leads to exfoliate the skin to ensure the tan will not last long. Do not exfoliate with body scrubs, loofahs, body washes or soaps while exfoliating till the tan starts to fade away. Avoid scented body washes and soaps. Non-scented, or fragrance-free body washes and soaps are the best choices. Don't opt for face washes containing benzoyl peroxide or salicylic acid as they eat away at the spray tan.
Acne spot treatment is also not advisable after a spray tan. Spraying tans last 4-8 days or even longer or less than this. The more there is moisturization, the tan will last longer. Moisturizers containing self-tanners are not a good idea as these can have a negative impact. Don't go in for anything but hydrating, non-scented, fragrance or alcohol-free moisturizer. Make sure your moisturizing is done twice a day. especially after the first shower. When you have a tan on, wear sunscreen. This is because it extends the life of your spray tan. Wait for one day after spray tanning to go to the ocean or pool, after the session.
Guidelines for Spray Tanning
The most essential part of a successful spray tan is caring for the skin prior to and post the application. Tips need to be followed to ensure maximum results and minimum issues. Failure to optimize your tan can result in failure when it comes to developing a spray tan. Steps need to be in place to prepare for the tan. Once it's applied and developed, you can then relax and look good. Any spray tan solution is not like sunscreen. It does not protect against sunburns. Additionally, you need to apply sunscreen over the spray tan when in the sun.
Preparing for a Sunless Application
Prior to sunless tanning, it is important to use the proper shower and exfoliation products from head to feet. Pre-tan retail products are highly recommended as they help the skin to optimally accept a sunless tan. Products include vitamin-enriched body washes, exfoliators, and skin acidity balancers. Pre-tanning products include residual soaps and lotions.
It is important to exfoliate the skin a day before the sunless tan. This works to smoothen the skin and serves as a primed surface for the tanning spray to adhere to. It is important to pay particular heed to the hands, knees, elbows, and feet as these are the places apt to over-develop. Shaving at least 24 hours before a sunless session is also crucial. Any waxing needs to be carried out one to two days before the sunless session. In common areas where there is dry skin such as hands, knees, feet, and elbows, a moderate amount of moisturizer needs to be applied up to 2 hours before sunless tan applications.
There's no need to apply oils, oil-based or alcohol-linked products prior to or after the sunless tan unless the product specifically states it is acceptable for pre-sunless session usage. Also, deodorants should not be applied prior to the spray tanning session. Removing makeup before a sunless tan is also important. As the solution will stain the fabrics, it is important to wear dark clothes that are loosely fitting and won't stain easily.
Additionally, make sure you choose the right footwear – it should be either flip flops or sandals that need to be worn after the tan session till the first shower. For preparing for the spray tan, it is important to opt for deep cleansing exfoliants, balancer, and tan preps, balancing shower cleansers, barrier creams and more.
Prior to the Sunless Application
Follow instructions the tanning technician has explained in preparation for the spray tan session. It is important to remain calm during the tan session and relax the muscles for natural looking, proper contouring. Before it dries, the solution may feel tacky. Don't press your skin during this time, and if required, clean the palm's insides with a wet wipe or cleansing wipe to prevent staining. Relax, and let the spray tan transform your pore.
Post the Spray Tan Application
Waiting for the period instructed after the spray session to shower and use warm water is important. Don't use soaps or body washes. This allows ample or adequate time for the DHA to react and fully develop. Color runoffs may take place in the shower. This is a cosmetic bronzer though. Remember it does not affect your tan. Using tan maintenance products including specially formulated moisturizers plus tan extenders that can extend the longevity of your spray tan. Avoid bar soaps, oil or alcohol-based beauty products, as these can strip the skin of its natural pH and moisturization balance. The tan will then spread less evenly and fade more quickly.
It is also important to be patient. Wait before showering according to directions to permit the solution to develop completely. Experiencing a cosmetic bronzer wash-off during the first shower is normal. The moisturizer need not be applied until after the first shower. Applying this at any time prior could lead to streaking. Avoid sweating until the first shower.
Additionally, moisturize every day and use post-tan beauty products as required. This can extend the longevity of the spray tan. This also preserves the spray tan for longer periods of time and ensures it fades in an even as opposed to an uneven way. A sunless tan can last from 3-10 days with easy maintenance.
While out in the sun, always remember to use a sunscreen. Even in the case of a sunless tan, skin still requires protection from burning. Remember that sunless products are not sunscreens. Maintenance products include tan extenders and tanning gels. Many body care products exfoliate or dry out the skin and lead to uneven fading of the spray tan, leading to blotching.
Therefore, there are certain body care products you need to avoid. This includes anti-acne products, anti-aging products, bar soaps, and BHA or beta hydroxy acid based products. Then, there are Retin-A based products, facial masks, and other facial exfoliating scrubs as well. Avoid makeup removers. Give a wide berth to waxing and hair removal products. Additionally, you need to avoid body hair bleaching products. Also give a miss to alcohol-based or witch-hazel based skin toners, as these can lighten the tan. Avoid hair inhibiting lotions as these can turn the tan yellow.
Moreover, daily heavy exercise or excessive sweating can also cause the tan to quickly and unevenly fade. Another strict no-no is submersion in long baths, Jacuzzis, hot tubs or swimming pools as these can cause the tan to fade quickly. Body spray, perfumes, and bug sprays can be used, provided you don't spray these directly on the skin. Additionally, spray onto the clothing or a mist and walkthrough for the best results.
Don't bake your skin in the sun. Instead, opt for airbrush tans. With spray tanning, you can get an awesome tan without the risk of damage to the skin or skin cancer. Another important thing to go is to exfoliate 24 hours before a tan to assure an even application. Exfoliation works at dead skin cells and removes the tan. Using water-based exfoliating scrubs rather than oil-based ones is important. Oils can come in the way of letting the spray tanning solution develop properly.
Another strict thing to follow is not applying moisturizers, videos, perfumes or beauty products prior to the appointment for tanning. This inhibits tanning quality.
Also, make sure you don't miss out on shaving or waxing the evening before the tanning session. If shaving, waxing or hair removal is attempted to post the spray tan, it exfoliates the skin and impacts tanning results. Another thing to watch out for is not to wear makeup or jewelry to the tanning session. Make sure you pull your hair off your face and neck. Wear comfortable clothing and ask all the technical questions you need to position yourself to get the best results.
Another important thing to factor in is wearing loose clothing and flip flops while leaving the tanning salon. Don't opt for innerwear for at least 6 hours. For the first 24 hours after receiving the spray tan, don't take a shower or get wet for any other reason. Water contact stops the tanning process. Further, leave off exercising for the first 24 hours, because the tan can become streaked through sweat.
Additionally, don't book any hair or nail appointments for 48 hours post the tanning session. Avoid soaps and body products with parabens, sodium lauryl sulfates, glycolic alpha hydroxy acids in them. This leads to quicker fading of the tan. Washcloth, puffs or loofahs should not be used, either.
Do make it a point to moisturize every day, in the morning and the night alike. Also, use moisturizing soap-free bodywashes to perpetuate the life of the tanning effect. It is also recommended to use a tan extender to reduce patches and extend the tan's longevity. A product rich in light DHA bronzers should be used.
Scrub using a non-oil based lotion. Oil leaves residual ingredients on the skin that can interfere with self-tan development. The best time to exfoliate is 8 hours prior to self-tan applications. Also, ensure all waxing and hair removal is done 24 hours prior. This permits the hair pores to settle so the tan does not become pitted or settle into them.
Do carry out a patch test if you feel the need. A patch test should be 2×2 inches. If it is too small, it looks too concentrated.
If you are rubbing or pulling the skin when applying the self-tan, one is prone to causing streaks. Tan applicator mitts can apply the spray tan all over the body and the tan will appear amazing right from day one. Most individuals think exfoliating afterward will take off the self-tan, but it is important to lightly exfoliate 2-3 days to guarantee the tan is fading evenly.
Applying quick fixes to streaks or dark spots can also help in getting that smooth, even look. Apply baby oil to the darker area and leave it for 10 minutes. Then, scrub the area with an exfoliator and buff it using a hot wet washcloth. Moisturize the body to maintain it.
Wear a headband to protect the hair and ensure the face is tanned up to the hairline. Paint the nails or apply a small amount of Vaseline onto the toenails and fingernails to protect these from the discoloration. Using latex gloves to prevent the palms of the hands from staining. Choose tanning mitts to achieve an even look. Mix moisturizers onto sunless tanners to tan the face. Moisturize the entire body once you wash off the product in the shower to extend the life of the tan.
Do's and Don'ts For Spray Tanning
Do's To Follow
Exfoliate prior to the spray tan. Use a body scrub or loofah on an entire body in the shower or try dry-brushing.
Shave before the spray tan. This is another form of exfoliation as it takes the top of the skin layer with it.
Apply a body butter to areas prone to grab more solutions like backs of ankles, knees, elbows, hands, and feet. The body butter is better as it creates a bigger barrier as against lotion.
Moisturize before a spray tan, because if the skin is dry, the tan flakes off with it.
Moisturizing in the days following helps to retain the tan and keep you looking fresh for a longer time.
Pat yourself dry and ensure you don't rub the towel on your body vigorously after showering.
The skin can only absorb a certain amount of product.
Layer the spray tan onto the skin. The skin can only absorb a certain amount of product. Depending on how it is sprayed or applied, a few coats or light layers are always sufficient.
Don'ts
Avoid heavy types of body lotions on the day of the spray tan as this interferes with the tan development.
Don't apply deodorants or make-up before the spray tan.
Oils can be problematic and fade the tan fast.
Oils make the top layer of the epidermal skin swell or plump up as this allows skin hydration and goodness of oil rubbed onto the skin.
Great for hydration, it is bad for self-tanning as the color can be rubbed off.
Don't rush through the spray tan process. Make sure you take it easy and ensure you cover every area like the elbows and ankles.
Don't wear tight clothing following the treatment as it creates marks on the skin.
Don't use deodorants and perfumes as it makes it hard to self-tan.
Don't moisturize until after the color has been washed off with water.
Don't exercise, bathe or engage in swimming sooner than eight hours post the spray tan – this results in streaks.
Don't mistake a sunless tanner for a sunscreen. There is absence of UV protection in sunless tanning solutions.
Don't use instant bronzers as this wash off.
Don't wear light clothing as the self-tanning or spray tanning solution can stain the clothing.
Don't wear jewelry or hair ties on the wrist as this leaves a white line, much like regular tanning.
Avoid wearing deodorants before the spray tan. As the deodorant is an aluminum-based product, there may be greenish color post the tanning. This happens when the aluminum in the deodorant interacts with the sunless situation.
Don't opt for a hot tub or chlorinated pool for exfoliating the tan right away.
Conclusion
When it comes to sunless or spray tanning,  it is important to follow these important guidelines, steps, and precautions, if you want results that leave you looking naturally tanned.  So, go ahead and opt for spray tanning, but do remember to follow these handy tips before stepping in and taking a shot at this artificial form of tanning.