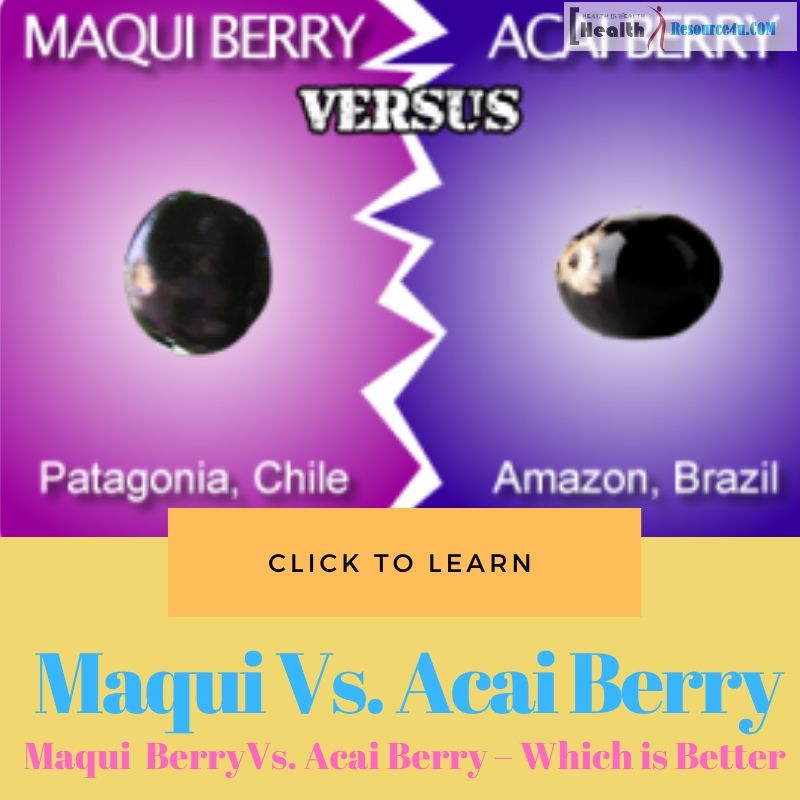 Reading Time: 5 minutes
You are no doubt aware that there are numerous health food supplements in the market place claiming that they are better than their competitors. Two of these are the Maqui berry and the Acai berry. If you are considering taking one or the other, you will no doubt find the following information of benefit towards reaching your decision.
Both Maqui berries and Acai berries claim similar things such as being supplements that are full of antioxidants, fibre, nutrients and omega fatty acids. Both berries make certain claims about their potential impact on your health such as how they can help with anti-aging, cleansing, detoxification, anti-inflammatory benefits and immune support. They even claim they can help with very serious illnesses such as diabetes, cancer and cardiovascular disease.
There is no doubt that they are both nutritious but you need to be aware that there are some differences between the two so that you can decide which one is best to meet your needs.
Both berries are in the same family as the likes of strawberries, raspberries, blueberries and blackberries but it is unlikely you will see them in the mainstream shops although they do have a lovely flavour.
History
Both berries originate from South America.
The Maqui berry is deep purple in colour growing upon small evergreen trees and has   been used by the Mapuche Indians from the Patagonia area of Argentina and Chile for hundreds of years due to its anti-aging and medicinal benefits. Maqui berry extract is also used in Chilean wines as a colouring agent.
The Acai berry is deep blue in colour and grows on the tall Acai palm tree. It has been consumed by Amazon's indigenous people for hundreds of years. The Acai berry is made into a fruit pulp and is flash-frozen to retain its vitamin and antioxidant properties.
Until 2008 the Acai berry was the favourite "super berry" but, in that year, the Maqui berry appeared on the scene with a bang.
Nutrition
The Acai fruit has omega fatty acids and contains both antioxidants and nutrients that include vitamins E, C and A.
The Maqui fruit contains omega fatty acids and antioxidants together with vitamins C and A plus the minerals potassium, calcium and iron.
Omega Fatty Acids
The body is unable to make the polyunsaturated fats omega-3 fatty acids and omega-6 fatty acids that are valuable for your good health. Omega fatty acids contain both anti-blood clotting properties and anti-inflammatory properties.
These assist in lowering triglyceride and cholesterol levels and also reduce blood pressure. It has also been found that they may possibly reduce the risk of some cancers, diabetes, asthma, diseases of the heart, arthritic ailments, mental decline and colitis.
Omega-9 fatty acid is a fat that can be produced by the body if omega-3 fatty acid and omega-6 fatty acid are there. The Acai fruit does contain the omega-3 -6 and -9 fatty acids. The Maqui fruit does contain the omega-9 and -6 fatty acids but not the omega-3 fatty acid.
If you do not eat foods that are high in omega-3 as a part of your usual diet then the Acai berry could be an acceptable preference for you. Otherwise, you can obtain omega-3 from the likes of fish oil capsules.
Antioxidants in the Acai Berry
Both Maqui and Acai fruits include an antioxidant compound known as anthocyanin that is believed to possess numerous anti-ageing and health benefits. It is also capable of neutralizing the free radicals contained your body, strengthening your immune system and sorting out damage to tissue.
They Acai berry contains ten times as many antioxidant vitamins as grapes and two times that of the blueberry. The antioxidants within the Acai fruit were discovered to be outstanding against the peroxyl radical. They were able to enter the human cells in a completely functional format, even at a low dose.
The study concluded that the Acai berryhad anti-inflammatory potential and the possibility of improved immune functionality, two beneficial things many of us need more of in our diets.
Antioxidants in the Maqui Berry
A Maqui berry has the greatest antioxidant value of all the known super fruits.
A medical news publication reported the oxygen radical absorbance capacity(also known as ORAC) value of this berry was between 4 and 30 times greater than that of most Acai berries. ORAC measures the antioxidant ability of food to put right possible imbalances in health.
The ORAC rating for the Maqui berry was 27,600 per 100 gram whereas the Acai berry was only 16,700 per 100 gram.
Scientific Studies
The Acai berry is known by people living outside South America for a much longer period of time as opposed to the maqui berry which did not appear on the health food scene until much later. Therefore, the Acai berry has been subject to more scientific research.Although the Maqui berry is believed to have numerous potential health benefits they have not been shown as widely as the health benefits of the Acai berry.
The Maqui berry has shown that it protects cells from free radical damage, inhibits bad (LDL) cholesterol and has antioxidant properties.
The Acai berry has shown antioxidant, anti-inflammatory, cardio protective and anti-cancer properties.
Availability
The Maqui berry is not as easily obtainable as the Acai berry that is no doubt a reflection of one of the reasons it is more expensive to buy. The harvesting, distributing and processing techniques for the Acai berry are long established so it can be found at numerous locations in many forms. The technology for the preparation of the Maqui berry is not so far advanced.
Maqui vs. Acai Berry: who is the winner?
You may find this to be a difficult decision. If your decision were based purely on the level of antioxidants it would be the Maqui berry over the Acai berry but you should not just take that one factor into account.
In reaching your decision you should be aware that both the Maqui berry and the Acai berry both benefit from amino acids, minerals, vitamins and antioxidants. Both berries have been used for hundreds of years by the South American natives and both claim to have health benefits.
Because the Acai berry has been around in the civilized world for longer there have been more studies undertaken about it. The Acai berry is easy to locate and it does contain omega-3 fatty acids.
However, it must be said that the Maqui berry is an extremely promising recent newcomer offering excellent potential health benefits and an incredibly high level of antioxidants.
Potentially, the Maqui berry's powerful level of antioxidants has the capability to search out, sweep to one side, destroy and remove various unwanted things that are circulating within your body. As a result you may well benefit from a natural boost in energy and enthusiasm.
The Maqui berry has been subject to some studies that have shown the berry is potentially capable of fixing the ravages caused to your body by such things as cancer cell destruction, large and small ailments, reduce inflammation and aging.
The Maqui berry has the added benefit of weight loss potential that actually occurs naturally whilst your body goes through a purification and rejuvenation from free radicals that would have proved destructive.
Perhaps, after all, it is the Maqui berry's very high antioxidant levels and the potential benefits this provides that wins the battle over the Acai berry.
However, the berry that you choose ought to take into account your own dietary needs and the sort of lifestyle you maintain.
Whatever decision you come to, you at least know that to incorporate berries filled with antioxidants is a positive choice both for helping deal with weight loss and your general health.