An efficient cure for people fighting acne and associated blemishes and scars, Tea-Tree oil is 100% natural. Acne can become exacerbated due to pollution, stress or hormonal conditions causing unsightly scars. It spreads to other body parts and many dermatologists prescribe treatment to counter this. Tea-Tree oil is the perfect cure for acne.
Causes of Acne: Know More
Pimples appear on different parts of the body, such as the neck, face, upper chest, scalp, and shoulders. While small pimples last a couple of days, a large acne breakout can take weeks to smoothen and heal. Acne also presents a problem, because people often scratch these, leaving scars behind and causing bleeding. Pitting of the skin due to terrible acne can be a real problem.
Acne impacts mainly teenagers, but adults in their forties can also suffer from this. Unsightly marks and blemishes on the face can be a real problem, whether you have a personal date or a job interview to attend. A dermatological cure can only be tried for short periods of time and has an acutely drying effect on the skin. Tea-Tree oil is a safe and natural treatment to battle acne. Once an acne breakout heal, Tea-Tree Oil also prevents further breakouts.
Main Causes of Acne
Different skin issues work together to cause red inflammations characteristic of acne. The skin's surface is filled with small pores. These become blocked with bacteria, dead skin, and oil. Bacteria known as propionionibacterium acnes can have a severe effect on an oily or sensitive skin. As each pore in the skin contains a sebaceous oil gland, as well as an opening for hair, the latter releases oil that moves through the air, out of the skin's pore and onto your face. When the pores are clogged, this can cause acne. The bigger the infection, the larger the acne is in size. As pores are hard to clean, even folks washing their faces regularly might develop a problem with pimples.
Why Tea-Tree Oil?
Tea-Tree Oil is made from Melaleuca alternifolia, a plant common in Australia's New South Wales Region. With a fresh scent, the tea-tree plant yields transparent or light yellow colored oil. It also exerts an oily feel on the fingers. The leading Tea-Tree Oil should be cent percent pure, non-refined and chemical free. It has been sourced from plant leaves. Tea-Tree Oil is perfect for acne if it has not been diluted in any way. Why is this?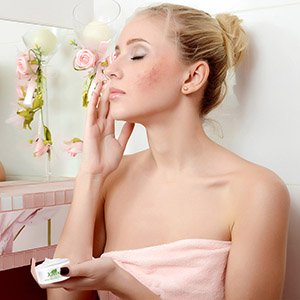 Well, Tea-Tree Oil is considered an antimicrobial substance. It is not safe for ingestion, but perfectly fine for topical use. It is also non-carcinogenic, unlike chemical rich acne cures. You can use this oil as frequently as you need. It also has antibacterial properties. Tea-Tree Oil can destroy MRSA or staph infection in hospitals. It also destroys the acne bacteria that leads to pimples and inflammation living inside the hair follicles. Apart from disinfecting the skin, it also soothes the complexion, which is perfect when acne flares up and skin irritation results.
Tea-Tree oil kills bacteria in the skin, healing pimples so the skin returns to normal. It also exerts a strong preventative effect on future acne outbreaks. Tea-Tree Oil is also a moisturizer which and can be used as a cleanser for the face. Some drops in distilled water can be applied to the face for maximum benefits.
Tea-Tree Oil provides holistic treatment for oily or acne-ridden skin types. It is a natural treatment for acne-cure. Numerous studies have demonstrated the Tea-Tree Oil to be as beneficial as commercial benzoyl-peroxide to lower acne. Moreover, Tea-Tree Oil also contains antibacterial, antimicrobial active compound substances that prevent acne. This oil permeates into the pores and unblocks the sebaceous or oil gland. It, therefore, disinfects it and lowers pimples. It also wards off dust and grease besides undoing free radical damage induced oxidative stress.
Apart from being a potent antibacterial compound, Tea-Tree Oil is also antiviral, antifungal and antiseptic.
It cuts through dust and grease.
How Does Tea-Tree Oil Work To Cure Acne?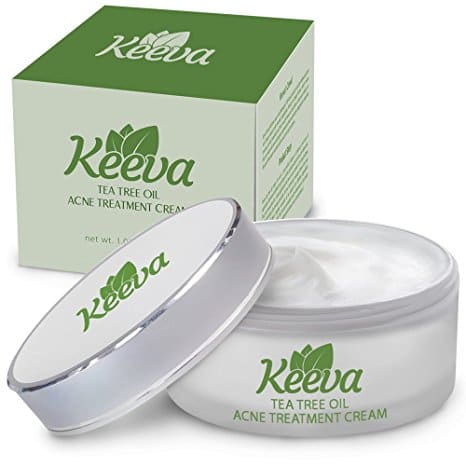 Acne can be confusing to cure, especially if you don't understand its cause. Acne is actually a disease affecting the sebaceous glands of the skin, which generate an oil called sebum. The pores of the skin connect to glands through a canal called the follicle. Though follicles are tiny, oil pushes the dead skin cells to the surface of the skin. As thin hair grows through the follicle in the surface and from the thin, follicles get clogged and this can also cause acne. While Tea-Tree Oil is popular for cleaning and healing wounds, its oil which comes from the Tea-Tree plant through distillation is the perfect cure for acne.
Tea-Tree Oil contains impressive antibacterial properties called terpenes. These are a type of volatile oil, destroying the bacteria and soothing the skin. A study conducted by a dermatology college in Australia found that combination of this oil gel as against a face wash worked better when it came to improving mild to medium level of acne breakouts.
Tea-Tree Essential Oil is 100 percent pure and natural, purchased from the best manufacturers using certified organic plants and no bases, fillers or additives. According to University of Maryland's medical center, Tea-Tree Oil is more efficient than commercial acne therapies like benzoyl peroxide, because it is rich in terpinene-4-ol which causes antimicrobial activity. The skin-based bacterial that cause microbial activity are destroyed as a result of this.
Additionally, Tea-Tree Oil destroys acne and prevents further breakouts due to its antiseptic as well as antifungal features. It contains antibacterial properties and features as opposed to harsh, artificial chemicals that kill acne. Tea-Tree Oil penetrates deep into the skin and unblocks the sebaceous gland, This dries out pimples, white and blackheads. It also cures acne. It also contains antiseptic properties which heal damaged skin cells.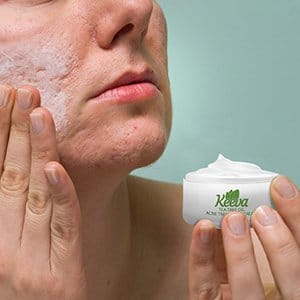 It even balances the oiliness of the skin and is perfect for treating cystic acne naturally. It permeates through the skin to declog oil glands and dry out any acne and/or blemish. Tea-Tree Oil can be used to get rid of all kinds of skin problems as a result.
#1 Using Pure, 100% Natural Tea-Tree Oil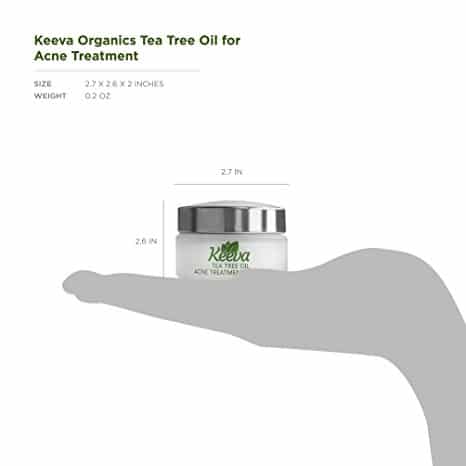 This technique can be used to reduce swelling and irritation of cystic acne. Boost the efficacy of Tea-Tree Oil with a face wash rich in active ingredients to fend off acne. Applying some drops of Tea-Tree Oil to the affected portion and leaving it on for 3-4 hours overnight and rinsing the skin works wonders.
#2 Dilution of Tea-Tree Oil
Diluted Tea-Tree Oil can be used cleanse the face, heal the acne and dry it.Apply moisturizers that don't lead to pore clogging and repeat twice in a day. For sensitive or location-based treatment, aloe vera leaf gel is important to use alongside tea-tree. Other useful remedies to be used alongside Tea-Tree Oil include natural antibacterial substances like honey and yogurt which soothes irritated skin and reduces redness. Another great addition to Tea-Tree Oil is olive oil, coconut oil, as well as clay. While olive oil has antibacterial properties that promote skin health, coconut oil offers relief and controls the complexion. Tea-Tree Oil with clay mask also works to remove toxins from the pores. Tea-Tree Oil also works well with jojoba oil, egg white or a homemade scrub.
Keeva Tree Tree Oil Acne Cream: Simple Formula to Treat Acne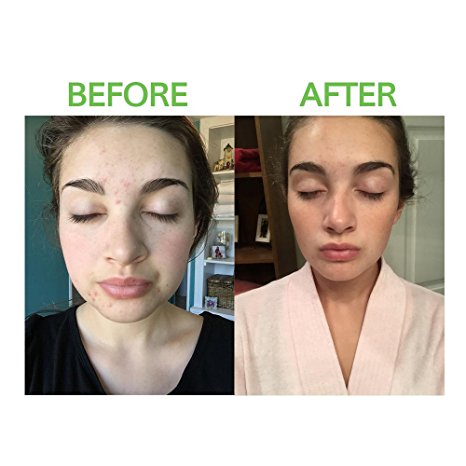 This is a useful formula for treating acne. The main ingredient that is active is none other than Tea-Tree Oil. With natural acne treatments like these, all different skin types can benefit. Keeva Tea-Tree Oil Anti Acne Cream offers relief from different kinds of acne such as bacterial, cystic and hormonal acne. People have rediscovered the power of Tea-Tree Oil through such fantastic products. Keeva Tea-Tree Oil is obtained through complete and comprehensive distillation of the Melaleuca alternifolia plant native to China and later imported to Australia.
Keeva Tea-Tree Oil Cream
What it Claims
This cream is not tested on animals. It also has zero side effects and contains only natural ingredients. This Tea-Tree Oil-acne treatment cream is made of amazing ingredients like deionized waters, shea butter, sesame seed oil, vitamin E, olive oil, grapeseed extract and argan oil. This three in one cream offers awesome benefits without any time-consuming beauty rituals to follow.
What It Contains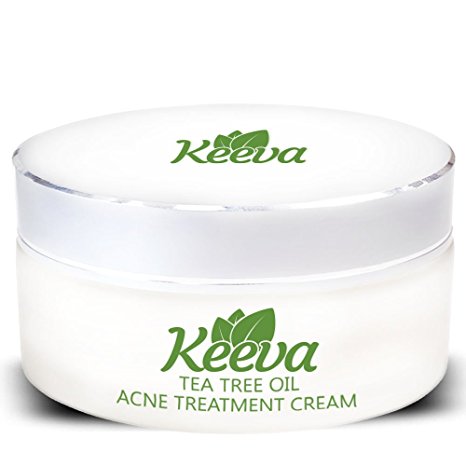 This cream is mainly containing Tea-Tree Oil. It is also enriched with vitamin E and sophora root extract. The deionized water and organic alcohol used works as a solvent and decreases viscosity. Other important ingredients include squalene, isoocytl palmitate, isopropyl myristate, Cetearyl glucoside, ami methylglycine, glycerinum, polydimethylsiloxane, and phenoxyethanol. Organic agents that work include palm oil extract, potent antioxidants and components such as salicylic acid obtained from the willow tree bark removes dead cells and acts as an anti-inflammatory and soothes skin irritations. It also contains anti-inflammatory agents and DL menthol, a natural peppermint extract which revitalizes the skin. Additionally, it has hyaluronic acid which keeps the skin plump, youthful and radiant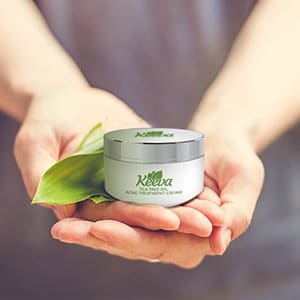 User Experience
Keeva Tea-Tree Oil Acne Treatment shows results in as little as 2 days. This cream can cure pimples, whiteheads, blackheads, blemishes and more. A small amount of Tea-Tree Oil within the cream penetrates the skin to unblock the oil glands, dry out the acne and blemishes. It is also perfect for removing inflammation, hyperpigmentation and acne scars. It does not dry the skin and offers 100-day full cash back warranty too. This professional potent all in one cure for acne is perfect. It does not require a prescription and treatment can continue for up to 3 months. With Tea-Tree Oil as an active ingredient, it yields the most amazing skin whether you suffer from hormonal cystic or bacterial acne. Acne yields oil gland blockage. Tea-Tree Oil called melaleuca oil roots out these blemishes by preventing the blockage. Discovered over 2,000 years ago in ancient China, Tea-Tree Oil is a lasting cure for killing bacteria and leaving skin soft, smooth, supple and blemish free.
The Tea-Tree Oil used by Keeva is from the leaves of the Melaleuca plant native to China and strong, undiluted and more potent than any other Tea-Tree oil. Created with sensitive skin types in mind, it is easy to apply and prevents skin trouble and acne problems.
Pros
Keeva Tea-Tree Oil cream is not tested on animals
It has 100% natural ingredients
It offers safety and zero side effects
It prevents dryness of the skin and comes at a cheap price.
Creamy with a subtle touch of tea tee scent and mint, it also comes with hyaluronic acid that does not dry out your skin
Now, access anti-aging cures with Keeva anti-acne cream that wards off fine lines, and is a gentle solution for acne and blackheads.
Blemishes caused by damaged pores and acne scars can also be combatted using Keeva anti-acne cream.
It's purity and refined formula is second to none
This Tea-Tree Oil cream has the ability to prevent acne as well as disinfect pores.
The product is highly effective and gets at acne and blackheads or any other skin irritation.
This cream is easy to apply and absorb
It targets problem areas and keeps skin looking fresh and radiant
Cream has cooling properties and is so soft and light it can be used under makeup
Cons
It does not work overnight, so if you are looking for a quick fix, this will not work.
There is minimal information printed on the bottle, so if you are looking for detailed directions, check out reviews online
A strong fragrant smell can be a turn off for those who like non-scented products.
But all in all, the Keeva Tea-Tree Oil cream is a real asset for those who want to remove pimples, whiteheads, acne, scars, blemishes, and blackheads for sure. While this acne cream does not promise overnight results, it does offer a lasting and permanent solution to pimples. So, whether you suffer from hormone acne, cystic acne or just teenager pimples, this Tea-Tree product is just what you need.