If you are reading this article, chances are that either you have started your fitness journey and not sure how to go about it or either you've been working out since long and have hit a plateau and not seeing any gains now. For both of these cases there are some common factors which affect how you build muscle and a little tweak in your routine can do wonders for you. Hence if you plan to continuously build muscle throughout you journey then this article is specially for you.
Building muscle is a simple process, though people tend to make it difficult and stressful. A combination of heavy compound movements, low isolation movements, well balanced diet and adequate sleep is all you need to build muscle. Yet it becomes difficult for some.
Gaining muscle is a slow process and takes months and years of hard-work and dedication. You wouldn't see results overnight. Hence make modifications and follow the below mentioned points only if you're not seeing results in long run.
Here are some of the reasons why you are not building muscle:
8 Reasons Why You are Not Building Muscle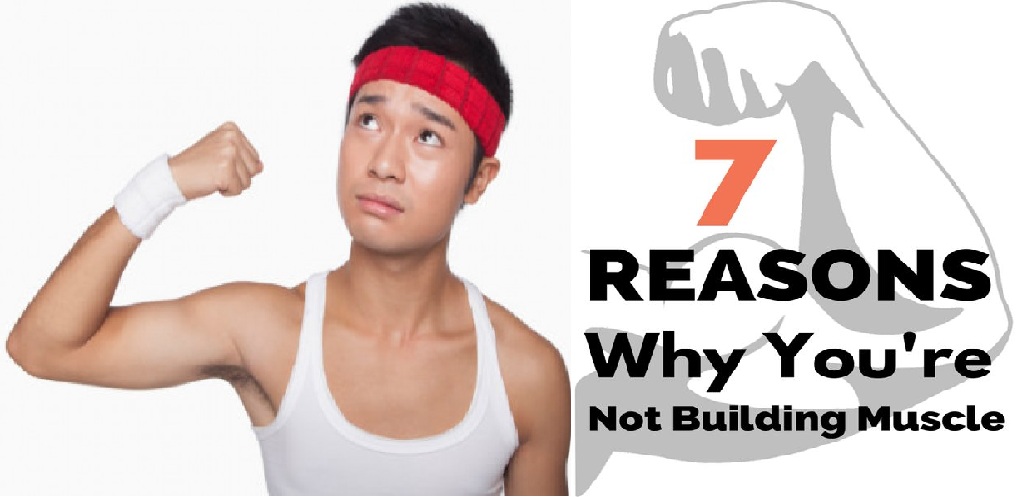 Not Keeping a Track of Calories
The most common mistake that beginners make while building muscle is not counting their calories. When you're a beginner and start working out you tend to see gains because it is something new for your body and it shocks your muscle into growth. But as it gradually becomes a routine, you start to see that you're body is not growing as it used to be. Most people who do not count their calories tent to eat only the calories which are required to maintain weight and thus do not see their muscles growing.
If you need to continuously build muscle, calculate the exact number of calories you need to maintain your current weight and then add 500 calories to it. These are the exact amount of calories you need on daily basis to build muscle. Make a diet plan where the total calories derived from the foods matches your daily calorie requirement which you calculated. If you follow this step I assure you that you will start seeing results immediately.
Not Eating Enough Calories:
This point is related to the previous one. Most people eat only when they're hungry and making it to only 3-4 meals a day. The total calories derived from these meals will range from 2000-2400 which is not adequate for someone who is on their bulking routine. Hence you need to start changing your lifestyle. Start eating small 6-8 meals throughout the day of at least 400 calories which will help you get 2800-3200 calories a day perfect for building muscle.
Wrong Choice of Foods
Merely eating anything and everything just to meet your calorie requirement is not advisable. If you're looking to build quality muscle then you have to choose between certain foods. Building muscle takes you to consume the right amount of proteins, fats and carbohydrates. You can calculate the appropriate amount of macro nutrients required on daily basis through the Daily Calorie Calculator which you can find on google.
It is very important that you eat clean foods like Oats, Chicken Breast, Lean Meat, Eggs etc and fulfill your caloric needs through foods like these. This will ensure that you feed your muscles with right amount of nutrients and you gain more of muscle than fat.
You are Not Working Out with Compound Movements
Compound movements are the basis for building muscle. You would never see a person with perfect physique who does not performs deadlift, squats and bench press.
Compound movements are those exercises which work on more than one muscle at a time. They help the body in releasing more Growth Hormone and hence you get bigger. On the other hand, Isolation movements are exercises like bicep curls, dumbbell flies which only work and isolate single muscle at a time. Doing countless reps for isolation exercises would not benefit you as much as 8-12 reps of compound exercises would do.
Hence try to start your workout with 2-3 heavy compound movements like pushups, pull ups, deadlifts, rowing, bench presses and squats and end your workout with 1-2 isolation exercises to fully isolate your muscle.
Incomplete Range of Motion
Though the equipment's for both bodybuilders and power-lifters are same both the desired goals are completely different. Bodybuilders need to grow their muscle and need to look better than before, while power-lifters wish to break records while lifting as heavy as we can.
Most of the beginners in the gym do ego lifting, which means they lift weight which is too heavy that they compromise on their form and get injured at last. We need to workout with weights that are heavy for our body not others. Hence I urge to you that if you're not seeing results, possibility is that your working out with heavier weights than you can lift with proper form. Next time when you hit the gym, leave your ego at home and try to perform each rep with full range of motion by reducing the weight but performing each exercise with proper form. This will engage your muscle more than before and you will see a better pump now.
Not Giving Enough Time to Body to Recover
This is another one of the great mistakes people make in the gym. Working out 2-3 hours and 7 days a week isn't going to help but cause more harm than good. Most of the bodybuilders talk about over training but only few people understand. Our body grows at home not at the gym. You just need to create muscle tears in your body in the gym and rest all you have to do at home which includes feeding them and giving them adequate time to recover. Most people I see spend hours in gym and 7 days a week which causes more of catabolic environment harming their own gains.
The best approach here is to workout for 45-60 minutes maximum and giver your body enough time to repair and recover. Take 2-4 rest days in a week to ensure that your body is getting enough time to recover.
You are Inconsistent
Consistency is the key my friend. Imagine a bodybuilder with 20″ inch arms does not eat for a day. Is he going to see any reduction in his bicep or any other part in this case? The answer is no!
The same way eating clean for a day and then getting back to junk the next day will not help you get the body you desire. You need to be consistent and work for years to get what you want. Being consistent is not only with your nutrition, but also your workout schedule and sleep cycle. You need to be consistent in all the aspects to constantly see results.
Hence these were the top 7 mistakes which beginners make that are harming your gains. Avoid the above mentioned steps if you wish to continuously gain muscle throughout your journey. Another short tip is to continuously change your workout every 6-8 weeks. Your body adapts to your workout and the reason why you hit a plateau when you keep working out with the same routine.
For more muscle building articles, weight gain information and supplement reviews visit my blog Gaining Tactics. Want to submit a guest post? Read HealthResource4u guest submission guidelines.