After the whole day work rush when you enter into your bedroom the first thing that you need a pretty comfortable mattress that can ease your whole day discomfort and body ache like magic when you lie down on it. Though you will get different varieties of mattresses in the market which claims for their several benefits and features but if your requirement is specific and this is the first time when you are about to shop a bed mattress then there would be no better option than the bear hybrid mattress.
This mattress is primarily for the people who lead a very busy life schedule because it claims for instant pain relief and better muscle recovery for its user. It is highly soft and comforting and offers you a range of bounce and full support. It maintains perfect harmony between your body's comfort level and support preventing the risk of health issues that occur due to discomforting and wrong type of mattresses usage.
If you are the one who is planning to order a bear hybrid mattress for you either online or from any retail store then you have absolutely visited the right place as here we have described every minute detail of this mattress which will let you understand about its complete features, pros, and cons. So go through the below review of this best mattress that will make your shopping experience a more comfortable and worthy one.
Is the Bear Hybrid Mattress Good for Your Health?
The Bear company who manufactures the bear hybrid mattress claim many big things. Like it asserts that the usage of its mattresses can improve the tissue oxygen levels and stimulates the natural energy of the body for speeding up the recovery time and overall well being of its user.
The reason behind such claims is that in its manufacturing a fiber is used called Celliant. This is a synthetic material that is well known for its ability to stimulate blood flow required for easing your body pain and pressure from your joints.
The Celliant is an FDA approved material and recognized as a medical device. This recognition supports some of the claims of this mattress company whereas some of its claims still need detail study in this regard. Also, this mattress company gives some links to its ongoing research study which targets to support all its claims that it makes. However, these are mostly subjective factors rather than the materialistic ones that are highly impossible to evaluate on a physical level.
Another reliable support that the bear hybrid mattress company has gained from the fact that it is endorsed by the prominent professional athletes along with its highly compelling data on Celliant. All these supporting evidence and the unique features that make it suitable for specific requirements of a user make it a wonderful and superior mattress than the other mattress manufacturers.
Bear Hybrid Mattress Review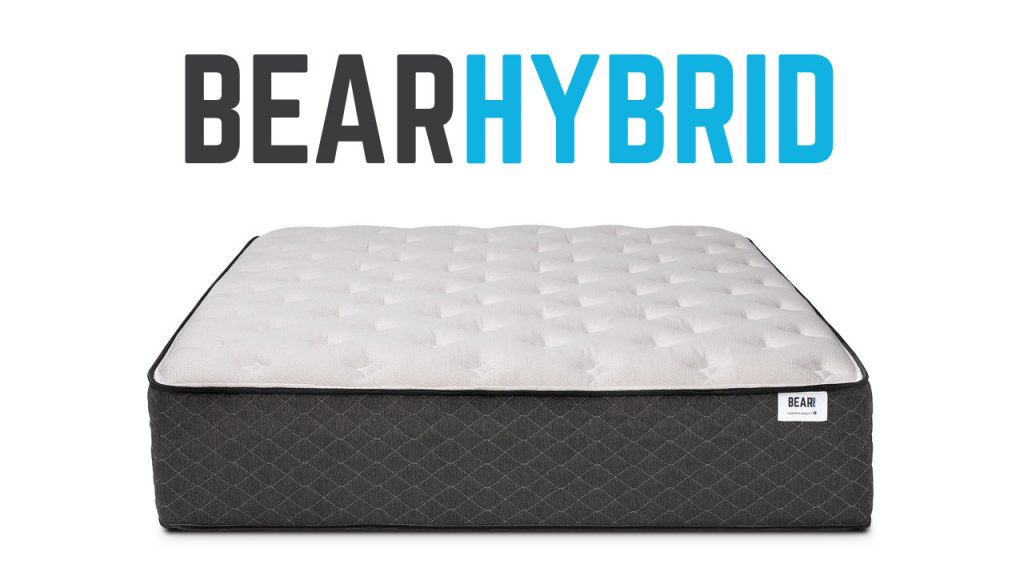 The Bear makes two types of mattresses out of which the original Bear all-foam bed is reviewed here. This Bear mattress fulfills the need for a wide variety of personalities on an average who tends to sleep in different varieties of positions such as back sleeping, side sleeping and stomach sleeping. This variations feature and benefit is also equally applicable for different weight range people. So this is what makes it a perfect choice for couples with different weight sizes as well as couples who prefer sleeping in a variety of positions.
This mattress includes some memory foam however this is not the typical slow responding memory foam instead of that it provides quick to spring back feature. So you won't feel like melting into your bed which is really very annoying. The Bear Hybrid mattress offers better edge support than the original Bear mattress which makes it suitable for heavier load people.
Material and Buildup
The bear hybrid mattress is classified as gel memory foam over pocketed coils buildup. It is 14" thick mattress consisting of five layers enlisted below from top to bottom layer-
2″ of soft gel foam quilted into the cover having a density of 1.8 lb.
2″ gel-infused memory foam having a density of 3.5 lb.
1″ polyurethane transition foam
8″ pocket coil unit
1″ polyurethane foam
Out of this composition of the bear hybrid mattress, its top layer is a part of the cover having two inches of soft foam quilted right inside this offering softness and loft on the top. Inside this comes the 2" layer of the gel-infused memory foam. This second layer is very fast responding foam without much sluggishness gives the feeling of melting into the bed. Inside this exists the pocketed coil unit, which is comprised of an inch of polyurethane foam stick to the top and to the bottom. Its coil unit features support edges. The steel coils are strong enough that construct a sturdy and supportive edge without obstructing the airflow.
Cover
The bear hybrid mattress remains wrapped in the Celliant material thickly quilt cover. This special material is known for its ability to activate the natural heat level of the body that is reflected in the form of infrared energy that helps in reducing inflammation.  Also, this cover is enough padded and squishy due to a foam layer quilted right inside this cover.
Features
Comfortable
This mattress eases your discomfort just within few minutes you lie down on it. It is very comforting in all respect and the credit must be given to its especial foamy quilted content and especially the material which is claimed to energize your natural healing power to get rid of inflammation and its associated discomforts.
Super Soft
The bear hybrid mattress is very soft or delicate in use. It is also classified as Medium because with this single mattress you get the feeling of sinking inside as well as the feeling of floating on top. However, which range of softness s exactly a person's body needs may vary as per personal preference.
Enough Cushioning Depth
The bear hybrid mattress is classified as Medium on the basis of this feature as well. The depth of this mattress is absolutely perfect which is already proved in its testing. The tester neither experienced an extreme feeling of sinking into bed that the mattress itself can overwhelm his body nor it was too hard to create a body ache. He feels a very nice feeling of compression and body comfort on the surface level.
Bouncy
With this mattress, you get enough bouncing effect which makes it extraordinary among other common mattresses. This is because in general mattress when you lie down, gives quick response as spring back your body immediately and the bounce effect is very low. On the other hand in the case of bear hybrid mattress, its 2″ layer of memory foam doesn't react too quickly so your body can feel the bounce enough as its foam takes extra time to get back into its original shape.
Edge Support
This is another specific feature of the bear hybrid mattress. The firmer or stronger coils around the perimeter of this mattress give it solid edge support. Whether you sit or lie down on the edge your body can easily feel the stability.
Enables Motion Isolation
The bear hybrid mattress would be the best choice for those whose partners cannot sleep in a single posture or motion leading to disturbances in sleep. The motion isolation feature is already proved in the testing of this mattress. The two tests that conducted with the help of A 16-lb bowling ball and with the whole bodyweight of tester about 200-lb, in both the case the pin, moved a little but didn't fall. This specific feature of this mattress makes it suitable for people who remain annoyed with their partner's movement on the bed.
Good Spinal Support and Pressure Relaxation
This is another beneficial feature of this mattress that every other mattress user looks for. By providing proper support to your back or spine and pressure relaxation this becomes the ideal choice for every new to old mattress user. These two ideal features hardly remain present together in any other mattress. Also as the spinal alignment and pressure, relief features vary from one person to another on the basis of their weight, body shape, and common sleeping positions so, this mattress gives full opportunity to its users to assess their specific need to get their ultimate desired mattress based on their preference.
Temperature Control
The bear hybrid mattress is a suitable choice for those who are affected by sleeping hot concern. This gets possible because of edge to edge coils which ensure that lots of air can flow freely controlling your body heat. Also as it is not deeply cushioned like other mattresses so keeps your body exposed to the more air of the surrounding environment. Another thing that prevents sleeping hot concern is the Celliant fiber in the cover that channelizes heat from your body keeping it in a cool and comforting position.
Adjustable Base
The bear hybrid mattress has a very adjustable base and it is found absolutely compatible with the standard adjustable base unit in its testing.  Immediately after the un-boxing your mattress, you can find it offering the same comfort level as the many mattresses give over a long period of time. This is what makes it different or specific among other mattresses especially for sleepers who cannot compromise with their comfort at any cost.
Long-Lasting
In the testing of the bear hybrid mattress, it is found that its longevity is no way less than any other mattress. It has absolutely solid coil unit which is very much durable even with the very long term usage. With regard to shape and resilience which is needed to maintain the comfort lifespan of a mattress, the Bear hybrid mattress offers satisfactory results.
With the memory foam of density 3.5 lbs. per cubic foot, it lasts for a very good amount of time but not for an extraordinary period. Its quilting foam is only about 1.5 lbs. still, it is heavily quilted. Though the foam deteriorates with time but this deterioration level is so less that it hardly comes in the notice.
Pros
It relaxes your muscles by reducing inflammation.
Compatible for those who sleep in different positions.
It offers less bounce but those are quite mesmerizing.
It offers a perfect blend of floating along with full protection like in a cot.
It provides exceptional edge support to the user.
Cons
Being rich in the innovative formula is a bit costly.
In spite of a foam mattress, it doesn't offer a slow melting into bed kind feeling.
It could be a bit uncomfortable if you mostly sleep on your stomach.
Final Verdict
After considering the material description, features, pros, and cons of the Bear Hybrid mattress it can be said that it is truly perfect for people who prefer sleeping on a wide range of positions or has to deal with a partner who sleeps into different positions as it gives the feeling of isolation and keeps you undisturbed.
Also, it is best for the partners with different body weights like one partner is of normal weight and another one has heavy bodyweight. This mattress is worth bringing home especially if you are looking for a mattress that can ease your muscle discomfort instantly and give appropriate spinal alignment.
How Bear Hybrid Mattress is Better Over Other Hybrid Mattresses
The bear hybrid mattress is rich with following specific features which makes it superior and a better choice over other hybrid mattresses in spite of its some similar features like coils content and soft top layers.
Celliant Technology- The Celliant fiber available in the cover of this mattress is scientifically proven to bring relaxation to your muscles from ache and discomfort which is hardly used in any other commonly available hybrid mattress in the market. Along with giving some health benefits the Celliant material, it keeps your body cooler that helps in sleeping more peacefully and comfortably.
Blend of Comfort and Support- Though most of the hybrid mattresses claims for giving perfection in terms of comfort and support balance but hardly any of them fulfill this. However, this issue is not with the bear hybrid mattress. It claims to provide a balance of comfort and support which is absolutely true and tested. Your body can feel comfortable on its top layer whereas you can feel the support and safety with its solid coils irrespective of your body weight. This is what makes it a perfect choice for people who prefer side and back sleeping.
Relieves Pressure Technically- Comparing to other hybrid mattresses available in the market the bear hybrid mattress relieves the body pressure in a much effective and technical way by stimulating the natural healing power of your body. The premium comfort foam works better in terms of pressure-relieving than the memory foam.
All these specific features and benefits make the bear hybrid mattress an extraordinary mattress and perfect choice for almost all kinds of people.