Bromhidrosis, or body odor as it is more commonly called, is defined as the foul smelling odor caused by a water-rich environment.  Most people experience body odor from time to time, but some individuals deal with this problem much more frequently than others. There are also instances when the scents emitting from the body can be difficult to eliminate. If you notice that your body chemistry is changing and your favorite colognes or perfumes don't seem to work like they used to, here are some possible reasons for this, as well as a few practical solutions.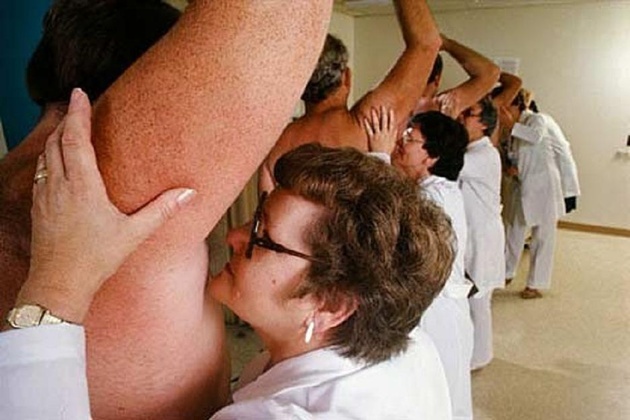 Bromhidrosis (Body Odor) Causes
Body odor is caused when the bacteria living on the body break down proteins and other organic material contained in apocrine sweat.  Apocrine sweat glands are located mainly under the armpits and produce a thick, fatty type of sweat.  The byproduct of this interaction are acid compounds that have a foul smell.  Apocrine sweat differs from the more common eccrine sweat, which covers the entire body and is used as a cooling mechanism.  Because some people sweat more than others, some people's natural odor is stronger. Body odor becomes especially apparent during puberty due to changes in hormones and bacteria content in the body. According to the Medical News Today, this natural odor emission starts to occur noticeably in girls between the ages of of 14 and 16, and in boys who are 15-17 years old.
There are two main types of acid that lead to body odor: isovaleric acid and propionic acid. Isovaleric acid emits a smell due to the activities of Staphylococcus epidermidis. This is the same bacteria that is present in a number of strong cheeses. Propionic acid is often found in sweat and lives in the sebaceous glands of adolescents and adults. This acid has a similar makeup to acetic acid, which is responsible for giving vinegar its strong smell and bitter taste.
Aside from basic biology, there are a number of other common reasons why a person may develop body odor. For instance, not toweling off thoroughly after a bath or shower can cause the body to give off an unpleasant scent. This is because water can settle in the folds of skin, making it easy for fungi and bacteria to grow in these areas.
Eating foods that have a strong smell can also lead to body odor. Foods like cumin, curry, onions, sardines and garlic can also release sulfur-containing gases when digested. So, not only will your breath smell like these pungent foods, your body will take on the scent as well. Foods that are high in fat or sugar can also make it easier for bacteria to flourish in the gut, which can cause unsavory body odor. This can easily be remedied by including more fiber in the diet.
Solutions For Bromhidrosis (Body Odor)
Fortunately, body odor is easy to combat in most cases. Getting rid of the problem may simply be a matter of drying off completely from the shower before getting dressed and wearing deodorant and body powders that are specially formulated to reduce sweat and keep body odor at bay. Applying a little baking soda to your underarms or the bottom of your feet can reduce sweat and eliminate unpleasant odors, too. Wearing fabrics that allow your skin to breathe is another helpful tip for reducing or avoiding body odor.
Gaining control over your emotions can also make you smell better. Anxiety and stress prompt the body to sweat more as a result of the fight or flight response, and sweat can lead to body odor that can be hard to control.
Natural Deodorants
Natural deodorant also works well for many people who have not been able to eliminate body odor with traditional antiperspirants. Many of these deodorants contain ingredients like lavender and tea tree oil, which immediately get rid
of harmful bacteria on the skin. These oils protect and calm the skin and give the body a slightly floral or fresh scent. There are several deodorants made from environmentally safe ingredients that also contain oils like citrus or sage, so that the deodorant can serve as a bit of a perfume as well as an anti-sweat cosmetic. Many natural deodorant varieties also contain baking soda and zinc ricinoleate, which reduces sweat.
Mineral Salts
Deodorant alternatives include the body crystal, which is said to draw impurities from the body without the use of harsh chemicals. This deodorant is made from mineral salt and doesn't contain aluminum chlorohydrate, a common ingredient in conventional deodorants which is considered toxic in Europe and can stop the body's natural production of sweat.
Chlorophyll
Chlorophyll is another popular method of reducing body odor.  Found in dark green vegetables or as dietary supplements, chlorophyll works internally to absorb odor causing compounds that cause body odor.  It also does not contain harsh chemicals which makes it a great natural alternative against malodor.
Chlorophyll was first noted for its deodorant effects in the 1950s.  Doctors observed that colostomy patients who were given chlorophyll had decreased fecal odor.  This led them to conduct further tests on body odor and bad breath with great success.  The suggested daily intake of chlorophyll is 200mg.  This amount has been shown to provide the most consistent and effective reduction in oral and body odors.
Homemade Deodorants
You can even make your own deodorant if you find that both traditional and natural forms of anti-odor products aren't working as well for you as you'd hoped. Pure cocoa butter, baking soda and the essential oils of your choice can become your custom blend of deodorant, and you can continue experimenting with the mixture until you find a combination that works for you.
Conclusion
Body odor affects everyone and can be caused by a variety of different factors.  Whether it be from bacteria or food, it is something that can present challenges both socially as well as physically.  To best deal with the problem, it is first important to isolate the cause.  Only then can an appropriate method of treatment be found.
This article was guest authored by Ryan Kain, a health expert in the field of alternative medicine and homeopathic treatment. He is also a guest contributor for BodyMint.com. If you would like to write for HealthResource4u, check our guest submission guidelines.