Beauty is the foremost priority of every woman in this earth and this begins with the most exposed and larger part of the body that is your skin. Yes, it is the overall texture, quality, and glow on your skin that reveals your beauty which you can ensure by consuming essential diets for healthy skin.
Women of all ages are simply crazy for enhancing the beauty of their facial skin and the rest of the body. For this, they do everything that is possible for them but unfortunately, results are not as good as it should be.
This particularly happens because most of the women are unaware of the real way to give the care of their skin beauty. As a result, they spend lots of money blindly on buying expensive beauty products and even try for medical treatment for a long lasting effect.
These are all temporary solutions and often comes with some side effects that harm more to your skin health than the good. However, you can reduce and prevent all common skin related concerns like acne, dryness, breakout, and wrinkles by taking healthy nutrient dense diets intake which is the natural source of vital nutrients and vitamins.
Green leafy vegetables, fresh multicolor fruits and vegetables, nuts and dry fruits contain Vitamin A, Vitamin C, Vitamin E, omega 3, zinc, beta-carotene and other essential elements that protects your skin from external dust and pollution and sun damaging.
These healthy diets will ensure firm, supple, strong, thicker, hydrated and moisturized skin by nourishing the deep skin cells within. It also boosts the production of collagen protein which is the most vital element for rejuvenating your skin cells and for protecting your skin from harmful radicals and oxidants.
If you are the one who wants to choose natural way for improving your skin quality and health then try our below mentioned food list which is all an abundant source of multivitamins and minerals which will help you to nourish your skin naturally and in a healthy way by increasing its self healing capacity and by excreting natural level of collagen for glowing, tight and beautiful skin.
List of Essential Diets for Healthy Skin
Tomatoes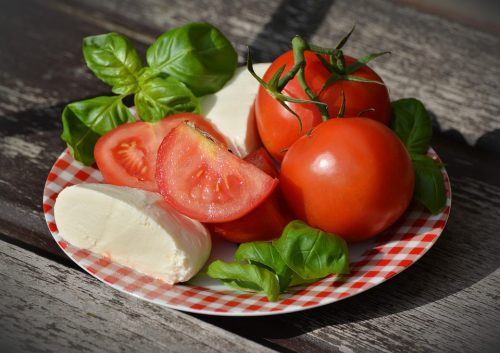 Tomatoes are the natural source of Vitamin C and carotenoids that protect your skin from free radicals and UV rays damaging and prevents the formation of fines lines and wrinkles.
Important carotenoids such as beta-carotene, lycopene, and lutein protect skin cells from the damage of harsh UV rays which not only causes wrinkles but can also cause skin cancer. It ensures strong, thicker, firm and supple skin which are all sign of healthy skin.
When tomatoes are consumed with a combination of healthy fat rich diets such as cheese etc. It increases skin's absorption capacity of carotenoids. Means more skin protection and better health of skin in a natural way.
The vitamin C content of tomatoes gives protection against the free radicals which are the primary reasons for skin clogging which promotes acne, blackheads, rashes and other aging signs on the skin. You can eat tomato directly or apply its paste on your face for getting the best possible benefits of this healthy diet for your skin.
Sweet Potatoes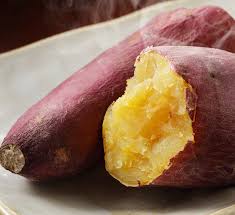 Sweet potatoes are a natural source of beta-carotene an important carotenoid which works as a provitamin A that means when it is consumed it automatically converted by the body into Vitamin A.
Means you get total skin related benefit of most essential Vitamin A by consuming this healthy fruit. It works as a sunblock and prevents sunburn, suntan and skin cells damaging caused by UV rays of the sun.
Apart from this sweet potatoes intake will boost natural collagen production in your skin that will help to keep your skin moisturized, rejuvenates dead skin cells, reduces wrinkles and promotes the growth of new and healthy skin cells.
Beta-carotene one of most beneficial nutrient for skin which naturally exists in sweet potatoes, oranges, carrots and in spinach. This healthy nutrient will not only give protection to your skin from damaging but will also add a sweet orange color glow to your skin which enhances your skin beauty and health twice.
Avocados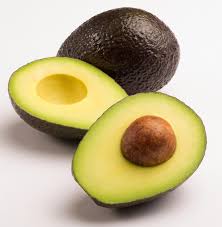 Another healthy diet that you must try if you want to look beautiful and younger throughout your life is avocados. We all know about the several health-related benefits of avocado but along with improving other physical health, it is equally beneficial for your skin's health too.
Avocado is a rich source of healthy fats and Vitamin E and Vitamin C which are the most essential compounds for keeping skin firm, glowing and healthier naturally. Its healthy fat content increases your skin's elasticity and makes it more supple and springy.
Vitamin C and Vitamin E are important antioxidants that protect your skin from oxidative damages such as free radicals, sunburn, etc. that can make your skin dry, flaky, wrinkled prone and other aging signs on the skin.
Vitamin C is considered as a natural booster for skin health as it increases the production of collagen protein which is vital for preventing the appearance of all aging signs on the skin. Moreover, it adds natural glow, hydration, and nourishment to your skin.
This is the great benefit out of the consumption of this healthy fruit which you get in a very easy process and at a very less expense. You can avail 10% of the RDI limit of Vitamin E and 17% of the RDI limit for Vitamin C out of the consumption of one gram of avocado.
Sunflower Seeds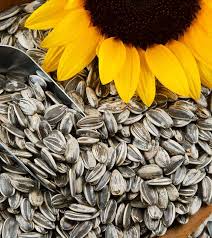 Seeds are the abundant source of skin health-boosting nutrients. Out of different seed nutrients, sunflower seeds are the vital ones which can ensure smooth, glowing and supple skin when it is consumed on a daily basis.
It contains Vitamin E a natural antioxidant which protects your skin from sun damages and pollution which can cause wrinkles, scars, blackheads, and acne related problems by damaging skin cells and by clogging pores on the skin.
28 grams of sunflower seeds contains 10% of the RDI for zinc, 32% of the RDI for selenium, 37% of the RDI for Vitamin E and 5.4 grams protein. Zinc is an important mineral that boosts your skin health naturally and the protein content of this seed ensures strong and supple skin.
Fatty Fishes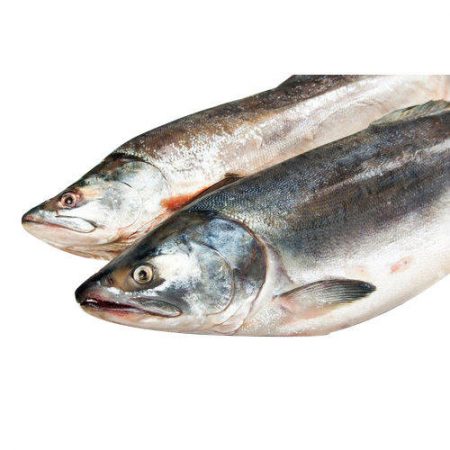 Omega 3 is one of the most beneficial fatty acids that not only improves your overall health but it works amazingly for improving your skin health and beauty. Fatty fishes are the abundant source of omega 3 which rejuvenates your skin cells and promotes the formation of healthy and fresh skin.
Fishes like salmon, herring, mackerel are not only delicious by taste but contain omega 3 an essential element for boosting your skin health. It will make your skin thicker, moisturized and supple by boosting elasticity and collagen production.
As per the dermatologists' skin can easily get dry and breakout prone in the lack of omega 3. Moreover, omega 3 fats will help to reduce inflammation which is the primary reason for acne and redness on the skin. It also ensures protection from UV rays damaging to your skin.
Along with omega 3 fatty acid, these fatty fishes contains one of the most vital Vitamin i.e. Vitamin E, healthy protein and zinc mineral which protects your skin from damage caused by inflammation, free radicals, and autoimmune attacks. It ensures rapid healing power of your skin and promotes the growth of new skin cells.
Green Tea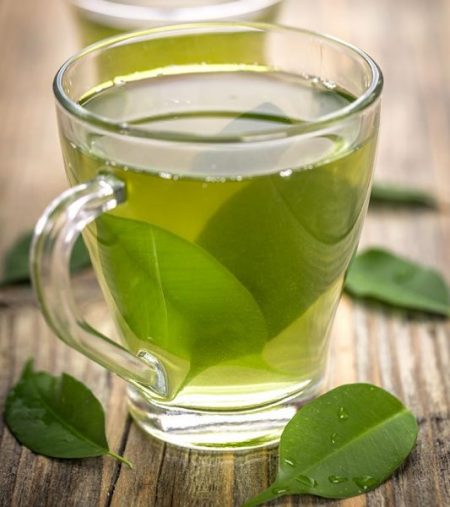 Green tea is a popular antioxidant which detoxifies your skin and makes it crystal clear and beautiful. Green tea has several health benefits like it helps to reduce weight, improves brain functionality, reduces stress and even helpful in lowering cancer risk.
This herbal tea is an abundant source of natural nutrients that cleanse your skin cells and nourishes deeply. It has anti-inflammatory, anti-tumor and antioxidant properties which are hard to find in a single diet.
Starts your day with this refreshing tea which not only gives a boost to your energy level but also keeps you energetic throughout the day. As loaded with antioxidant properties so it is also beneficial for protecting against harsh UV rays damaging to skin. That means full protection against sunburn, photo aging, skin cancer and skin rashes concerns.
Drink this healthy beverage at least two times a day and ensure healthy and glowing beautiful skin naturally.
Walnuts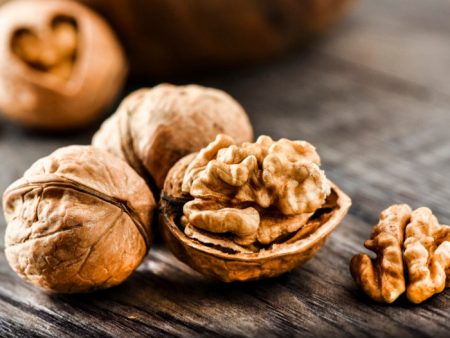 Walnuts are one of the popular healthy dry fruits which remain loaded with many essential properties for boosting skin health. It contains fatty acids such as omega 3 and omega 6 which is high in quantity with a comparison to other nuts that your body cannot produce itself.
These fatty acid content of walnut make it very beneficial for your skin health. It helps in preventing inflammation, sun damaging and increases skin beauty by making it firm and moisturized internally.
Omega 3 is an essential fatty acid which enhances overall skin health and internal health as well. Omega 6 fatty acid is hardly found in all common nut diets, it more commonly exists in other western diets.
An excess level of fatty acid 6 can increase inflammation to the skin, however, the excess content of omega3 in walnuts control the negative impact of omega 6 and ensure only positive benefits for those who consume this nut diet.
Apart from fatty acid content walnuts are also the natural source of zinc mineral which is also beneficial for your skin health. 28 grams of walnut contains 6% of the RDI for zinc which increases the wound healing capacity of your skin and combating power from inflammation and harmful bacteria attack.
Along with these vital nutrients walnuts also contain Vitamin C, Vitamin E, and selenium in a little quantity which all helps to maintain good health and beauty of your skin.
Almonds
Almonds are the rich source of antioxidants, protein and other vital nutrients such as Vitamin E which helps to give nourishment to your dry and rough skin. A regular intake of 5 to 6 almonds in a day ensures fresh, glowing and firm skin texture.
100 grams of almonds contain 26 mg alpha-tocopherol an important element that protects your skin from UV rays damages. Apart from this, its flavonoids content is helpful for reducing oxidative stress level which can damage the natural oil and firmness of your skin.
Either eat this delicious and tasteful nut directly or use it in smoothies, juices, salads etc. to get its all healthful benefits for your skin. You can also try home remedies with this healthy ingredient for applying it on your face directly as that will also help you to get instant flawless and radiant skin.
Papaya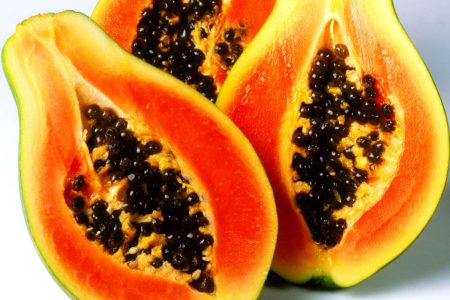 Papaya is an abundant source of many healthy nutrients that not only improves your skin health but is capable to improve your overall health. Both raw and ripe papayas contain an immense amount of nutrients that relieves many health concern along with enhancing skin health and beauty.
This delicious fruit contains Vitamin A, B, C, dietary fiber, and papain and chymopapain enzyme. It is useful for reducing and preventing digestion related health concerns as it improves the bowel movement and also checks the blood pressure level. Means your skin gets detoxify naturally which is the ultimate requirement for fresh, toned and glowing skin.
By flushing, all the waste toxins from your body papaya ensure improved skin tone and texture by preventing many skin concerns like acne, blackheads, and pigmentation. As it is helpful in reducing high blood pressure level and toxic buildup so slows down your aging process which gets a boost with these health concerns.
Strawberries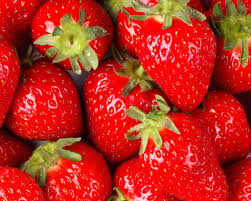 Strawberries contain many healthy nutrients such as Vitamin C, dietary fiber, flavonoids and phenolic compounds which all together nourishes and boosts your skin cells deeply. People who consume strawberries blush with radiant glowing skin which is very difficult to get with the use of any cosmetic product.
These delicious berries have the anti-inflammatory and anti-oxidant properties that protect skin from free radicals and reduces the common issues of skin such as rashes, acne, breakout, itching, etc.
Eat a bowl of strawberries every day and feel the changes in your appearance. You can consume this fruit directly or can prepare a mixed salad, smoothies, cakes or any other food treat as per your desire. It can make an amazingly delicious dessert with full of health for your skin.
Yogurt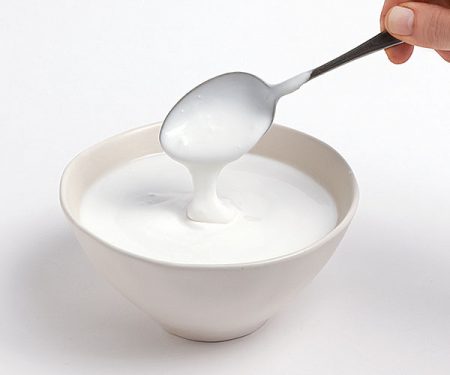 While discussing healthy foods for improving skin health, yogurt must not be missed in this list. Yogurt contains healthy gut bacteria which improves the digestive capacity of your body which is the primary factor that reflects its effect in the form of your skin health.
With healthy digestion, a very less chance exists for the growth of harmful bacteria in the colon which can affect your skin's overall health. Also with proper bowel movement, there is no fear for toxic buildup and breakouts thereafter.
You can prepare numerous food items mixing with yogurt as in any form it is going to enhance your skin beauty by nourishing and protecting your deep skin cells. Also, you can prepare a very easy and effective natural face mask by using yogurt for instant relief from skin related concerns and can get flawless and radiant skin.
It is our regular diet which impacts primarily on our skin health and beauty. That means it is in our hand itself to maintain and enhance our skin health. If you are beauty conscious and prefer natural tricks for enhancing your skin beauty then the essential diets for healthy skin mentioned above are the right choice for combating all your skin related concerns and to give a boost to your skin health.