Mankind has been deriving nutrition from eating nuts for almost as long as the squirrels and chipmunks. Nuts as a food source have been cultivated for over ten thousand years.  We refer to nuts as nuts, but in fact they are tree seeds covered in a tough protective casing.
The casing – or shell – is so tough that it inspired the ancient Greek philosopher and all round genius Aristotle to invent the nut cracker just so as to get at the nutritious nut inside. It was an invention so ingenious that from ancient times to medieval times there was little to report on the further development of the nutcracker. But we are not here to talk about nutcrackers; we are here to talk about nuts.
Whether eaten raw on their own or used in a variety of dishes, nuts deliver the all important food sensations of great taste, texture, and good nests including plenty of protein, lots of vitamins, and precious minerals.
Other than coconuts, nuts are composed of 70% fat, but it is fat high in monounsaturates and polyunsaturates, so it is considered heart healthy fat – not the type to block or fur arteries, and more healthy than animal fats.
As a rule, the amount of nuts you should eat in one go equates to around 28 grams – although there is something so appealing about nuts that it's easy to eat at least 50 grams without stopping. But in moderation, the essential fats contained in nuts can actually help to lower cholesterol.
Just a handful of nuts packs your body with essential nutrients and vitamins, such as A, D, E, and K. Nuts are also a great food to take for muscle building due to their high levels of protein.
While nuts are good for putting on nut calories, they are also good for introducing more much needed fiber into the diet, as well as other important minerals such as potassium, calcium, phosphorous, and potassium.
There are so many nut varieties that it's hard to get tired of them. Sprinkle chopped almonds on steamed broccoli; try some roasted cashews in delicious oriental stir-fries. You could also try pecans in desserts, chestnuts in stuffing and try some hazelnuts in a variety of delicious ice cream flavors.
You can take your nuts anyway you like. Some prefer grease-less while other prefer dry roasted. In the Philippines, a very popular way to eat peanuts is with crispy deep fried garlic cloves – in fact the garlic skins are often still in the pack, so with this delicious snack you are getting the benefit of both peanuts and the powerful health giving properties of garlic. Other popular flavors include you spicy, smoked and honey roasted.
To derive the most from your nut nutrition eat them quickly once they are shelled, they can go rancid quickly and this removes their natural goodness.
Get creative with ways to introduce nut nutrition to your diet. Not only experiment with the different type of nuts, think of ways to prepare them. You can chop them, grind them even shave them. Of course nuts are not for everyone; in some people they can trigger allergies peanuts, so if you're planning a recipe with nuts always ask family and friends if they have any nut allergies first.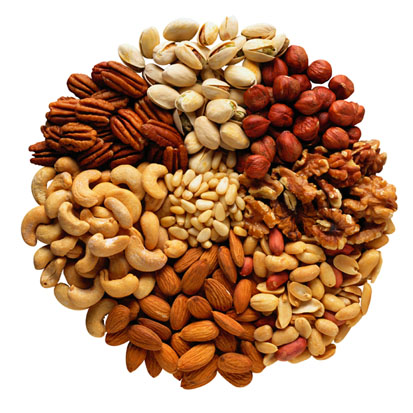 Here is a guide to the nut nutrition in the various types of nut.
Peanuts – naturally high in monounsaturated fats, fiber and protein.
Walnuts – excellent for Omega-3 essential fatty acids.
Almonds – these are rich in a variety of minerals –selenium, potassium, manganese and much more. They also contain vitamin E identified as being excellent in promoting good heart health.
Cashew nuts – every healthy diet should contain nature's vitamin pill, – cashew nuts. They contain an impressive line-up of essential minerals which include manganese, magnesium iron, phosphorus, copper, zinc, and calcium
Nuts Nutrition benefits at a glance
Naturally low in carbohydrate
High in protein
Great for hair, skin, blood vessels and internal organs
Omega 3 content helps to reduce blood pressure – a major factor in heart attacks and strokes.
High in fiber
Boost immunity
Decrease erectile dysfunction
As part of a daily diet can help to lower risk of:  type 2 diabetes, macular degeneration dementia, Alzheimer's Disease, Gall stones and high blood pressure/cholesterol levels
Some people's lives are so hectic it's actually hard to stop and find time for a proper balanced diet. Nuts are the perfect solution for a life that is non-stop. Whether it's a handful of peanuts or a handful of cashews, the nourishment is enough to stave off hunger and give a vital boost of energy. Not only that, nuts can help you to become more regular and even make your skin more moist and supple.
Like all things, because nuts have a high calorific content, too many of them will pile on the pounds. Always eat them in moderation.