Silky beautiful skin is the dream of every woman irrespective of their age however, even if you are blessed with this type of skin you can't retain it forever if you do not provide enough level care and attention to it. As you give food to your body for nourishment similarly you require to follow a healthy skin care regimen every day in order to get silky glowing skin naturally.
There are lots of things that your skin has to face throughout the day like sun heat, cold weather, environmental pollution, etc that directly affect your skin texture and glow leaving behind rough and dry skin especially if you do not offer sufficient care and protection on time.
However, the good news is that with some moderate level changes in your everyday routine as well as lifestyle habits you surely can be the owner of a silky soft, smoother, and even tone skin. So read this article till the end to know what are those hacks which can help you in achieving your dream skin look and appearance over time.
11 Tips to Get Silky Glowing Skin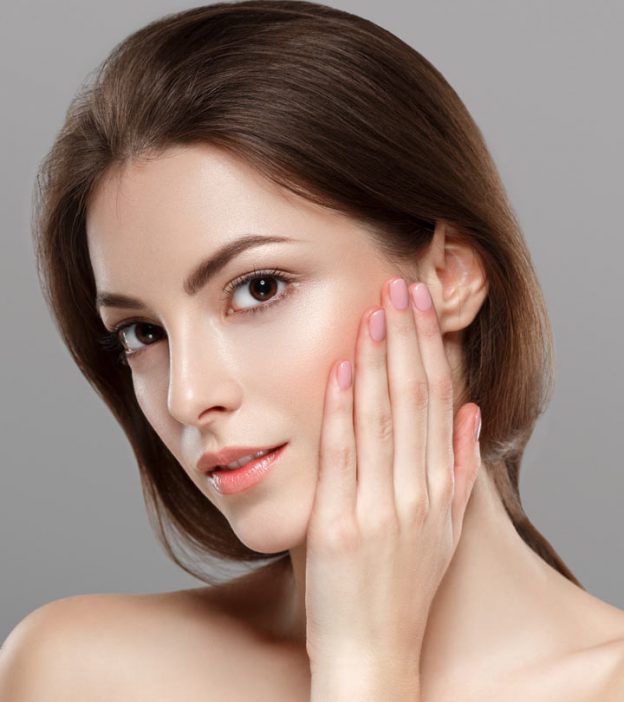 Steaming
Many women do not consider steaming as a vital part of their skincare regimen however it is not fair. Taking steam on your face can prove as beneficial as any other skincare step that helps to tighten your skin pores along with other benefits. Steam helps to open your shrink pores and by unclogging these pores it opens up the path of removal of dirt and oil existing in these pores to offer you totally clean and smoother texture and tone skin.
Clogged pores are the most common reason for blackheads and breakouts problems on your skin. However, this biggest skin concern can be well managed through the steaming process at least 2 to 3 times a week. Along with cleansing your skin pores this skincare step also helps in making your skin silky softer as well stimulate blood circulation level which is vital for promoting the growth of new and healthy skin cells to give your forever youthful skin.
Cleansing and Exfoliation
Cleaning and exfoliation of your skin are two vital skincare steps that you cannot overlook if you really want silky glowing skin forever. Cleansing your face with a mild soap or cleanser helps in removing accumulated oil and dirt from your skin pores which otherwise can cause breakout issues, leading to uneven, dull skin texture growth.
Skin cleansing ensures that your skin does not leave with all the dirt and oils that you gather from the surrounding environment throughout the day as well as dirt and oil that your skin gathers while you sleep at night. That means two-time face cleaning once in the early morning and the second one before bed is highly important for a softer looking skin.
Cleaning your face before bed is truly important as if you sleep with makeup in the face then chances remain high that the oils and chemicals existing in your makeup products will go deep inside your pores causing different skin problems.
Just like face cleaning, exfoliation is also very important at least for 3 times in a week. You can rejuvenate your skin cells that promote the growth of fresh and healthy-looking skin through a safe and effective homemade or purchased exfoliating agent. It helps in removing dead skin cells from your deep pores which bare cleaning can't remove.
People with highly sensitive skin are advised to use wipes for removing their makeup as it eliminates the use of makeup remover along with safely cleaning of the face.
Cool Shower
Avoid hot water bathing as it is one of the factors that sucks the natural oil balance of your skin leaving behind dry and lifeless skin. Also, it makes your skin harder to touch especially if you have a dry skin type. Instead of that cool shower is always safe and beneficial for your skin health irrespective of all the weather in a year. You can use warm water initially to clean dirt from your skin but always ends up your shower with cool water if you want silky glowing skin.
When you take a shower of cool water you simply open up your way to getting tighter and toned skin naturally. Even in the winter season avoid taking a hot water bath. Instead of that take a bath with warm water and at the end pour cool water on your skin so that the effect of warm water would not remain on your skin anymore.
Try to take only a one-time bath in the day unless it is unavoidable. Do not bath more than 10 minutes as longer you bath chances of washing out your natural oil and moisture balance on your skin increases. Preserve hot water bathing urges for special occasions as this might be good for other purposes but not for your skin health and beauty.
Dry Brushing
This is a kind of exfoliation technique which is in use and tradition since the ancient era to enhance the beauty of women. Dry brushing helps to shed off dead skin cells from your skin as well as stimulates blood circulation which is essential for promoting the growth of fresh healthy skin.
Apply this exfoliation technique at least once or twice a week as it will help you to get naturally silky and bright skin. If you maintain it in the long run it will naturally add a charming glow on your face that you can hardly get using a cosmetic product.
For doing this skincare regimen you require a dry brush made up of natural fibers instead of plastic bristles which are too harsh for your gentle skin. On the other hand, fibers made dry brushes are very soft and effective for stimulating blood circulation on your skin that you can apply throughout your body safely. For your face use only soft and small brush. While brushing other areas of the body like legs, torso, hands, etc start from the outer extremities towards your heart.
Make sure you do brushing only on your dry skin, not the wet skin as it will not give the same effect as dry skin brushing would provide. However, people with highly sensitive skin type or with skin conditions like eczema and psoriasis should avoid brushing their skin as it can cause extra irritation on their skin. If you notice any side effects like redness, pain, etc after brushing then reduce the frequency or dry brushing or stop it for some time.
Avoid Using Soap Too Much
Using soap on your face and even other skin areas of your body can easily dry out your skin leaving behind dry and lifeless skin which requires you to give an extra amount of care to maintain the lost nourishment. This happens because commercial soap, body washes, and scrubs contain detergents or chemicals that can easily dry out your skin. Also, these products leave behind a residue on your skin that increases dullness on your skin.
So for protecting the natural softness and glow of your face or skin you should use only oil-based soap that can keep intact the natural moisture balance of your skin with safe cleaning. You can even use a natural DIY cleanser to clean your face or avoid completely using soap on your face, simply wash it with plain water.
Use soap mostly to the highly exposed area of your body that is prone to get dirt and pollution from the surrounding environment or which are more sweaty areas like the genitals, armpits, and whole leg. For cleaning the driest parts of your body such as forearms, shins and elbows use only plain water except for a few days when you can use a mild soap. However, you can always use naturally made soap on throughout your body.
Moisturize Your Skin Everyday
Moisturizing your skin every day is a very important part of your skincare regimen that you should never skip on any day. Use only a good, natural ingredients rich moisturizer on your face to maintain its natural beauty as well as for enhancing its glow and softness.
Before using moisturizer pat dry your skin instead of rubbing it. The moisturizer absorbs on a little damp skin very easily and locks natural moisture on your face for a longer duration. Use a gentle healing lotion or moisturizer that can give protection to your skin against external heat, dry air, and other damages throughout the day.
In order to get the silky glowing skin, you can use natural ingredients as a moisturizer on your face that will along with nourishing your skin cells will also provide you with its healing effect that helps you in getting the natural glow. Some natural moisturizer substances that you can use on your skin include coconut oil, olive oil, shea butter, lanolin, and aloe vera gel. These natural substances are also known for giving protection against sunburn or sun damages if you apply them after sun exposure. For the best result be consistent with their use on your skin.
Avoid Using Hard Substances
Avoid using hard substances on your skin as its usage might give your temporary benefit but in the long run, it will make your skin look dull and lifeless. Apart from cosmetic products many DIY remedies that use hard substances for the quick fix of any of your skin concerns are equally harmful to your skin health. It will simply kill your dream to get silky glowing skin naturally.
Just like hard substances application is harmful to your skin, the consumption of certain foods as well as wrong lifestyle habits is too harmful to your skin health. For example, the consumption of excessive dairy products such as milk, cheese, etc many times aggravates your skin health and appearance.
Acne is the most common skin concern associated with high dairy fat intake as it inflames the oil glands on the skin leading to an acne flare-up. Similarly drinking too much caffeine causes dehydration in your body leading to dry and flaky skin issue arises that takes a long time to heal.
Likewise, excessive tobacco consumption is one of the leading causes of premature wrinkles growth on the skin as it easily damages your skin health. Also, excessive intake of alcohol is another one prominent reason for different skin problems like under-eye wrinkles, puffiness, etc. So leaving these bad habits and unhealthy diet intake is the only solution to get a permanently silky glow on your face and all over body skin.
Drink Plenty Amount of Water
One of the easiest ways to get natural glow and freshness on your skin is by keeping yourself well hydrated which is only possible if you drink plenty amount of water throughout the day. You can drink plain water or can also have fresh fruit juices as these drinks too give enough hydration and nourishment to your body. However, plain water intake has no better substitute.
Drinking lots of water work as a plumping technique for your skin which naturally gives a fuller and plumps look on your face which is very essential with aging to hide and prevent different aging signs on your skin.
People with dry skin type should give extra attention to their daily water intake otherwise their skin would get more dehydrated and dries out over time making their ultimate skin goal simply impossible. However, how much water intake is necessary and enough for your body very much depends on your sex, lifestyle routine, and your age.
Apart from plain water, you can consume more watery fruits in your diet to fulfill your body's daily requirement of water such as oranges, watermelon, apples, berries, cucumber, coconut water, etc. You can also drink herbal or non-caffeinated teas as well. You can add flavor into plain water by mixing lemon juice or honey etc as it will not let you bore and keep you consistent with the healthy level of water intake i.e. at least 8 glasses in a day every day.
Eat a Balanced Diet Plan
What you eat in a day not just gives nourishment to your internal body and organs but also nourishes your skin health as well. That is why it is always recommended to eat a balanced diet plan to keep your skin looking naturally glowing and beautiful which comes from inside. If your body remains nutrient-deficient its first sign can easily be seen in your skin especially in your lips and under eyes area which no beauty product can conceal completely.
However, you can easily get back your lost glow and maintain it forever by eating lots of fresh fruits and healthy multicolor vegetables in your diet every day. Keep your diet balanced by including all sources of nutrients such as protein, calcium, and other minerals, whole grains, etc.
You can include foods that have high nutrient value if you do not want to invest in all kinds of foods such as nuts, avocados, etc which helps in retaining your skin elasticity. Apart from this, high vitamin-rich foods such as spinach, sweet potatoes, carrots, broccoli, kale, blueberries, mangoes, etc are known for enhancing your skin health and beauty naturally as its results come from inside out that is long-lasting.
Follow a Fixed Exercise Routine
In order to get a silky glow and to maintain the youth age charm on your skin throughout life, you must practice exercises every day as this is the age-old technique for getting toned body and skin. When your body engages in physical activities it ensures smooth and speedy blood circulation throughout the body which gets sluggish with age.
Hence, with speedy blood circulation, your skin gets all essential nutrients in sufficient quantity and on time that is required for maintaining the beautiful charm on your face and all over body skin.
Also, the more your body sweats more it releases all deep existing dirt as well as dead skin cells and excess oils easily which is vital for getting fresh, healthy, and clean skin. Apart from this, your body can absorb nutrients existing in your daily consumed foods when it does a sufficient level of physical activity.
Hence, greater utilization of nutrients gets possible which helps you in getting silky glowing skin naturally. For getting physical fitness and beautiful skin exercises like cardio, weight training, yoga, as well as flexibility exercises, are best to get toned, rejuvenated, and glowing skin.
Cater Your Skin Type
One more important tip that you can't overlook no matter what beauty aim you are looking for to achieve is to have a clear understanding of your actual skin type. So, cater your skin type if you want all your efforts and remedies work effectively on your skin for getting a silky and charming glow on your face. What skincare tips will work on you very much depends on your specific skin type.
Generally, skin types are divided into four types including dry skin, oily skin, normal skin, and combination skin type. People with dry skin type have issues like dryness and flakiness, oily skin types people have excess oil secretion issue that leads to acne problem and in some cases, people have a combination of both these skin type together so they have to take care of their skin accordingly.
If you have excess acne issue then avoid dry brushing your skin, usage of chemical loaded harsh soap, and cosmetic products as it will more agitate your acne problem. In case of skin conditions like rosacea, eczema, etc which are common to dry skin type extra care is required to be given. You can consult with your doctor regarding the skincare products that are safe for your skin condition.
Follow the above-mentioned tricks and tips religiously if you are highly willing to get silky glowing skin naturally. All these skincare tips are safe and experienced-based. So follow them consistently for getting long-lasting and quick effects. If you want to know more about skincare and dermatology related information, visit cannabotech.co.uk.
<b>View Article Sources</b>