Reading Time: 4 minutes
A stroke is the effect of a blocked blood vessel in the brain. Usually this is caused by a blood clot being pumped through the blood system. When the vessel is blocked, blood can no longer reach those sections of the brain. This causes the brain to start dying. Brain damage occurs when brain cells die.
Depending on what areas of the brain are damaged, the patient may lose portions of their brain function. Some functions lost may include speech, muscle control and memory. How great the damage depends on the location of the stroke, the size of the clot and the amount of brain damaged, as well as how long it remains deprived of blood. Minor strokes may cause no permanent damage, while major strokes can lead to death.
What Types of Stroke Exist?
There are three main types of stroke. These three are each caused differently and act different, but result in the same loss of blood to the brain. The three types of stroke are the Ischemic, the Hemorrhagic and the Transient Ischemic.
Ischemic strokes come in two varieties: cerebral embolism and cerebral thrombosis. Both are caused by the development of fat in the blood vessels. A thrombosis is when that fat develops in the blood vessel and grows until it blocks the blood. An embolism is when that clot breaks off and travels through the circulatory system until it becomes lodged in a vessel and blocks it. Ischemic strokes account for almost 90 percent of all strokes.
Hemorrhagic strokes account for roughly 10 percent of strokes. These strokes occur when one of the vessels in the brain is weakened and eventually bursts. Blood flows out from the vessel into the surrounding tissue, compressing it while the blood doesn't make it where it needs to go.
Transient Ischemic strokes are identical to Ischemic strokes, except they are temporary. Generally, this is because the blood clot breaks up before it can become permanently lodged. Because the clot is temporary, this type of stroke rarely results in brain damage. However, it is considered a warning stroke because it demonstrates the conditions of a stroke are present. Roughly a third of all people who have a Transient Ischemic Attack end up having a permanent stroke within a year.
What are Stroke Symptoms?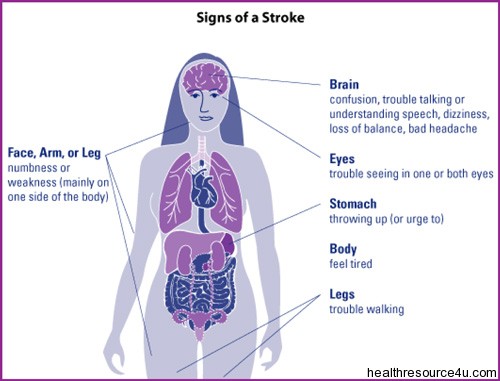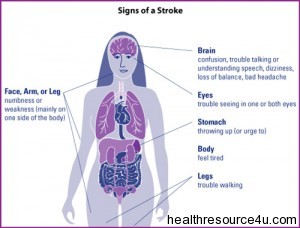 The recommended method for diagnosing a person who may be having a stroke is the FAST method. FAST is an acronym to remind you of the symptoms. It also reminds you that speed is of the essence when diagnosing and treating someone with a stroke. The faster a stroke is responded to, the less damage it causes and the more likely it can be recovered from.
F: Face. Ask the person to smile, or another symmetrical facial action. If one side of the face is drooping, they are probably experiencing a stroke and losing motor control over that side of their face.
A: Arms. Ask the person to raise their arms out to their sides. If one side is drooping, it's the same deal as with the face — a loss of motor control over half of their body.
S: Speech. Ask the person to say something and see if they sound slurred or odd. If they do, they may have a clot affecting their speech centers.
T: Time. Note down the time of the symptoms or the stroke, and call emergency services immediately. The faster a stroke is responded to, the less damage it can cause. If the stroke is responded to within three hours, it can be minimized with clot-busting medicines which can turn an Ischemic stroke into a Transient Ischemic stroke and possibly save the patient's life.
Those are the methods for diagnosing a patient who may be having a stroke. However, stroke symptoms can be more varied. Here are some of them: sudden asymmetrical numbness or weakness, confusion, trouble speaking or seeing, trouble walking, dizziness and headache. All of these are indicative of the sudden onset of a stroke.
How to Prevent Strokes
There are many factors that go into the cause of a stroke, known as risk factors. Some of the risk factors are treatable and others are not. Here are the risk factors and how to treat them if possible.
Age. Strokes can occur at any age, but happen most frequently between the ages of 55 and 85. In children, the most at-risk time is the few weeks immediately after birth. Obviously, there is no way to treat or prevent aging.
Gender. Men are at a higher risk of stroke, but women tend to die more often from a stroke. Men also have strokes earlier in their lives. Despite chemical treatments and surgeries, gender reassignment does not have a large effect on stroke risk.
Race. African-Americans are at a higher risk of stroke, and the strokes they suffer tend to be more fatal. Changing one's ethnicity is impossible, so this is not a treatable risk factor.
Family history. Members of a family may have a history of stroke due to genetic conditions or predispositions as well as typical lifestyle. While one cannot change their biology, they can alter their lifestyle and so some of this risk factor is preventable.
High blood pressure. Hypertension can double or quadruple the chances of stroke. Maintaining a healthy weight, eating a healthy diet and taking up exercise all help to prevent high blood pressure and therefore strokes.
Smoking. Nicotine raises blood pressure and minimizes the amount of oxygen that the blood can carry, meaning that a stroke is both more likely and more damaging when it happens. Cigarettes also have a number of other dangerous side effects, so quitting is always the best option.
Heart disease and cholesterol imbalances. Both of these can be treated by doctors with specific medicines.
Diabetes. Having too high a blood glucose level means your blood will clot more often, which leads to an increased risk of Ischemic strokes. Diabetics also tend to have high blood pressure as well, compounding the risk.
Obesity and physical inactivity. Both of these tend to lead to other diseases on the list of risk factors, which means if they are treated, so too are the other risk factors. Obesity is a large problem, and physical inactivity only makes it worse.
This is a guest post by Jack Meyer from NannyBackgroundCheck.com . If you are also interested to write for HealthResource4u, Please check our guest posting guidelines at write for us.