The major environmental damages worldwide in recent past decades has grabbed the attention of people around the world towards the natural living on the bigger ground. Now people well understood the worth of using natural made products over the commercial and chemicals loaded preservatives rich products at each and every sphere of life.
The natural and homemade laundry soap is again one step ahead in the path of natural living.  It not only save your hard-earned money but also ensure that your skin would not have to suffer anymore with the usage of toxins rich commercial laundry soaps and detergents which are too harsh that it can increase many skin issues in the long run especially in people who have sensitive skin type.
Moreover, the recipe for making your DIY laundry soap is extremely easy and requires very few ingredients that you can easily avail of. The best part of these homemade laundry soaps and detergents is that you get your job done i.e. the clothes cleaning work in the same effective manner as you used to do with the commercial laundry products without investing much money and complete safety for your delicate skin.
These DIY laundry products will not remain loaded with noxious scents and toxic chemicals that are not only unhealthy and poisonous for your skin but also contains the risk of affecting your overall health like, it can even cause cancer and neurological diseases.
Also, the chemical loaded commercial laundry products are poisonous for all living beings and for the global environment as well as posing to major consequences risks. It can easily contaminate air, underground water, and other water bodies too.
So before it reaches its major devastating level its necessary for every one of us to take a proactive step by adapting the more natural life by using more and more amount of DIY products. Using your own DIY laundry soap will be one active step ahead towards a healthy and natural lifestyle which will not only benefit you but also other people and the environment as a whole.
How to Use Laundry Soap?
The basic usability or usage procedure of laundry soap and laundry detergent are similar. However, in some respect, it is different from the latter one. You can use your DIY homemade laundry soap in the following ways-
Use with Warm Water- In order to ensure the effective cleaning of your clothes with laundry soap make sure that you prefer only using warm water. This helps in the easy dissolving of your laundry soap in water and make the clothes cleaning work easy and better.
For Removing Grease Stains- The DIY laundry soaps are best for removing tough stains such as oils, grease, high-protein and other fatty stains in a much easier and effective way.
DIY Laundry Soap Recipe
DIY laundry soap making process is super easy and it requires only 15 to 20 minutes time to get ready the ultimate product. You only need to collect few easily available ingredients and with few simple steps, your homemade laundry soap will be ready to use for washing your clothes and removing tough stains in a much easier way.
Make sure that you read and follow all the safety warnings associated with every component used in your homemade laundry soap recipe.
Ingredients
1 Box Washing Soda- The washing soda use in the DIY laundry soap ensures that the final product will be quite effective enough in cleaning clothes by loosening even tough stains. This gets possible because of its high alkaline nature.
1 Box Borax- Borax is the primary ingredient or additive of the DIY laundry soap. The 20 Mule Team Borax™ helps in controlling harsh water and ensures thorough cleansing of clothes without causing any kind of damages in the fabric material.
1 Fels-Naptha Bar- This concentrated soap bar used in the DIY laundry soap gives always fresh appearance to your clothes along with thorough cleaning of even stubborn stains on clothes.
1 Bottle Purex Crystals- It will give a refreshing and gentle smell to your ultimate prepared laundry soap. You can choose any of the fragrances of your choice as it simply depends on your personal preference.
Instructions
Start this DIY laundry soap recipe by finely grating the Fels-Naptha bar in a container. Make sure that any lump residue would not be left otherwise it will clump up during wash. Leave the last bit of the Fels-Naptha bar ungrated and dispose of. Clean the container thoroughly after using this.
Now mix one cup of Borax, 1 cup of Washing soda, and ½ cup of Purex Crystals into the container by using a measuring cup for each and every ingredient.
Stir these powder mixtures well with the help of measuring cup and then close your container tightly. Shake the container once gently so that all the ingredients mix well.
Waits for the sufficient time until you see all the dust get settle down. After that open this container and store this prepared laundry soap in a fixed container in a dry and cool environment where your children and pets wouldn't reach.
Keep a fixed measuring spoon into this container so that you can use this laundry soap with appropriate measurement. This will avoid over or under usage of the laundry soap. For medium load clothes in the washing machine, 2 spoons of this laundry soap are enough to give your fresh and thoroughly cleaned clothes.
DIY Liquid Laundry Detergent Recipe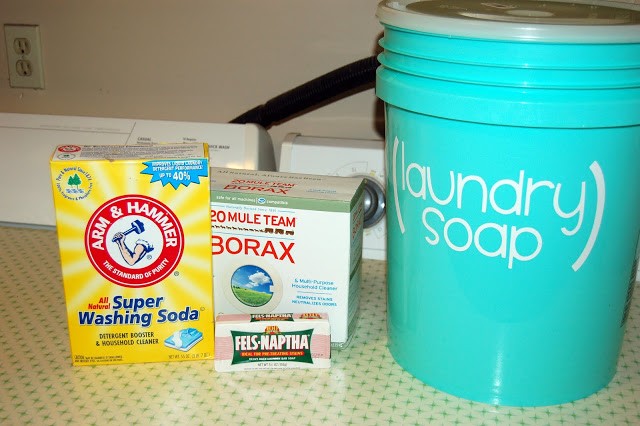 Just like DIY laundry soap or detergent, DIY liquid laundry detergent is equally effective and beneficial for cleaning those stubborn stains from your cloth. Moreover, it gives you the benefit of choosing a laundry product of your choice like you can choose either a soap or a liquid detergent whichever suits better to you for cleaning your clothes.
Especially for people who are using extremely cold water for the cloth cleaning purpose, a powder detergent takes time to dissolve. Whereas the liquid laundry detergent will easily dissolve even in the super cold water. This DIY liquid laundry detergent is even safe for the extremely sensitive skin type as it doesn't contain any dyes or fragrance still there is no compromise with the cloth cleaning process.
Ingredients
1 Cup soap flakes
1 Cup Washing soda (sodium carbonate)
1 Cup Baking soda
½ Cup Borax
Cheese grater
Saucepan
Resealable 3 gallon container
Measuring cup
Instructions
For preparing this DIY laundry liquid detergent first you need to add 4 cups of water in a large saucepan and mix the one cup of soap flakes. If soap flakes are not available with you then you can also use a bar of pure soap after grating it over a cheese grater.
Stir this mixture continuously on the medium-low heat until the soap dissolves fully and melted.
Now mix the melted soap flakes, 1 cup washing soda, 1 cup baking soda, ½ cup borax, and 2 gallons of hot water into a large size resealable container. Make sure that you wear a rubber glove while combining these ingredients because the washing soda is caustic to the skin.
Stir all the mixtures until all the used ingredients dissolved fully. Cover the container and let it sit overnight so that it would thicken on its own.
Your DIY liquid detergent is ready to use. For per medium load use a measuring tbsp and add 2 tbsp of this DIY liquid detergent for getting a perfect and refreshing cleaning of your clothes.
For daily usage purposes, it will be better that you fill a small container of its half portion with liquid soap and the remaining half portion with water. Shake it well before each application for cleaning. For each load use ¼ cup of this prepared liquid laundry detergent which will consist of 2 tbsp of detergent and 2 tbsp of water.
Use a glass beverage dispenser usually which is used for dispensing lemonade or iced tea. This not only looks elegant but also it will be easy to refill and dispense.
DIY Gentle Wool Wash Recipe
You cannot use the same detergent or laundry soap in your woolen or warm garments which you use in your regular clothes. This is because the wool fabrics are made up of the natural fleece of animals such as sheep, llamas, goats, etc. The woolen fabric material can easily be distorted if it comes in the contact of harsh detergent or high heat.
Resulting in the woolen clothing will start losing its quality and freshness and eventually, it shrinks and changes its shapes and are highly susceptible to wear and tear. Though there are some specialized laundry detergents for woolen clothes especially, but these are very expensive and everyone cannot afford to use them. So making your own DIY gentle wool wash will be a very good idea not only for saving your hard-earned money but also to keep your woolen clothes beautiful and evergreen year by year.
Ingredients
4 Cups pure soap flakes
4 Cups boiling water
1 Cup denatured alcohol
1 Tbsp essential oil (optional)
Large resealable storage container
Whisk or blender
A large mixing bowl of glass or plastic
Instructions
For preparing this DIY gentle wool wash first you need to pour soap flakes and boiling water in a large mixing bowl. With the help of stick blender or whisk mix them well. Also, you can use an electric blender for mixing purposes.
Now add the essential oil and denatured alcohol in this mixture and mix them well.
Pour this prepared mixture into a large size preserving jar overnight. The next day it will take the form of a firm jelly-like texture.
For removing stubborn stains rub the stained area with a very small amount of this DIY wool wash. For washing several woolen clothes together dissolve one tbsp of this wool wash into lukewarm water and soak your woolen garment in it. Wash it the same way as you do in your hand-washing steps and then rinse them with clean water.
Does Borax Used in DIY Laundry Detergent is Toxic?
Some people consider that the borax used in the homemade laundry detergents is toxic and unhealthy for the skin but this is not true. People who have this perspective regarding borax wrongly confuse it with boric acid which is a totally different material than the first one.
Borax is absolutely similar to baking soda or table salt which is a very popular ingredient used in several DIY products. As much you consider baking soda a toxic material the same way you can think about borax for its toxic behavior. If the users use only the recommended amount of its content in the DIY laundry detergent then there is no risk involved in its use. Only if you use it in excessive quantity or limit then and only you may expect its some negative trait which is a rare scenario.
Also, make sure that you don't confuse borax with the boric acid while picking your ingredients. Apart from this use only 20 Mule Team brand of borax as recommend in the ingredients list of above DIY laundry detergent recipes.
Benefits of Using DIY laundry Soap over Commercial Laundry Soap
Favorable for High-Efficiency Washers
High Efficiency or HE front-load washers require a very high-quality soap because it doesn't use much water for which only less sudsy soap is suitable.  As the DIY detergents are very low suds so it is very much favorable for using it in HE washers.
Money Saver
The commercial laundry detergents are highly expensive irrespective of their brand and quality. However, by using your own homemade laundry washer you can easily save your money that previously you used to spend on those expensive laundry detergents. Especially brands who advertise their products in the name of special HE detergent can be easily avoided with your own high quality and low suds DIY detergents at home.
It is Safe for Septic Tanks and Fields
With your own DIY detergent usage you remain very much confident about septic tanks and field's safety as it contains no fillers or phosphates which you can easily find in commercial powder detergents. Hence there is no clogging risk involved with the application of these homemade powder detergents.
Also as it is free of toxic content so there is no risk involved regarding harming the necessary and useful septic bacteria as it involves with the usage of antibacterial soaps and toxic detergents.
Toxins Free
The homemade laundry detergents are not only money savior but it also protects your skin health and overall health which remains at risk with the usage of toxic chemicals exposure existing in commercial laundry products. Your own DIY laundry soap remains toxic chemicals and noxious scent-free which makes it an ideal product to be used by people who have highly sensitive skin and nose.
So what are you waiting for? Just prepare your own first homemade laundry soap with a few simple steps and ingredients as guided above in this article.