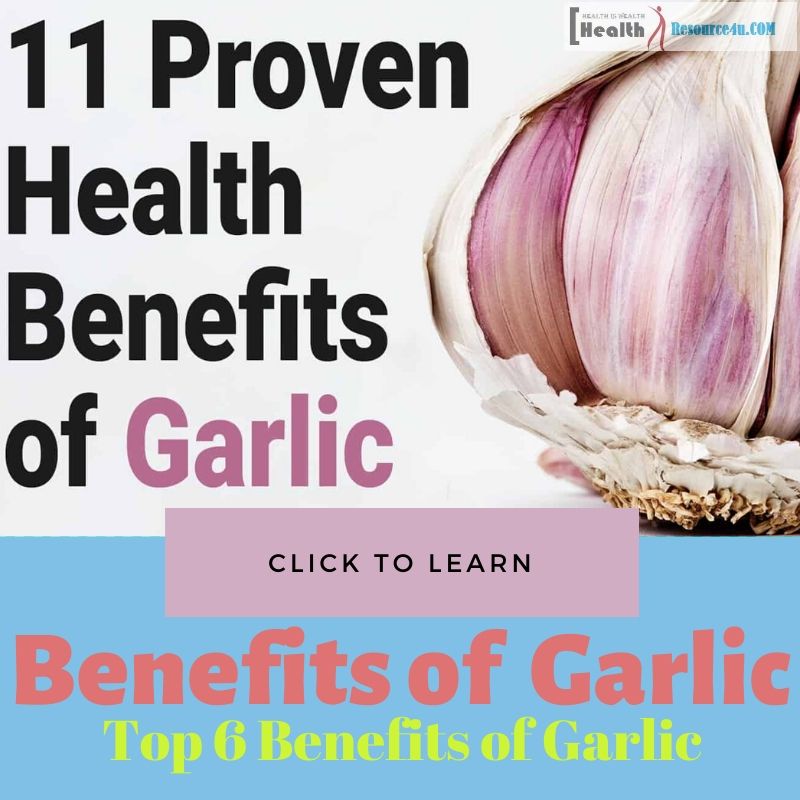 Reading Time: 4 minutes
Garlic is a popular spice used in many dishes such as spaghetti. It is aromatic and has a robust flavor which is greatly complemented in olive oil and tomato sauces. While garlic has traditionally been used in cooking, it has also been known for its healing properties. Set your garlic-breath reservations aside and give them a try.
Top 6 Benefits of Garlic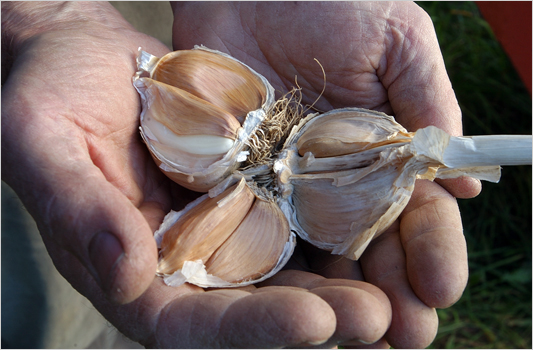 Packed with Nutrients
Garlic is filled with many vitamins, minerals, and other nutrients which are beneficial to health. Some of these nutrients include: protein, vitamins A, B, B2, and C, Calcium, Zinc, Copper, Iron, Magnesium, Selenium, Allicin, Germanium. Most of these substances are generally known to be necessary for good health. The substances Allicin and Germanium, however, are what give garlic its most potent antioxidant and health-promoting properties. Garlic is known to help in the prevention of heart disease, cancer, and a variety of other ailments.
When cholesterol is too high, it can accumulate on the interior walls of arteries leading into the heart. If the arteries become too narrow, the heart has to work harder and harder to pump the blood. This may lead to a heart attack. Alternatively, excess cholesterol in the blood may also lead to blood clots which can also result in heart failure. Eating raw garlic regularly can help to prevent heart attacks because the Allicin in the garlic helps to reduce LDL cholesterol levels. To lower high cholesterol, some people have eaten a couple cloves each day until their cholesterol lowered into a healthy range. Another risk factor of heart disease is high blood pressure. High blood pressure can also cause stroke. Garlic has been shown to help lower blood pressure into normal ranges. Since high cholesterol is one of the main causes of high blood pressure, when garlic reduces that cholesterol, it also helps to reduce high blood pressure.
Increased Immune Functioning
Oxidation can cause many illnesses, including cancer. Eating a diet rich in antioxidants may help prevent these diseases. Garlic contains Germanium, an antioxidant which is strongly suspected to protect against the formation and progression of cancer. Garlic helps to prevent cancer and other diseases by preventing oxidation and boosting the immune system. When the immune system is strong, many diseases can be prevented. The compounds in garlic also directly kill a variety of bacterium as well. Since garlic boosts the immune system and is an antibiotic, antiviral, antimicrobial, and antiphrastic, it aids in the prevention or minimizing of the following acute illnesses: the common cold, Influenza, Bronchitis, worms, asthma, sore throat, digestion difficulties allergies, and ear infections.
Antibiotic Properties
Garlic is an effective antiviral and antifungal. Soldiers in WWII used it to treat infections like gangrene. Patients who take a few cloves of garlic each day have shown improvement with problems like diarrhea, Candida overgrowth, chronic sinus infection, diabetes, high blood pressure, MRSA, and high cholesterol as previously discussed. In one small study, garlic was even effective at helping AIDS patients return to normal T-cell activity after three months of taking up to four garlic cloves each day. Using garlic as an antibiotic is a great alternative to chemical drugs as it doesn't kill off healthy bacteria and it can treat a variety of illnesses at once.
Detoxifying Detox diets are gaining popularity, and garlic is one of the foods that can help in a detox. Because of its immunity-boosting, antioxidant properties, it can help remove unnatural substances that build up in the body. During a detox, it also helps build up the nutrients in the body that might be otherwise lost as the result of many-times restrictive diet that accompanies a detox. These nutrients include those previously mentioned, but especially vitamins C and B and the minerals selenium and manganese. Garlic's sulfur compounds can also help remove those toxins associated with storing extra fat. These toxins come from processed foods and prescriptions drugs, poor air quality or water pollution.  When combined with other detoxifying methods, it can be a powerful promoter for good. As an added bonus, it can stave off hunger.
Acne
This is a surprising one that not many people consider. While you can spend a fortune on facial watches, fancy creams, and trips to the dermatologist, garlic is a cheap remedy. While garlic on its own will not help with acne, it does work when combined with other treatments. Bacteria, hormones, and stress all contribute to acne and garlic can help regulate all those things. Its strong antibiotic and blood cleansing properties have been known to provide a boost to mild acne treatments. This method is best advised for mild acne and may take some time to see results.
Ways to Ingest Garlic
Taking garlic capsules is quite popular since there is no risk of getting garlic breath and it has many of the same benefits as raw garlic. The benefits of garlic are even more powerful when it is crushed or chewed raw. This is because the crushing action releases powerful antioxidant properties in the juice of the garlic. Another way to enjoy the benefits of garlic is to drink a garlic tea. The garlic is boiled in water for an hour and then the tea is drunk. Of course, regularly mixing garlic with food, such as in spaghetti sauce, is also a delicious way to add the health benefits of garlic to your diet.
Garlic may not be the drug of choice for many people due to its unwelcome side effects, but its benefits are varied and powerful. If you are considering garlic as a natural remedy, but are hesitant about trying it, know that you have options. You can take garlic in many forms, as suggested above. Taking garlic doesn't have to mean having garlic breath. With some research, a little experimentation, and some regulation, you can reap the benefits without the consequences. And with so many great benefits, garlic is worth a shot if other remedies or prescriptions haven't worked for you in the past. There's no denying that—smelly or not—garlic has many benefits.