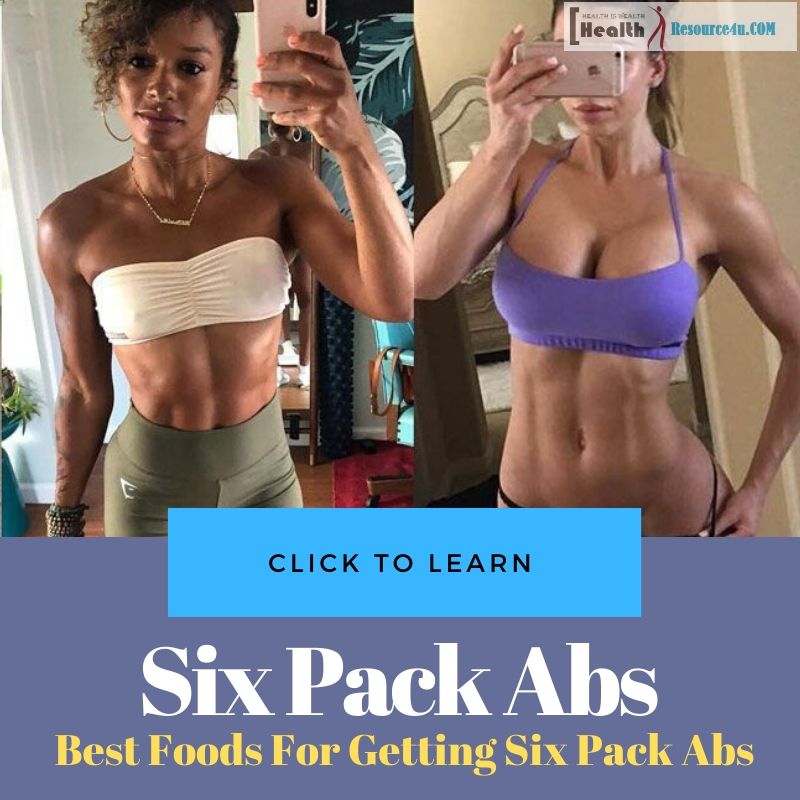 Reading Time: 5 minutes
Getting a six pack is no mean feat; even if you are naturally muscular and have a good body shape, it is still going to take a lot of work to get a visible six pack. Most people that dream of having a six pack go through the same old motions; they go out and buy some dumbbells and a sit-up bench then begin working out in their garage or perhaps a spare room. A lot of people quickly realise that they lack the motivation to workout on a regular basis in their own home, so a lot of people fork out a hefty sum of money each month and join the nearest gym.
Often, this can go quite well for a lot of people and in a few months, they notice a decent level of improvement in both their fitness level and physical appearance. If everything we've mentioned so far sounds like you, answer this question; do you have a six pack?
If the answer is 'no', then there's probably only one reason why this is the case; you're not eating the right foods!
What Kind Of Foods Should I Eat To Get A Six Pack?
In order to get a visible six pack, you need two things; to build muscle and to lose weight (by weight, we mean 'fat'). If you've been working out on a regular basis and following a strict fitness regime that targets your abdominal muscles, you might already have one of these two things. However, if you are carrying too much body fat, your six pack won't be visible as it will be buried under a thick layer of fat.
So, what kind of foods should you be eating to get a six pack? Basically, you need to be eating healthy, wholesome foods that are high in both carbohydrates and protein. Why? Your body needs a good source of protein in order to repair muscle tissue and build muscle mass and your body needs carbohydrates to use for energy. It is also important that you are consuming healthy, wholesome foods that are not heavily processed and aren't full of fat.
You might be wondering; what foods fall into these categories? Well luckily, we've rounded up 5 of the best foods for getting a six pack.
#1 – Chicken Breast
Chicken breast is one of the best sources of protein you can consume when you're building muscle but also trying to keep the fat to a minimum. It is absolutely packed full of protein and contains virtually no fat. As well as this, you can make a huge number of meals with chicken breast which allows you to have a lot of variety in your diet.
Chicken breast usually contains anywhere between 20 and 30 grams of protein per 100 grams, so as you can see, it's a great choice for bodybuilders.
Note: Other cuts of chicken (chicken leg, wing etc) are also good for building muscle, but contain a slightly higher percentage of fat. It should be noted that this fat is healthy fat (Omega-3) so consuming in moderation is perfectly fine.
#2 – Brown Rice
Rice is one of the most heavily consumed foods around the world and chances are that you already consume a good quantity of it in your diet. Rice is a fantastic carbohydrate source which you need for energy, especially if you're working out a lot.
However, if you're consuming white rice, you should definitely consider switching to brown rice as it is far more nutritious as white rice is heavily processed. Brown rice also has more fibre than white rice which will help you feel full for longer.
#3 – Eggs
Eggs are well known as a bodybuilding food and that is because they're packed with protein. Not only this, but they're also packed with nutrition including Vitamins A, D, E, B1, B2 and B6. Minerals such as Iron, Zinc, Calcium and plenty more are also present in eggs, along with Omega-3 fatty acids.
One thing to note about eggs is that they are particularly high in cholesterol and do have a relatively high amount of fat. However, most of this is in the yolk so a higher ratio of egg whites to egg yolks should solve the problem. If you're only consuming an average of a couple of eggs a day, cholesterol shouldn't be too much of a worry even with the yolks.
#4 – Steak
Steak is another excellent source of protein and luckily, is also extremely tasty. One of the great things about steak is that it only takes a few minutes to cook and doesn't make too much washing up.
Of course, steak is a red meat so it should be consumed in moderation; ideally no more than 2 -3 times a week if you're taking your diet seriously. You should also make sure that you get a lean cut of steak to ensure that you aren't consuming too much fat. If there is any fat on your steak, do your best to cut it off prior to cooking.
Seasoning your steak with spices such as cayenne pepper, turmeric or even garlic and chilli's will help raise your metabolism slightly, allowing you to burn fat without any extra effort. Don't overdo it with the spice though.
Note: Other lean cuts of beef are also great for getting those six pack abs.
#5 – Brown Pasta
Another great source of carbohydrate is brown pasta. Much like brown rice, brown pasta contains all of the nutrients that white pasta doesn't. It is a great source of fibre and like rice, can be used in a number of different meals (including curries, stir fries etc).
Combining brown pasta with a good source of protein (such as chicken breast, beef, tuna etc) will create the perfect six pack meal. Combine it with a few hot spices to add flavour and help increase your metabolic rate and you're good to go.
Conclusion
In conclusion, these are some of the best foods available for those looking to get a six pack. Of course, there are a number of other great foods including low fat milk, fish, turkey breast, whole wheat bread, cottage cheese and many others. The basic thing to look out for is that your protein sources are low in fat and your carbohydrate sources are high in fibre. Follow those two guidelines and your diet is sure to improve.
As a general rule of thumb, you should try to include a lean source of protein and a carbohydrate/fibre source in each meal. You should also try to include vegetables and/or fruit wherever possible too (perhaps throw a few carrots or green beans in your curry?).
Remember, healthy, nutritious, protein-rich, 'six pack' food doesn't have to be boring or tasteless. Experiment with flavours and see what you can come up with!