Reading Time: 5 minutes
Mononucleosis, nicknamed the "kissing disease," is one of the most prevalent infectious diseases among 10- to 19-year-olds, though younger and older people can also succumb to this condition. While often uncomfortable, extreme cases are very rare.
Transmission Methods of kissing disease

As its nickname implies, one of Mononucleosis' common methods of transmission is kissing, although saliva must be received from the infected person.
Additional methods include sharing of dishes, cups, glasses, utensils and even tooth brushes – making oral contact with an item with which the infected person also made oral contact.
Like transmitting the cold virus, though, coughing can also scatter the infection. Some links to sexual transmission exist as well, but confirmed cases are relatively rare.
Once in your mouth, the virus most closely associated with the disease, the Epstein-Barr virus or EBV, passes through the surface of your mouth, copies itself and infects certain white blood cells or B cells and is disseminated throughout the body via the lymph and glandular system and the spleen. Symptoms may become noticeable within a few days of actual infection.
Unfortunately, you can become infected by someone who displays no symptoms at all, and not carriers develop Mononucleosis but merely act as 'vehicles' for the disease. The good news for sufferers is that, like mumps or chicken pox or measles, once you have been exposed to or succumb to the disease, antibodies develop, and you never risk having the disease again.
Pictures of Kissing Disease
Fig :- Mononucleosis Mouth
Image Source: -allrefer.com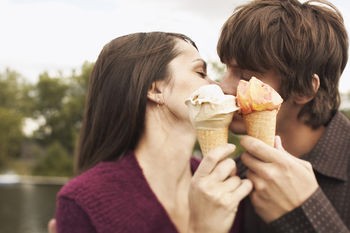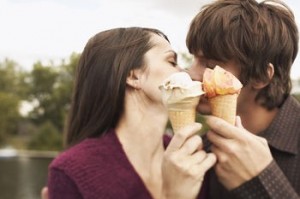 Fig:- Transmission Mode of mononucleosis
Image Source:- buzzle.com
Simple to Escalated Symptoms
Depending on the intensity of the infection, sufferers of this disease can experience such mild symptoms that they may not know they have it. On the opposite end of the scale, though rare, extreme symptoms can be life-threatening.
Victims can realise such milder conditions as
drowsiness.
muscle aches.
sore throat.
swollen glands (lymph nodes) in the neck or arm pits.
yellow-white coating over lymph area near the tonsils.
loss of appetite.
rash, which is more likely if taking either amoxicillin or ampicillin for a throat infection. No antibiotics should be prescribed unless a positive Strep test exists, according to leading medical experts.
If the illness is more serious, so are the symptoms: A pink or red rash, similar to measles, and a swollen spleen are among them. The spleen is the more dangerous of the two, for if you injure or even bump the upper left quadrant of your abdominal area. Too much pressure could rupture the spleen.
Rarer symptoms that might arise include
coughing.
fatigue.
persistent headache.
neck stiffness.
chest pain.
difficulty breathing or shortness of breath.
rapid heart beat.
heightened sensitivity to light.
hives.
nosebleeds.
Jaundice, a yellowing of the skin, though more common in older sufferers than in younger ones.
Thankfully, in mild cases of Mononucleosis, your body usually and eventually successfully attacks the virus that is indicative of this condition. However, symptoms can change over time, and victims should not consider themselves well when the sore throat ends, often after three to five days, or the fever fades after a few weeks. Robust physical activity or contact or heavy lifting, for example, should be avoided for a minimum of 10 weeks to allow the spleen to recover, even if not highly swollen during an active phase of the illness.
Energy levels may take several months to return to normal levels. Because you can be asymptomatic – without symptoms – and still carry have "Mono," be patient and allow your body to get lots of rest and energy levels to recover at your body's natural pace. Engaging in too vigorous of exercise too early can tax the body's reserves and cause symptoms of the still-present disease to re-emerge, in other words, to have a relapse.
As noted above, any normal, active symptoms of Mononucleosis will usually subside within a few weeks, thought the actual condition can last longer, and full recovery takes longer as well. Unless symptoms become extreme during that time period, most people don't need medical testing or treatment of the condition – just patience.
If your symptoms last longer than about 10 days or if you experience extreme symptoms listed below, contact your physician immediately for testing and more intense treatment. Otherwise, lots of rest, lots of liquids, salt water gargles or throat lozenges and mild, over-the-counter pain medications usually alleviate the worst of the symptoms.
The more serious symptoms include
persistent, perhaps dull, abdominal pain in the upper left quadrant.
severe headaches.
persistent fevers at or above 101.5 degrees F or 38.6 degrees C.
arm or leg weakness.
yellowish tint to the eyes or skin.
severe sore throat or swollen tonsils.
Unfortunately, the following symptoms require emergency medical attention. Contact Emergency Services immediately for the following symptoms:
sudden, stabbing, sharp abdominal pain, especially in the upper left area.
Extreme difficulty in breathing or swallowing.
Stiff neck or severe weakness of limbs, neck or muscles.
At no time should any of the three classes of symptoms be ignored, but special care should be taken to identify the rare symptoms and the flags for immediate, emergency care.
Testing and Treatment
Once properly diagnosed, there is little that can be done, save treating the symptoms. Mononucleosis has no cure yet. If you have the normal range of symptoms, lots of rest and liquids help tremendously. Periodic gargling with salt water or taking throat lozenges can help lessen sore throats. Mild pain medicines purchased over the counter help eliminate aches and pains and can help control the fever.
Note of Caution: Do not take or provide aspirin or aspirin products to anyone 20 years of age or younger who has Mononucleosis unless a doctor prescribes it. Use only acetaminophen (Tylenol) or ibuprofen. Ingesting aspirin while suffering from Mononucleosis can cause Reye Syndrome, a rare but very serious disease that targets the brain and liver.
Aspirin is also known as acetyl salicylate, acetylsalicylic acid, salicylic acid, salicylate, or subsalicylate. Common products containing aspirin include Pepto-Bismol, Kaopectate, and Alka Seltzer, to name a few. Read lists of ingredients in products for entry of any of the common names for aspirin or aspirin products prior to treating Mono's symptoms with it.
Tests medical personnel conduct beyond a general exam include blood tests for the EBV virus, a separate test called a monospot test to determine whether the antibodies you have are from a current or a prior instance of mononucleosis, and a white blood cell count or WBC.
If your doctor believes that an antibiotic may aid your body's fight against the white coating in your mouth or if you have a throat infection, you may develop an external rash that is pink or red. Be sure to question your doctor on aid treatments should they appear.
Summary
Because there is no cure for this highly contagious infection, preventative measures are highlighted: Don't share dishes, utensils or tooth brushes with someone who is infected. Remember that the person can be contagious for several weeks after his or her own episode has passed.
Get lots of rest. Drink lots of liquids, and take over-the-counter, non-aspirin pain relievers to help the fever and aches.
Don't immerse yourself in heavy physical activity or lifting for several weeks after symptoms disappear, and avoid any saliva exchange, even if "downstream" of a cough.
Seek the proper level of care that matches your symptoms, and be patient. Normally, you'll feel more like yourself sooner than it actually may seem.
This is a guest post by Sophie Eagan from iHealthMarket.com. If you are also interest to write for HealthResource4u, Please check our guest posting guidelines at write for us.