The immense amount of health benefits associated with paleo diet intake also known as the caveman diet has made this diet plan highly popular in recent decades. However, with this grain-free diet, people often stuck while preparing a lunch box for them which is paleo-friendly.
If you are also then one who is looking for some delicious yet easy to prepare paleo diet lunch box ideas for work then you have absolutely visited the right place. Here we have come up with some easy to make lunch box ideas for you that will be based on the paleo diet which will not only delight your taste bud but will also aid in improving your overall health and energy level.
12 Best Paleo Diet Lunch Box Ideas for Work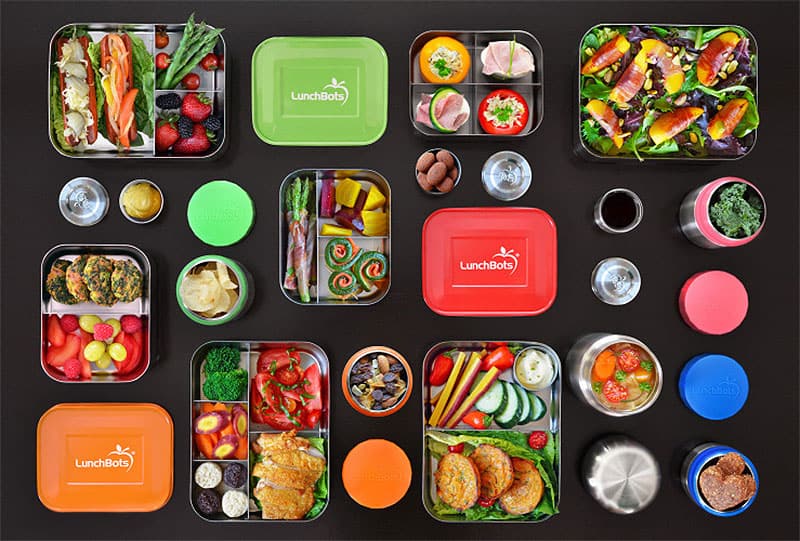 California Turkey and Bacon Wraps
You can fulfill your dream of eating a California dish with this particular recipe for your lunch box. It is too simple to prepare and loaded with lots of nutrients. Simply spread paleo-friendly basil vegan mayo on crisp iceberg lettuce, around the slices of tomato, avocado, bacon, and turkey and wrap it.
Your lunch meal is ready to grab and satisfy your taste bud. Don't forget to stick a bamboo toothpick in this dish while having your lunch at work and enjoy its luxurious taste along with many health benefits associated with it.
Cuban Sandwich Bowls
With this particular paleo lunch diet menu, you get ready to serve lunch box solutions in your busy weekdays. The single serving of the Cuban sandwich bowl is enough to fill your empty stomach at your lunchtime but it is not bulky enough that could otherwise make it difficult for you to sit at your working chair firmly and keep continue with your job.
This paleo lunch diet has an amazing combination of sweet and tangy mojo pork, crispy cabbage, creamy avocado, fried plantains, and salty deli ham. So what you only need to do on the weekend is just simmer a good quantity of pork in a slow cooker and fried out some plantain chips.
This will be your whole week lunch menu. Now in your weekdays you only need to assemble all the ingredients which you have already kept ready at the weekend. Hence, it saves your lots of time and energy without any compromise with taste and nutrient essence that you expect from your lunch box menu.
Italian Antipasto Salad
Enjoy the great taste of an Italian recipe at your workplace with this paleo-friendly lunch menu. The antipasto salad is a great combo of several nutritious veggie items that taste marvelous when mixed with cured meats (in moderate amounts).
Remember while carrying this salad in your lunch box that you should pack the dressing ingredients in a separate box and simply toss it before eating it. You will really be thankful to us for suggesting this great Italian sub lunch box idea that is paleo-friendly.
Thai Chicken Salad
The Thai chopped chicken salad that you put in a mason jar keeps intact the freshness of this lunch diet, that all credit goes to the layering of lettuce that won't get loose or soggy no matter how late you have your lunch. This gives an instant feeling of refreshment to you with its spicy delicious flavor.
This paleo diet lunch menu is a combination of spicy chili vinaigrette, roasted peppers, and mango. If you are a fan of Thai foods then there could be nothing best than this salad diet which is not only full of delicious flavor but also healthy enough.
Skirt Steak Tacos
This is another easy to make quick serving paleo diet lunch solution. Use it as a handy lunch sandwich or finger food during a kitty party. Just like other tacos serving it doesn't come in corn tortilla instead of that crispy lettuce leaf are used to wrap these paleo tacos.
As per the Trusted sources, only 3 ounce serving of skirt steak tacos contains ½ milligram of Vitamin B6 which fulfills approx. 40% of your daily necessity of this essential vitamin. This feature makes it beneficial for people with weak kidney health or function or with poor malabsorption health conditions whose body needs enough amount of Vitamin B6 to stabilize these health problems.
Zoodle Soup
It is another healthy and delicious Thai recipe that fits perfectly for your paleo diet lunch box menu. Zoodles are one type of noodles that are prepared with zucchini. The zucchini is cut with a spiralizing tool. To add creamy flavor in this paleo recipe coconut milk should be used instead of using other creamy non-paleo ingredients. Coconut milk is used as a base material for preparing this Thai chicken soup.
In case you do not have a spiralizing tool then you can grate your zucchini zoodles on a cheese grater with large holes. One serving of this paleo soup recipe provides you with calcium, folate, and 41 percent of the daily requirement of iron. Hence, best for people who are affected by certain iron-deficiency health issues.
Beef Barbacoa Bowls
As this is a slow cooker recipe so half of your tasks get done on Sunday night and on Monday morning you don't have to rush out to get your lunch box prepared. You can easily put beef barbacoa in a single-serving container and leave it to cook. Else you don't need to do much to get this lunch menu prepared for you. Only minimal preparation required the next morning.
Simply put some commonly used salad ingredients together and then top it with already cooked barbacoa. This paleo diet lunch recipe is rich with vital nutrients such as protein, B vitamins, iron, and zinc hence healthy for everyone. It uplifts your energy level which you really need to get your job done at the workplace.
Cobb Salad with Raspberry
Spring cob salad top with raspberry vinaigrette is an amazing lunch box idea. You can assemble everything on the weekend and put it in the refrigerator. On your weekdays simply put the dressing on the first top and below the salads from the refrigerator. Now, you don't have to worry about your lunch box preparation even on highly busy days as everything is already prepared without any risk of quality deterioration with this paleo recipe plan.
Keep this paleo-friendly salad in a large size mason jar which makes it a very portable lunch menu. Also in the mason jars, there is no risk of messy food. What you have kept, you will get it in the same condition even at your workplace while at the break. Both raspberry and spinach are good sources of fiber hence healthy for everyone.
Chicken with Broccoli
We all are aware of the tremendous health benefits existing in broccoli so this is going to another healthy and delicious paleo diet lunch menu option for you. It's too easy to prepare chicken with broccoli.
When broccoli pieces are combined with chicken's juice it naturally takes its taste to a different level. Combine these two primary ingredients with pepper flakes, mustard, and vinegar which help to balance the taste of this amazing lunch box menu.
Meaty-Veggie Combo Roll-Ups
Do you want to try something new for your lunchbox but paleo-friendly then this recipe option is for you only. This is a great appetizer so even if you have lost your appetite under the burden of work pressure then also nothing to worry as you can't deny this lunch box.
You can use peeled cucumber, julienned carrots, green or purple cabbage, zucchini, peeled jicama, and bell peppers to prepare this yummy roll-up. You can use the creamy paleo-friendly dressing for an additional delicious layer or can use it as dip whatever you like.
Italian Sub Roll-Ups
This is another handy paleo lunch box recipe idea for you. If you are bored with stuffed sandwiches, then it's time to try something new this time. This Italian roll-up contains everything that can delight your taste bud.
For the veggie material in the midsection of the roll-up, you can use anything as per your specific taste and demand. If you want to tons up your lunch box with fiber content then you can use so many green items in this roll-up. Instead of using traditional mayo, you should use a paleo-friendly mayo to make it really a paleo diet. Also, you can use hummus or pesto in this Italian recipe which is a great appetizer.
Salmon Patties with Lemon Dill Sauce
Last but not the least, if you want a filling yet delicious paleo friendly lunch recipe for you then this is could be the best option. In this recipe, almond flour helps to hold salmon patties together instead of using traditional bread crumbs or wheat flour. It's too simple to prepare and extremely healthy as well.
Being a paleo-friendly diet it no way impacts your health negatively which is quite possible if you eat carb-rich, sugary, and highly processed foods. If you are not getting almond flour in the market then you can make your own simply by grinding raw almonds in your home food processor.
Dip your salmon patties in creamy lemon dill sauce which will enhance the taste of your lunch menu by dual. Both salmon patties and almond flour provide approx. one thousand milligrams of calcium hence great for your bones health.
Benefits of eating a paleo diet
You get the following health benefits by eating a paleo diet:
It Aids in Weight Loss
In a paleo diet, you are not allowed to eat any processed food which is the main root cause behind rapid and uncontrolled weight gain. The paleo diet encourages the dieter to eat unprocessed food hence, it doesn't need the usage of excessive oil, butter, heating or frying which harnesses the nutrient essence of a diet and adds oil and spices which are not good for those who are trying to reduce or control their weight.
As in the paleo diet some foods like grains etc are excluded which needs processing so your diet automatically becomes low in carbohydrate hence it naturally aid in reducing your excess body fat and weight. Also when a low carb diet combined with other healthy ideas like removing processed foods completely from your meal plan it becomes an effective medium to reduce body fat and body weight over time.
In a research study conducted in 2014 on the paleo diet effect on fat mass, triglyceride level, and abdominal obesity in postmenopausal women, the result shows a noticeable improvement in these conditions after following a paleo diet for few weeks. Again in a 2016 randomized paleo diet effect study on healthy women, it was found that these women manage to reduce lots of weight with comparison to people who were following the low-fat diet for weight loss.
However, how beneficial is this paleo diet for weight loss in people affected with type 2 diabetes, needs more research to conduct in this regard.
Improves Heart Health
It is proved in several studies report that the paleo diet is beneficial for your heart health. As the paleo diet remains low in carb so it ensures that excess fat does not accumulate in mid-section of the body (highly fat accumulated area of the body) which increases the risk of different severe level heart diseases. People who are diabetes patients contain a high risk of developing diabetes-associated heart health complications. So for them as well paleo diets are beneficial.
In a 2015 scientific study, it was found that people who were having a paleo diet significantly reduced total cholesterol level, triglycerides, and LDL (bad cholesterol) and increased HDL the good cholesterol with comparison to those who were having a standard diet. Increased cholesterol level in the body is one of the primarily responsible factors that contribute to bad heart health. Hence by improving total cholesterol, the paleo diet help in maintaining good heart health and function.
Increases Insulin Sensitivity
Paleo diet is also effective for people diagnosed with diabetes health concern as well as people whose body gets insulin resistant. Insulin resistance is a condition in which your muscles cells, liver, and fat stop responding properly to the signal sent by the hormone insulin. Resulting in, the pancreas starts producing more insulin that simply raises your blood sugar level up. This increases a person's risk of being pre-diabetic or developing type 2 diabetes health condition.
However, with the paleo diet which includes low GI and less sugary foods, insulin sensitivity can be increased easily. It is found in a study report that paleo diet intake can help in decreasing insulin secretion which increases the effectiveness of insulin. Hence proves beneficial in reducing insulin resistance the major issue of diabetic patients.
Also, it reduces the necessity of taking lots of medications for reducing or controlling unbalanced diabetes levels when taken with other healthy lifestyle changes such as regular exercising, having enough sleep during nights, staying stress-free, etc.
Reduces Inflammation
Excessive range of inflammation in the body increases any person's risk of developing many serious health concerns including Type 2 Diabetes. However, these health risks can be greatly reduced by incorporating the paleo diet plan in your day to day life. This is because the paleo diet plan avoids processed foods, sugar, and grains which all play an important role in diet-induced health outcomes such as diabetes.
Being low in carb and low glycemic index (GI) the paleo foods especially omega-3 fatty acids rich foods works very effectively to protect your body against excessive inflammation and its associated damages.
In a 2016 study by the American Physiological Society, it is said that switching to a paleo diet from heavy calorie-rich Western diets results in lowering the inflammation rate in people. However, there are limited numbers of study to support the effectiveness of the paleo diet for reducing or giving protection against inflammation problem hence, needs more study in this regard.
Boosts Energy Level
As paleo diet menu include foods with low Glycemic Index (GI) value so it ensures that at any condition you don't fall short of energy level which generally occurs with the intake of high GI and sugary foods.
This is the main reason why sports-persons are recommended to eat more paleo-friendly diets especially to boost their energy and stamina level. It is considered as a natural performance enhancer food source for players.
What foods need to avoid on the paleo diet?
Foods that you can't eat while following a paleo diet include the following-
Dairy Products- Dairy products such as milk, cheese, yogurt, and ice cream
Beans or Legumes- Avoid soy products, peanuts or peanut butter, tofu, edamame, and any kind of beans.
Starchy Vegetables- Avoid eating starchy vegetables such as corn and potatoes and food products made of them like chips, popcorn, and tortillas.
Grains- Avoid eating grains such as wheat, rice, barley, and oats and food products made of them like bread, pasta, crackers, granola bars, and bagels.
Salty Foods- Avoid eating salty foods such as added salt foods, soy sauce, chips pretzels, crackers, and sports drinks.
Processed Foods- Avoid eating processed foods or trans. fats like macaroni, cheese, French fries, doughnuts, and fruit snacks.
Sugary Foods- Avoid eating sugary foods such as honey, soda, syrup, cakes, candy, cookies, sports drinks, and jam or jelly.
The Challenge of Sticking to Paleo Diet Eating
For one, you are away from home and work commitments often force you to eat whatever is convenient. When time and convenience are not exactly on your side, it can be all too easy to throw caution to the wind and end up falling off the wagon, so to speak. The problem is, one mishap can easily lead to another one and yet another one. Before you know it, you are back to eating processed food and MSG-laden meals.
Paleo Diet Lunch Box Preparation Tips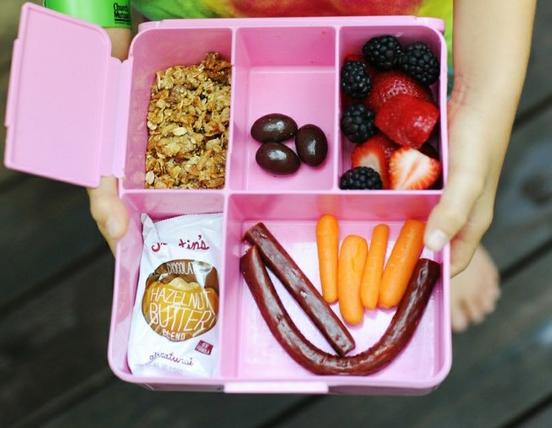 To help you stick to healthy eating, the best option is to prepare a Paleo diet lunch box for work. This way, you will not be easily lured to eating fastfood or takeouts, even while on the go. Keeping a Paleo Diet Recipe cookbook will really come in handy so you know what to prepare for your lunch ahead of time. Here are some great tips and Paleo diet lunch box ideas to help you stay committed to healthier eating:
Prepare lettuce wraps in place of bread sandwiches.
This bread is not included in the Paleo food list, a healthier option is to create lettuce wraps instead. This opens up a myriad of possibilities, especially if you have leftover from the previous night's dinner.
Keep hardboiled eggs handy at work.
Whether for lunch or snack, hardboiled eggs are the perfect and most convenient go to food, especially if you don't have enough time to prepare a full meal. Eggs are packed with protein and are fairly easy to prepare. You can consider cooking a dozen of eggs for a full week's consumption.
Repurpose leftovers.
The best way to make it easier for you to stick to Paleo diet is to make it more convenient for you and cut down preparation time. You don't actually need to always prepare every meal from scratch. Instead, you can purposely cook a large batch for dinner, which you can pack for lunch the following day. You can also repurpose leftover veggies into a frittata or an omelet.
Cook a large roast beef.
You can prepare and cook a large chunk of meat ahead of time, which you will be able to use in preparing various dishes. This will significantly cut down your preparation time during mornings, especially in preparing Paleo diet lunch box meals. Cut them into portions so you can use only the chunk you need to eat.
Paleo Diet Lunch Box Meal Ideas
Preparing our Paleo diet lunch box is not a difficult as you think. In fact, once you get the hand of it, you can look forward to preparing and eating your meals. Here are some great ideas to consider:
Put it on a stick. This meal idea does not only help you save space, eating anything on stick will not require you to use any cutlery. This means, you don't have anything to take back home again. The Paleo Diet is not particular with how you plate your food or if they were cooked yesterday or today. You can use any leftover meat and vegetable to make a kebab. Simply add some paprika, cherry tomatoes, gourgette or any vegetable or meat then wrap it in an aluminum foil.
Brown bag it. This is one of the easiest ways to prepare your Paleo diet lunch box. You can create lunch from a combination of vegetables and leftover or pre-cooked meat and even top it with hardboiled eggs.
Use Tupperware. One of the great benefits of Tupperware is the fact that it's not disposable, which means it's good for the environment. However, one setback is, having to bring home dirty dishes. Storing your lunch in a Tupperware offers a lot of great meal options. You can choose one that features separate spaces so you can prevent different dishes from mixing. This is also ideal for people who have ample space in their bags.
Eating Out
Now this sound like a rather daunting prospect since eating out can often leave your vulnerable. However, let's face it, sooner or later you need to confront the challenge of eating out sooner or later. It's not something that you can totally avoid for the rest of your life, right? You will be inevitably exposed to party foods, wining and dining, holiday entertaining – all of which present a buffet of temptation that are all too good to resist and could be anything or everything that is not in the Paleo Diet food list.
The key in preventing yourself from caving in is to be prepared. If you are anticipating it, it's best that you know ahead of time where you will eat. If you are planning to make it a regular thing, check out a number of restaurant and diners that offer healthier food options and determine which ones you can eat without guilt. If there is an online menu, take time to study and know what dishes you can order ahead of time.
Always Keep Paleo Diet Food Close By
When you are hungry, in a hurry or stressed, it can be all too easy to cave in and indulge in food that are unhealthy. The trick here is to make sure Paleo diet food is always accessible in order to easily assuage any craving.
If you are craving something that is non-Paleo, what you can do is acknowledge the craving but choose to eat first Paleo food. After you are satiated, it will be easier for you to resist those cravings. You can also use this approach when craving for soda on a particularly hot day. Instead of giving in to the urge, choose to drink water first. You will find that the craving will naturally go away on its own.
Watch For Emotional Eating
When you are stressed with office related concerns, issues and deadlines, it can make you vulnerable to indulging unhealthy vices, including eating non-Paleo food. After all, when you are feeling down and sad, eating broccoli does not exactly present an appetizing meal, not when you can easily treat yourself to a pint of ice cream.
If you notice that you tend to indulge when stressed or overly emotional, it is important that you determine the distractions and triggers.  Instead of resorting to binge eating, choose to confront and decompress the issues by talking to a professional or someone you can trust. This will help you diffuse any pent-up emotions and negativity and ultimately gain better control of your health. There are also Paleo Diet comfort foods out there and Paleo Diet Recipes that could help you out with food that can relieve stress.
The list of paleo diet lunch box ideas for work discussed above is truly paleo and health-friendly. As now many recipe suggestions are on your hands so it's time to carry 5 different lunch menus on five days of a week or office days. Whether you have these paleo diets as your lunch menu or as normal diet plans at home in every way your surety of getting tremendous health benefits remains intact.
<b>View Article Sources</b>
https://greatist.com/eat/paleo-lunch-recipes#salads