Castor oil is a multipurpose and highly effective natural oil. Its benefits for improving your skin health and beauty are well known however there are very few who know about the benefits and uses of castor for hair. This healing oil is rich with very nutritional contents such as Vitamin E, ricinoleic acid, minerals, omega 6 and 9 fatty acids.
All these essential components are well known for their potential to boosting your hair health and for enhancing its appearance and healthy growth. It helps in relieving inflammation with its ricinoleic acid component which has an anti-inflammatory effect thus treat many scalp and hair related issues very safely and naturally.
The castor oil is extracted from castor seeds  (Ricinus communis), via the pressing process. Usually, it remains colorless or sometimes of pale yellow color along with a very slight odor. As the castor oil is bit sticky and thick so it is mostly preferred to be used after mixing with any light oil. The best part of castor oil usage on your hair is that it can easily attract and retain moisture in your hair as well as skin due to its humectants attribute.
It is its versatile benefits for your hair health and growth that now it is a very common ingredient used by many commercial hair care products. However, if you want to use a pure form of castor oil then it is always suggested to use natural or pure castor oil with the natural DIY treatment for all your hair problems for faster and effective results.
Types of Castor Oil
There are three types of castor oil, primarily used for hair health improvement as the natural treatment process.
Organic or Cold Pressed Castor Oil
This type of castor oil is directly extracted from the castor seeds without using the heat process.
In this form of castor oil no degradation of any of the nutrients existing in castor seeds involved.
In this type of castor oil mechanical and non-chemical method is used known as expeller pressing.
Organic or cold-pressed castor oil is of pale yellow color.
People who have itchy or dry scalp issues and have curly hair are recommended to use the unrefined and hexane-free organic castor oil because it is less alkaline in nature than the JBCO.
Jamaican Black Castor Oil or JBCO
For preparing this type of castor oil, first roasting is done of the castor seeds and then it is pressed to extract oil.
The ashes collected in the roasting process of castor seeds are further added into oil which turns it into blackish color.
People having straight hair along with a healthy scalp are recommended to use this type of castor oil as it will stimulate their hair growth by penetrating and cleansing the scalp.
Hydrogenated Castor Oil or Castor Wax
This type of castor oil is prepared by hydrogenating pure castor oil through a nickel catalyst.
Unlike regular castor oil, hydrogenated castor oil or castor wax is odorless, brittle and insoluble in water.
This type of castor oil is primarily used in cosmetic products, polishes, and varnishes.
Special Note: Though the nutritional value of both organic and JBCO castor oil is almost the same but JBCO is more alkaline in nature which makes it a clarifying oil that can be used for opening cuticles.
Tips to Use Castor Oil for Healthy Hair Growth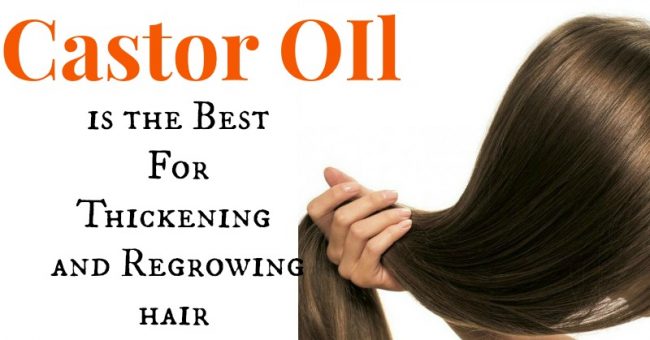 Just like your other body organs even your hair needs special care and attention in order to grow healthy, shiner and thicker. So as you nourish your body with nutrition-rich diets similarly your scalp and hair also need the necessary amount of nutrients that can be easily fulfilled with the application of castor oil in them. So follow some below mentioned effective tips to ensure healthy hair growth with castor oil.
Castor Oil to Control Hair Fall
Hair fall is a common issue which you will find every second individual is suffering from. This issue is quite likely enough as we are surrounded by an environment that is full of dust and pollutants. Other than that sun damages, lack of healthy nutrition and wrong lifestyle routine are other prominent factors that can make your hair fall badly.
Also, it can make you a victim of baldness if necessary steps are not taken on time. Though cosmetic hair care products promise a lot but, their actual results are quite lesser and unsatisfactory in real-time. So to get rid of this issue you can try castor oil hair care solution. Castor oil is rich in ricinoleic acid which promotes blood circulation in your scalp. Thus it helps in boosting scalp and follicle health and reduces hair fall thereon.
It strengthens your hair roots by nourishing your scalp and also gives protection against microbe's growth which can cause hair fall problems.
Castor Oil for Natural Dandruff Treatment
Dandruff is a very common hair health-related concern that primarily grows in oily and irritated skin. Also, some underlying health conditions and certain skin conditions, lack of proper cleanliness of the scalp are some common reasons which can give a boost to the dandruff problem.
However, this scalp health-related issue can be controlled and relieved completely with the use of castor oil. It is rich with antifungal, antibacterial and antiviral properties that help in fighting off dandruff-causing elements.
Also, the Ricinoleic acid content existing in this oil helps in balancing the pH level of your scalp which is vital to make your scalp healthy and clean so that there will be no further growth of dandruff in the lack of its favorable environment.
Castor Oil for Hair Re-growth
We all want dense and lustrous hair but after a long term hair fall, it really gets very difficult to re-grow your hair. However, this issue of your hair can be easily managed with the application of castor oil in your scalp and hair roots.
Castor oil is a rich source of omega 6 and 9 fatty acids which have the natural penetrating ability. Hence it penetrates your hair roots and shafts and nourishes them from deep inside with its nourishing contents.  This healing process done by castor oil helps in restoring your lost hair health and boosts the growth of thicker and stronger hair.
Castor Oil as Natural Conditioner
The application of hair conditioner in your wet and shampooed hair is as much necessary and vital as your hair shampooing for its cleanliness. The conditioner locks the moisture level in your hair shaft and ensures that you get shiny, healthy and beautiful hair.
So instead of investing your money in commercial conditioner, it's better you use your own DIY conditioner using castor oil. This oil can easily penetrate the outer layer of your hair with its special penetrating compounds.
Hence it is capable of filling damaged keratin gap leading to the growth of healthy and nourishing hair. It helps in making your hair look smoother by naturally restoring the hair cuticles. Also, it ensures that your hair shafts would not lose its moisture content easily by strengthening them.
Castor Oil for Reducing Split Ends
Lack of nourishment in scalp and hair shafts are the primary reasons behind the split ends issue. Resulting in your hair growth restricted and even if the hairs which grow after split ends problem are very thinner and unhealthy than your normal hair.
In this regard, you can take the help of castor oil natural treatment for your split ends issue. The application of castor oil helps in filling the gap of damaged keratin in your hair shaft.  It boosts the tensile strength of your hair and makes it less susceptible to breakage and split ends.
Castor Oil Protects Your Hair from Damages
Castor oil also protects your hair from external damages caused by environmental pollution, harsh sun rays and chemicals contents existing in different commercial hair products such as dyes, shampoos, etc.
The fatty acids content existing in castor oil creates a protective layer or barrier on your hair in order to guard it against sun damages and hair color loss thereon.
Also, it naturally replenishes the natural oil balance which helps in keeping your hair lustrous and healthy. Apart from this, it protects your hair from damages caused by chemicals existing in hair dyes and other commercial hair care products.
Castor Oil for Darker Hair
People who want to relieve their prematurely graying hair issue or want to get one shade darker color of their hair can use castor oil for getting darker color hair naturally.
The humectant property of castor oil helps your hair to retain the necessary level of moisture which helps in enhancing its shade richer and darker naturally. Also, it will be a safe hair treatment with comparison to costly commercial hair dyes solution which is not only very expensive but also have chemical content that can cause damages to your original hair health.
Castor Oil for Shiny Hair
Castor oil not only helps in boosting your hair health and improvement in hair growth but it also adds a natural shine that you can hardly get by using any commercial hair product.
The protective layer coating made by castor oil use not only helps in retaining moisture but it also gives a radiant, smoother and shiny appearance to your hair.
How to Use Castor Oil Natural Treatment on Hair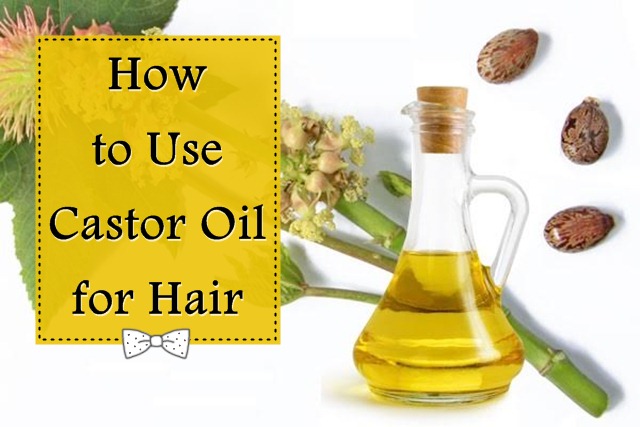 It is very crucial that you use or apply castor oil in your hair in the correct form in order to gain its full benefits to enhance your hair health and appearance.
Remember in order to use this natural treatment ingredient you only need to use a very little amount of castor oil irrespective of each concern. Excess usage of the oil depends on your personal preference. However, it's better that you use only a few drops of oil per treatment.
How Often It Should be Used
It totally depends upon your personal hair health concern, hair types and special requirement or purpose for which you are using this healing oil.
Usually, 1 to 2 times application in a week is ideal to get any desired result. However, it can even be used more frequently but it hardly provides any remarkable changes in your condition even with its regular use. So it's better that you use it 2 to 3 times a week.
When It Should be Used
The castor oil hair treatment works better when it is applied on your damp hair not directly on the wet hair. For your suitability, you can use a spray bottle filled with water and simply spritz your hair roots before adding castor oil in it. It will help in retaining and grabbing the complete essence of this oil in your roots to grab its complete benefit for growth and health improvement.
In order to get faster results or to improve your damaged hair quickly, it is advised to leave this hair treatment for several hours or overnight and rinse your hair with shampoo on the next morning. You can use a shower cap on your head while sleeping so that your pillow will not get affected with direct contact of oil in your hair.
How to Remove this Oil
The removal of castor oil gets difficult when you try to shampoo it just within few hours of its application. However when castor oil is used in little amount and left in your hair overnight it easily gets absorbed in your hair and scalp and then its cleaning is easier even with dry shampoo, natural shampoo or mud shampoo.
Apart from this in order to remove the sticky effect of castor oil and to clean up easily, you can apply a conditioner in your hair roots. Leave it for half n hour after massaging it in your scalp. This will help in removing the castor oil from your hair easily while shampooing your hair.
Other than that you can use hair mask treatment. For this, you need to take an egg and whisk it well to make it smoother. Massage with this into your scalp. This will help in breaking down the oil from scalp and hair and will get clear up easily while shampooing your hair. This trick is a bit messy but adds an extra amount of nutrients in your hair. Also for making this remedy easier, you can do the egg massaging work in the bathroom just before applying the shampoo.
Notes
It is always advised to have a patch test before applying any new product, and so is for the castor oil application as well in order to avoid any side effect risk. Though usually, castor oil doesn't develop any issue and absolutely safe for application on your hair and scalp. However, some people have noticed irritation problems.
So it's better that you use a small amount of castor oil in your inner arms to check whether it is causing a reaction or fully safe. If your patch tests get successful then and only apply castor oil treatment in your hair and scalp.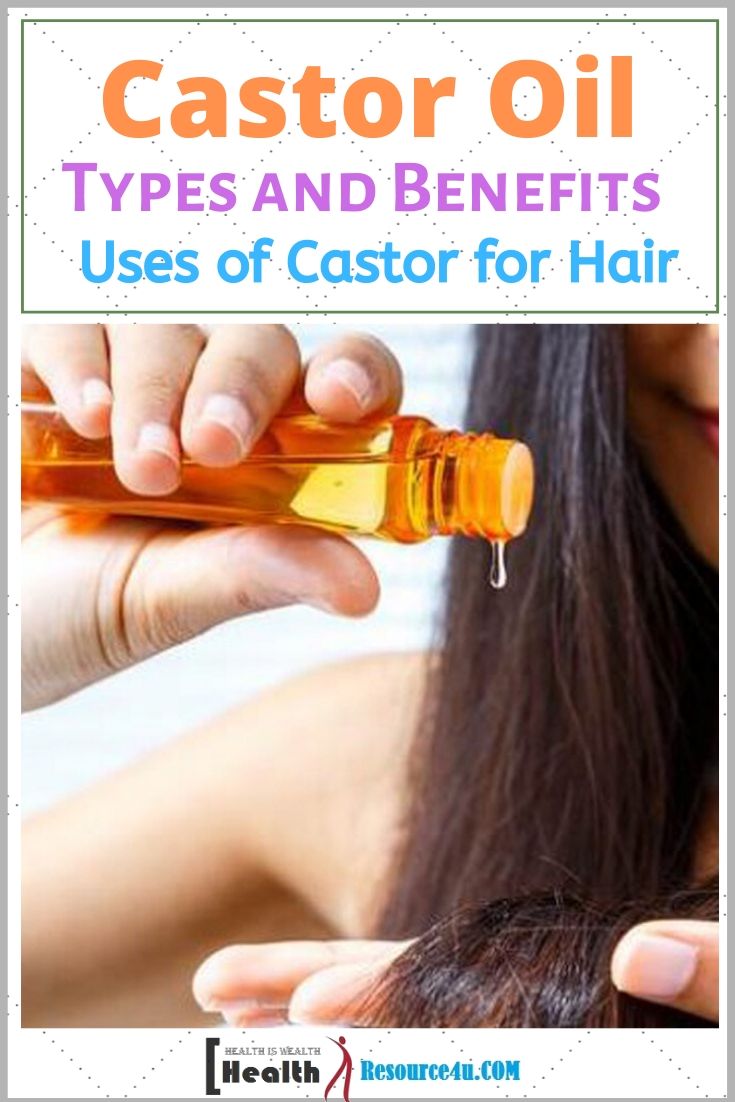 The benefits and uses of castor for hair mentioned above are based on real-time experiences that offer a great opportunity for every individual to treat their hair health issues with this effective plus natural oil treatment.
View Article Sources
https://www.stylecraze.com/articles/castor-oil-for-hair-growth/#gref