Blackheads are one of the most common forms of skin issues that many people face. Pollution and dust lies in the root of the problem. People who stay in more polluted areas are found to suffer more from this issue. Apparently these look like small black spots. There have been many studies conducted and many researches held to ensure the exact reasons of this skin condition. The studies have shown that it is primarily caused due to blockages on the skin. Skins too have millions of tiny pores through which it breathes and excretes dirt. When these pores are blocked, the dirt that is present inside cannot come out. Eventually this leads to the formation of blackheads.
There's a kind of oil (Keratin) that gets secreted from the sebaceous glands. These turn black when oxidized. Moreover one needs to be careful and ensure that they do not prick or break this. In such cases it might affect those parts of the skin that is not affected. It is better to leave them as they are and not squeeze or prick them. That would do more harm than good.
It has been seen that both black heads and white heads can appear on the face and shoulders of an individual and with due course in time can lead to acne. In certain cases due to ill treatment or lack of care, it can spread to shoulders, buttock, legs, trunk and other parts. Proper care is thus an utmost necessary to take care of this skin condition.
Common symptoms of Black heads
The common symptoms of blackheads include:
Rough Skin
Pores enlargement
Scars
Peeling skin
These are some of the most common symptoms of blackheads. Apart from these there can be some other types of symptoms. The most important thing that one should do is to consult a doctor, a skin specialist to be specific to make sure that the actual problem gets recognized and the treatment is prompt.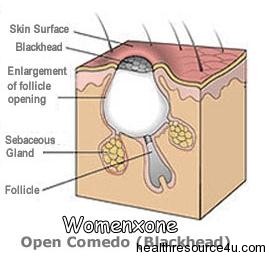 Home Remedies for Blackheads
There are some tried and tested home remedies for curing blackheads. That helps in getting the best solution against it. Let us now go through all these categorically and check out the various ways to cure them.
Prepare a paste of ground radish seeds and add water to it. Now apply this paste to the affected area and wash it off after sometime. A repetition of this technique has been found to be useful in curing the symptoms of blackheads quite effectively.
You can also prepare a paste of cornstarch and vinegar and apply it on the blackheads. Once it dries, you can rinse it off. This should be repeated once every day for at least a week. That would help in cleansing the skin and thereby preventing blackheads and other related problems.
Another effective way to get rid of blackheads is to keep a face wash that has lime extracts in it. You should carry it in your bag and use it when you return to your home after hitting the polluted roads.
Mix a bit of salt with some glycerin soap and apply it on the black heads. Hat is also another effective way of getting rid of black heads.
You can squash a tomato and apply it o your face. Tomatoes act as a good cleanser and helps cleansing your face by eliminating dirt from the pores of the skin. After keeping the pack for some time you can wash it off with milk. That would act as a toner and you would have a rejuvenated skin.
You can also mix 1 tea spoon of lime juice with a tea spoon of ground oil. The best part of applying this is that apart from curing black heads it also prevents it from relapsing.
Precautions to take
Those suffering from blackheads should be cautious and take some precautions. Men, who drive motorcycles must, make it a point to wear helmets that cover the entire face. That would help in keeping dust and pollution away. Moreover, they should also use a good face wash and use it regularly. Ladies should use a good sunscreen lotion and also use a face wash that is mild. That would help them to retain a good healthy skin.
Those who suffer from skin conditions quite often can also consult a doctor, rather a skin specialist. Taking expert's advice o this can help one to get thorough information on your skin type and also know what to do and what not to do in order to keep it in a good condition.
Moreover, you will be able to get some handful tips on which foods to avoid and which to have in order to maintain a good healthy ski and retain the glow. There are some fruits such as citrus and lime which are great for the skin. Therefore having such fruits can help you to get the best for your skin.
Certain things that cause blackheads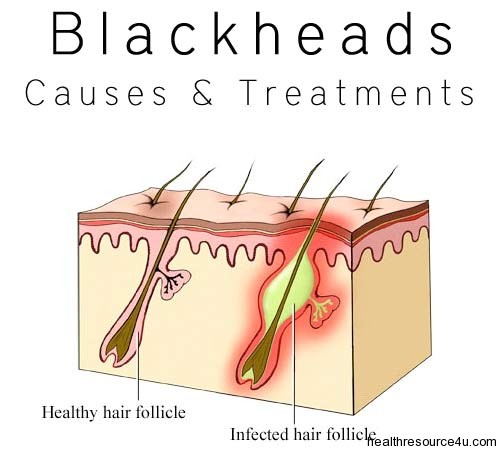 There are many a things that can be held responsible for blackheads and other related issues. Some of these are:
Blackheads can be caused by excessive secretion of hormones
It can also be a genetic thing.
Too much oil content in the skin can also trigger blackheads and other such conditions.
Improper skin cleansing techniques
Wrong chemical usage
Pollution
Excessive humidity
Side effects of some medications
Too much stress and others
These are certain common things that are known to aggravate blackheads or trigger them.
Keeping an eye on the latest studies and seeking the advice of a good skin specialist cam definitely help one to get rid of these issues. The most important thing to remember is that a wrong medication or an improper technique can further aggravate the symptoms of blackheads. Therefore, getting in touch with a good doctor is of utmost importance in this context. Moreover, you also need to follow the medications that they prescribe and not discontinue them abruptly. Keeping all these things in mind would definitely help one to tackle the issues regarding their skin.
This is a guest post by Andrew Greens from Blueskydrugs.com. If you are also interest to write for HealthResource4u, Please check our guest posting guidelines at write for us.